8 dead in NYC after truck slams into people on NYC bike path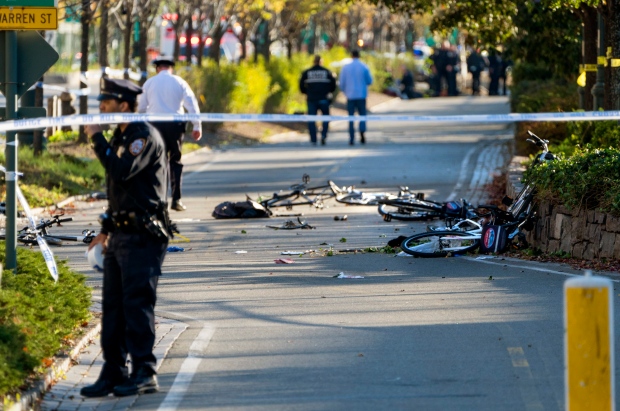 A man in a rented pickup truck drove onto a busy bicycle path near the World Trade Center memorial Tuesday, killing at least eight people and injuring at least a dozen others, New York City's mayor says.
Police said the vehicle, a rented Home Depot pickup, entered the bike path on West Street a few blocks from the World Trade Center memorial and struck several people, leaving mangled bicycles behind. 
The driver was then shot by police after jumping out of the vehicle with what turned out to be two fake guns — which police later said were a paintball gun and a pellet gun.
After colliding with the school bus the man exited holding two firearms. An officer assigned to the area fired, striking him in the stomach.
"New Yorkers do not give in in the face of these kinds of actions," Mayor Bill de Blasio said, as he thanked police and first responders for their efforts.
He said there would be "extensive" additional deployments of police and urged people to be vigilant.
A suspect, who has not yet been named by police, was taken into custody and transferred to hospital.
Police didn't offer much information about the 29-year-old man as they outlined the timeline of the attack, which began around 3 p.m. ET. 
The New York Times cited law enforcement officials who said that the suspect yelled "Allahu Akbar" when he got out of the truck, but at a news conference the police commissioner wouldn't confirm the report.
NYPD Commissioner James P. O'Neill, who noted that the investigation is just hours old, said the driver said something when he got out of the truck that was "consistent" with a terrorist attack.
Officials said six people died at the scene and two others died at hospital.  Eleven people, all with serious but non life-threatening injuries, were also transported to hospital.
The mayor said the attack was being investigated as a possible act of terrorism.
The mayor said police are investigating alongside federal and state partners.
He said people should go about their business on Halloween and the days forward knowing that police officers were out in force.
Panicked witnesses
At the scene, a man who was riding in an Uber along the West Side Highway near Chambers Street said he saw several bleeding people on the ground after the truck struck several people. Another witness said the truck had also collided with a small bus and one other vehicle.
Tom Gay, a school photographer, was on Warren Street and heard people saying there was an accident. He went down to West Street and a woman came around the corner shouting, "He has a gun! He has a gun!"
Gay said he stuck his head around the corner and saw a slender man in a blue track suit running southbound on West Street holding a gun. He said there was a heavyset man pursuing him.
He said he heard five or six shots and the man in the tracksuit fell to the ground, gun still raised in the air. He said a man came over and kicked the gun out of his hand.
Uber driver Chen Yi said he saw a truck plow into people on the popular bike path adjacent to the West Side Highway. He said he then heard seven to eight shots and saw police pointing a gun at a man kneeling on the pavement.
"I saw a lot of blood over there. A lot of people on the ground," Yi said.
His passenger, Dmitry Metlitsky, said he also saw police standing near a man who was on his knees with his hands up, and another man bleeding on the ground nearby. He said the truck had also collided with a small school bus and one other vehicle.
New York Gov. Andrew Cuomo said it's early, but suggested the deaths may have been the result of a lone-wolf style attack.
"The truth is, New York is an international symbol of freedom of democracy, and we are proud of it," he said, adding that also makes the city a target for those who oppose that concept.