Wim Wenders to be Honored at TIFF Ebert Tribute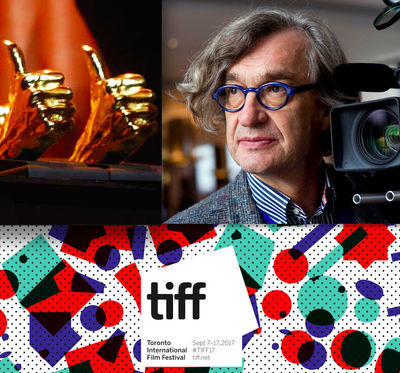 I AM PLEASED TO ANNOUNCE THAT RENOWNED FILM DIRECTOR WIM WENDERS will be honored at our annual Ebert Tribute Luncheon at the Toronto International Film Festival on Sunday, September 10th. I will be joining TIFF's Artistic Director, Cameron Bailey, in hosting the event for Wenders, a filmmaker whom Roger greatly admired.
"Wim Wenders' body of work is entirely unique in the history of cinema," said Bailey. "Working across six decades, he has pushed the limits of his chosen art, all the while exploring what it means to be human. In both his dramas and his documentaries, Wim has inspired us to look deeper, to feel more and to connect across boundaries with one another."
When Roger first saw the director's 1984 Palme D'Or winner, "Paris, Texas," he had no idea where the film was going in its opening act, and the sense of intrigue excited him. In his four-star review, he wrote, "The characters in this movie come out of the imagination of Sam Shepard, the playwright of rage and alienation, and Wim Wenders, a West German director who often makes 'road movies,' in which lost men look for answers in the vastness of great American cities. The lost man is played this time by Harry Dean Stanton, the most forlorn and angry of all great American character actors."
Roger said that the film was more concerned "with exploring emotions than with telling a story. This isn't a movie about missing persons, but about missing feelings. The images in the film show people framed by the vast, impersonal forms of modern architecture; the cities seem as empty as the desert did in the opening sequence. And yet this film is not the standard attack on American alienation. It seems fascinated by America, by our music, by the size of our cities, and a land so big that a man like the Stanton character might easily get misplaced."
Roger placed Wenders alongside Werner Herzog and Rainer Werner Fassbinder, dubbing them the three great German New Wave directors, all of whom were fascinated by American mythology. "The name Travis [Stanton's character] reminds us of Travis McGee, the private investigator who rescued lost souls and sometimes fell in love with them but always ended up alone on his boat," wrote Roger in his Great Movies essay on "Paris, Texas," which he considered, back in 1984, the director's best English-language film to date.
He later wrote a journal entry about Wenders' 1978 picture, "Kings of the Road," which he considered one of the best films of the 1970's. Roger hailed it as "a film of great depth and beauty, and its black and white photography is worthy of comparison with John Ford's." Though the film focused almost entirely on its two male characters, Roger wrote that it was "also about women: About the way men consider them, define them, and define themselves by them. There's one especially good scene in which the repairman has a laison with a girl in one of the towns they pass through, and in its briefness, poignance and futility, it says so much about the difficulties of really communicating."
To Roger, Travis in "Paris, Texas" was quite similar to Damiel (Bruno Ganz), the angel in Wenders' other universally acclaimed feature, "Wings of Desire." "He loves and cares, he empathizes, but he cannot touch," wrote the critic, "He does not have that gift." In his Great Movies essay, Roger echoed his thoughts on other Wenders' work as a whole, noting that "the film evokes a mood of reverie, elegy and meditation. It doesn't rush headlong into plot, but has the patience of its angels. It suggests what it would be like to see everything but not participate in it. […] You're seduced into the spell of this movie, made in 1987 by Wenders, who collaborated on the screenplay with the German playwright Peter Handke. It moves slowly, but you don't grow impatient, because there is no plot to speak of, and so you don't fret that it should move to its next predictable stage. It is about being, not doing. And then it falls into the world of doing, when the angel Damiel decides that he must become human."
Again, Roger marveled at Wenders' ambition in experimenting with the ways in which a movie can be made. "Like many directors who make films of greater length, Wenders is not a perfectionist," he wrote. "He will include what a perfectionist would leave out, because of intangible reasons that are more important to him than flawlessness."
The last Wenders film Roger reviewed, "Pina," the Oscar-nominated 2012 documentary about the late German choreographer Pina Bausch, made thoughtful use of its 3-D photography. According to Roger, Wenders only used 3-D "when he knows why and how it should be employed. Here he visually dramatizes the spaces between the actors by moving his camera on a crane so that the POV places us on the stage and moving among the dancers." Ebert awarded the film three-and-a-half stars, saying that he watched it "in a sort of reverie. The dancers seemed particularly absorbed. They had performed these dances many times before, but always with Pina Bausch present. Now they were on their own, in homage."
In the final paragraph of his Great Movies essay on "Wings of Desire," Roger encapsulated his thoughts on Wenders in the following lines: "'Wings of Desire' is one of those films movie critics are accused of liking because it's esoteric and difficult. […] For me, the film is like music or a landscape: It clears a space in my mind, and in that space I can consider questions. Some of them are asked in the film: 'Why am I me and why not you? Why am I here and why not there? When did time begin and where does space end?'"
RogerEbert.com critic Peter Sobczynski hailed another Oscar-nominated documentary from Wenders, 2014's "The Salt of the Earth," which he called an "invigorating" and "visually stunning" portrait of photographer Sebastião Salgado. The following year, Wenders released his first fiction film in nearly a decade, "Every Thing Will Be Fine," which was praised by RogerEbert.com critic Glenn Kenny. He noted that the film's opening and closing sequences were among "the most masterful" he ever created. "There's almost no dialogue, only a calm command of cinema language, conjuring suspense, dread and poignancy, enhanced by Wenders' expressive use of 3-D," wrote Kenny.
This is the fourth annual installment of the TIFF Ebert Tribute Luncheon. Past honorees include Martin Scorsese, Ava DuVernay and Agnes Varda.