Q&A:Canadian astronaut Chris Hadfield spacewalks into Edmonton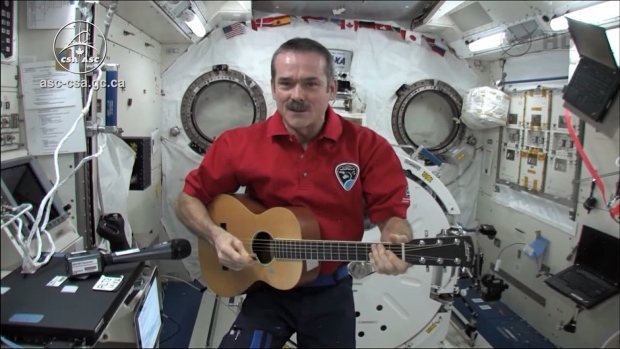 Canada's most famous astronaut Chris Hadfield is set to return to Edmonton. 
The commander will speak Sunday at the Jubilee Auditorium, in what promises to be an out-of-this-world event by the University of Alberta. 
Hadfield has been touring Canada for the 150th anniversary of Confederation, sharing his tales of spending five months aboard the International Space Station.
Before his talk on Sunday, the guitar-playing astronaut sat down with Radio Active host Rod Kurtz to reflect on his galactic career.
What was it that you wanted to portray to the world about space during your time there?
I served as one of Canada's astronauts for 21 years, starting back in the second class of astronauts with Dave Williams and Julie Payette. And during those 21 years I spoke in schools all across the country, and I started to get a feel for what people are curious about. What do they want to know? If they were in space, what would they want to do? What is it that I can see from that very rare vantage point that perhaps is worth sharing?
On my first two space flights they were very short, and so there wasn't a lot of time to share the experience. But on my third flight that I lived and commanded aboard the International Space Station I had almost 6 months there, so I just resolved that, if I could, I was going to use every bit of technology and every method that I could find to try and share that experience.
For me, it was just a part-time job while I was aboard this spaceship and I was just delighted to see the result.
What are some of your fondest memories from your time in space?
The most amazing experience I've had was to go outside. To be out, alone in the universe, holding onto the outside of the ship with one hand and having the whole world in the distance turning, and to have the limitless velvety blackness of space all around you. To have that early glimpse and vantage point of the universe was spectacularly personal and intimate and perspective-building. And the second is this great feeling of doing something that is almost impossible, to limit of my own ability, after working on it my whole life.
Starting in a place where there were no Canadian astronauts at all, continuing to evolve and training to try and become competent and qualified enough. And then to be trusted at the highest level, to be in charge and then prevail and succeed, it's a wonderful feeling. It's the fruit of decades and decades of labour.
When your longest mission ended and you returned to Earth in May 2013, how did you feel?
My life neither began nor ended that day. For me, it was a moment to reflect the things we had just done and the fact that we had accomplished them. Four days before we came home, we had a serious emergency that threatened the life of the space station itself, and we have to do an emergency space walk on one day's notice and perform at the absolute peak of our ability and then jump in our ship. The fact that we could execute all those things, part of me was just immensely satisfied with all of that. But also looking forward to everything else. Life starts with every dawn. There are so many things I hadn't done yet and still haven't done in my life.
I was tired and sort of nauseous, but immensely happy.
This interview transcription has been edited and condensed.