NBC Tries to Reignite Must-See TV with Their Best Comedies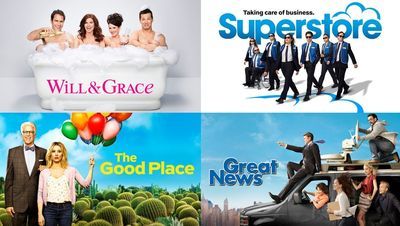 When I was growing up, Thursday nights meant NBC. It wasn't just a strong block of programming, it was a cultural force that nearly recalled more communal, nostalgic days of entertainment when one could be confident that nearly everyone was sitting and experiencing the same radio show or early program. In the mid-'80s, Thursday night consisted of "The Cosby Show," "Family Ties," "Cheers" and "Night Court." "A Different World," "Wings," "Frasier," "Mad About You," "Friends," "Seinfeld," "Will & Grace"—all shows that aired on Thursdays between 8pm-10pm EST for at least a season. It was such a powerful block that it made national news when someone dared to program against it (as "The Simpsons" did in the early '90s) but it eroded in the '00s, largely under the heel of the reality TV trend pioneered by "Survivor." Still, even though it didn't have the cultural or ratings power of the '80s and '90s, NBC still used the night for comedy, making it the home for "Community," "Parks and Recreation," "30 Rock" and "The Office." When those powerhouses left and other shows bombed, NBC gave up on the night, turning it over to other kinds of programming, but the four-comedy block is back this fall for the first time in four years, and it's one of the strongest two hours of programming on network TV. Maybe the strongest.
It's interesting that NBC has been careful to construct this evening around people with connections to the history of must-see TV (MSTV). The kick-off show has ties to "The Office"; it's followed by a show with "Cheers" star Ted Danson from another creator of "The Office" and "Parks and Recreation"; the anchor for the night at 9pm EST is a show that was literally on Must-See TV before; and the night ends with the return of the creator and star of "30 Rock." If people like familiarity—and they definitely do lately—this should work.
The night starts with the underrated and consistently improving "Superstore," a show that too many people dismissed after an inconsistent first season but that has developed into a really solid workplace comedy. The show follows the staff of Cloud 9, a "Big Box" store like Target or Walmart, but it follows the model of "The Office," and not just in that the characters are more important than what they do for a living. When I say it follows the model, it's almost character to character. Ben Feldman and the great America Ferrera are the Jim and Pam of Cloud 9, Mark McKinney is the Michael Scott, Lauren Ash is the Dwight, and so on. If you think I'm stretching, you should know creator Justin Spitzer was a writer on "The Office" for seven years. And this is not meant at a criticism, it's a model that works. Most of all, he's assembled a really solid ensemble, who took about a year to click and adjust to each other's rhythms but have completely done so by now. It may not be breakthrough television, but it is an old-fashioned model of the form done very well and it makes me laugh every week.
Now, what could accurately be called breakthrough programming continues the night in "The Good Place," the best show on network television. Michael Schur's hysterical deconstruction of karma is reaching for new levels of brilliant absurdity in its second season after blowing people's minds with the twist at the end of the first (which I will try and talk around because I know there's still a lot of people catching up on Netflix). The premise is relatively simple: Kristen Bell plays a young woman who dies and goes to "The Good Place," but there was an error and she doesn't really belong there. The show was smart and funny in its first season, anchored by great performances from Bell, William Jackson Harper, Ted Danson, and everyone really, but it's turned into something more daring and strange and amazing in its second season. My only concern is that they can't possibly keep this up long-term, although I can't wait to see them try. Stuck in the Must-See TV slot that typically produced the least success over the years, I just hope audiences find it.
Maybe they'll tune in early for what I suspect will be the biggest hit of this new block, a show that has been a pillar of NBC's Must-See TV before, "Will & Grace." I wrote a little bit about my feelings on the show in the Fall TV Preview earlier this week, so I'll be brief here—it's a talented cast doing what they do best. The old-fashioned nature of the show—the laugh track returns, although it would feel weird to watch this show without it—will likely turn some people off, but I was surprised by one aspect of "Will & Grace" that this quartet does phenomenally that you don't really see much of on network TV any more: physical comedy. Even if the writing doesn't sing or sting as often as I'd like, Eric McCormack, Debra Messing, Sean Hayes, and Megan Mullaly are undeniably good at what they do, and there's something bizarrely comfortable about having actual comedic actors back on TV after a decade in which the form went pretty steeply downhill. It may say more about the state of TV in 2017 that the mid-level performer of the '00s is closer to the top of the crop a decade later, but that's just where we are.
Finally, there's the weakest of the four, the Tina Fey co-produced "Great News," and that's more indicative of how strong the night is overall than the quality of this program specifically, which would have been the best of some other MSTV blocks. It's a funny show, but it's working through some growing pains, trying to find its voice and figure out its cast chemistry, which, to be fair, it took "30 Rock" about a season to do as well (this is the youngest of the four shows tonight). Briga Heelan stars as Katie Wendelson, a producer at a cable news network a la CNN. Nicole Richie and John Michael Higgins play anchors; Adam Campbell plays Katie's boss/love-interest; Horatio Sanz is a tech; Andrea Martin is Katie's meddling mother; and Fey herself steps in front of the camera this year in a multi-episode guest role as Katie's new boss. It has all of the ingredients to work and seems enriched a bit by the #FakeNews drama at the start of season two—a guest on the news program wrote a book denying Obama even exists called Well, I Never Met Him—so I'll keep watching. Who knows, maybe this will be the show people are talking about when it comes to the continued success of Must-See TV for another generation? On this night, for decades, anything has been possible.