Mother of kindergarten student upset after school staff didn't realize girl was missing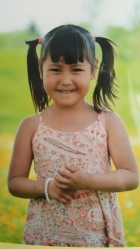 An Edmonton mother is upset after her five-year-old daughter wasn't accounted for until she was found outside an hour after school started on Monday morning.
Destiny Bruce, 22, received a phone call from staff at Athlone School two hours after her daughter Daneya was found around noon that day.
Bruce said she was told her daughter was dropped off by her daycare, but had hid behind a tree. School staff didn't realize she was missing. Two students came across Daneya while they were taking part in an outdoor class.
"It really made me mad and I couldn't focus at school," said Bruce, a culinary arts student at NAIT.
"It made me think of a whole bunch of thoughts of what could have happened to her if she wasn't found."
Bruce is unhappy with the way the school dealt with Daneya being left outside. She said staff made it seem like it was her daughter's fault and that it wasn't a big deal.
"I felt that they were trying to brush everything off," she said.
Daneya's grandfather, Kenneth Charles, contacted the education minister's office on Tuesday because he wanted more accountability for the incident.
He said parents count on schools to look after their children.
"It's a new school year," Charles said. "You want to be sharp. You want to be attentive … Daneya is with us because we were lucky."
Edmonton Public Schools responds
Athlone School, at 12940 129th St., is a K-6 elementary in the city's public school system.
Carrie Rosa, a spokesperson for Edmonton Public Schools, said a few things went wrong in the incident on Monday, but wouldn't speak about the details.
"We want kids safe at school," she said. "We really don't want something like this happening."
She said school staff have already made changes to their morning procedures.
"There's a really thorough search of all areas of the school yard including the playground when kids go into school," Rosa said.
"There's some work that we're doing with the daycare to ensure that kids get handed off appropriately so teachers know that kids are in the classroom."
Despite the procedural changes Bruce said she plans to transfer Daneya to another school.