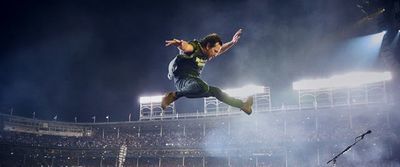 Sports and music have a lot in common. They both produce rabid fandom, the kind in which people camp out in line for days to get tickets to a major sporting event or the best position for a general admission rock concert. They both invoke a feeling of community—people channeling the same passion and fandom at an event like the World Series or the two-night concert held last August by Pearl Jam at Wrigley Field. Both are the subject of "Let's Play Two," a quasi-concert film about the PJ shows at Wrigley that spends just as much time on the history of the Chicago Cubs and their remarkable 2017 season, which culminated in their first World Series win since most of the country developed electricity. The film is a bit formless and goes on way too long, but if you're in that Venn Diagram crossover that includes both Cubs fandom and allegiance to Eddie Vedder's band, you owe it to yourself to see the film. It is a fan letter to both the Cubbies and one of the biggest rock bands in the world and the passion behind its creation, along with the passion of its frontman, allow one to look past its flaws with relative ease.
A declaration of personal fandom feels appropriate here. I am of the perfect age for Pearl Jam fandom, being a teenager when Ten came out, and I tracked the band loyally for years, although more fervently in my youth. I can still remember searching for concert bootlegs and rare import singles of the group, so I was sure I heard everything they recorded. I still listen to them on occasion even today. As for the Cubs, I'm a Detroit transplant and stay loyal to the Tigers, but I've lived in Chicago for decades, most of it on the northside, and it was impossible not to get swept away in the city-wide joy produced by last year's team. It was historic.
Eddie Vedder understood that history. He is also a lifelong Cubs fan, and tells stories in "Let's Play Two" about the years when most of the city didn't pay attention to what was happening at Wrigley Field. His favorite player growing up was Jose Cardenal and there would be so few people at games that he could play hide and seek in the upper deck when he was a kid. "Let's Play Two" intercuts stories like this, about Eddie's fandom and the 2017 season, with concert footage from their two nights at Wrigley. So, we get a couple songs, including an incredible version of "Better Man" early, and then hear some anecdotes about the Cubs and the power of the place in which the band is playing, cut together with a look at the 2017 postseason. It creates a different atmosphere than a traditional concert film, in which the venue often doesn't really matter. Here, the venue is holy, and Eddie is a guest preacher in the church of baseball.
We even travel with Eddie and the filmmakers to the historic places around Wrigley Field, spending a great deal of time at Murphy's Bleachers and even speaking to the owner of the famous concert venue, the Metro. And we get a lot of time with Theo Epstein, the mastermind behind the Cubs victory. Interestingly, and somewhat disappointingly, we get no time with Joe Maddon or the Cubs players, some of whom have to be Pearl Jam fans. Epstein says early that they're "four games from the World Series" during one of his interviews, so I'm guessing the team had other concerns then, but they could have gone back for pick-ups. For what it's worth, Epstein is a great interview, grasping the importance of the 2017 season not only to the city but to his friend Eddie.
"Let's Play Two" loses some of its way at about the hour mark, when it dives into the history of the band, including some archival footage of them playing the Metro for the first time, opening for Soul Asylum 25 years ago (and making $250 for the gig). It's a two-hour documentary, and the second hour should have focused entirely on the concert, allowing it to build as we intercut with the building Cubs season. Diversions to Jeff Ament's favorite bass players are fine for hardcore fans but don't work over an hour into this particular movie. And the concert footage in the second half is so strong—including great versions of "Inside Job," "Crazy Mary," and "Release"—that one just wants more of it.
In the end, "Let's Play Two" is a movie about fans of the Chicago Cubs and Pearl Jam, as made by fans of the Chicago Cubs and Pearl Jam. If you fall into neither group, it's not creatively constructed enough to justify its running time for you. If you fall into both groups, it probably couldn't be long enough.