Ice District gives sneak peak of downtown towers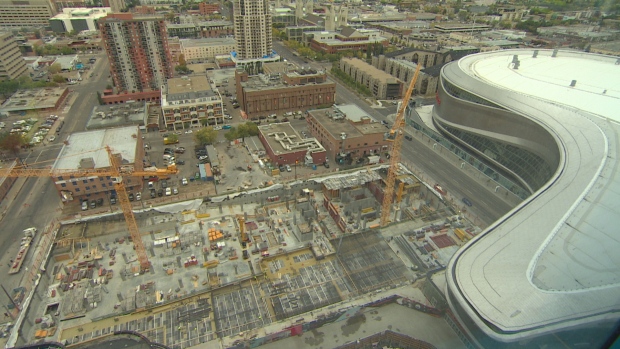 The Ice District opened its doors to Edmonton's media on Tuesday to show the construction progress throughout the 25-acre, $2.4-billion downtown development.
It was the first time reporters had a chance to go inside the Stantec Tower, which will soon be the tallest building in Edmonton, standing at 251 metres and close to 70 storeys.
Stantec is expected to start working inside the space next month and staff could be working out of the new skyscraper as early as October 2018.
The JW Marriott hotel in the tower just to the north is also taking shape and on target for its opening in early 2019.
About 2,000 people will be moving into the residential condominium units in both towers, which will also be home to 5,000 office workers.
When the development is complete, the Ice District — with Rogers Place at its heart — will see about 12 million people go through the project every year, officials said.
"I think Edmontonians should be ecstatic about it," said Glen Scott, president of Katz Group Real Estate.
"It's going to put Edmonton on the map — the downtown core in particular — and it's going to revitalize. You can already see it happening."