Hit the road apples: Edmonton Equine Centre wards off fruit dumpers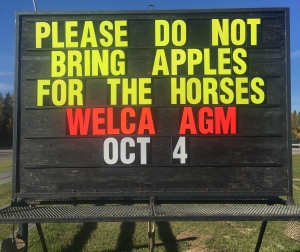 Edmonton's urban horse stable is trying to fend off apple smugglers.
The Whitemud Equine Learning Centre Association has dealt with a strange series of uninvited guests over the last few fall seasons.
City dwellers dealing with an autumn influx of apples have been off-loading their harvests on the equine centre's resident horses.
'Quite dangerous'
"We were getting people who were just coming and dumping their apples in pens, and that's quite dangerous," executive director Diane David said in an interview with CBC Radio's Edmonton AM.
"Like anything, apples in moderation are a nice treat for a horse. But a boxful dumped into a pen, or a garbage bag full, is more than we can handle.
"Horses like apples, and they will eat them until they get sick." 
The centre often fields two or three calls a day from people looking to rid their yards of apples, said David. A recent newspaper article that suggested that "it would be a good thing to do" only exacerbated the problem, David said. 
While her staff appreciates the well-intentioned patrons, not everyone has asked for permission.
Some have shown up on the sly and used the horse pens as a veritable dumping ground, she said.
"Horses are like any animal … if you give them a boxful of something they like, they're going to gorge themselves on it," David said.
"And that can be particularly dangerous for our horses, who tend to be older and their digestive systems aren't as healthy as a younger horse."
Apples belong in lunch kits, pies and cider, not in the horse pens, said David.
In an attempt to curtail unwanted donations, the centre installed a huge sign along Fox Drive in September that discourages anyone from trying to offload apples. 
The preemptive strike seems to be working.
"We do still get the occasional call," said Diane. "But it has reduced the number of calls. And we're happy to say we've had no apples dumped over the fence this year."
Listen to Edmonton AM with host Mark Connolly, weekday mornings at CBC Radio One, 93.9 FM in Edmonton. Follow the morning crew on Twitter @EdmAMCBC