Edmonton City Hall a sea of orange for residential school survivors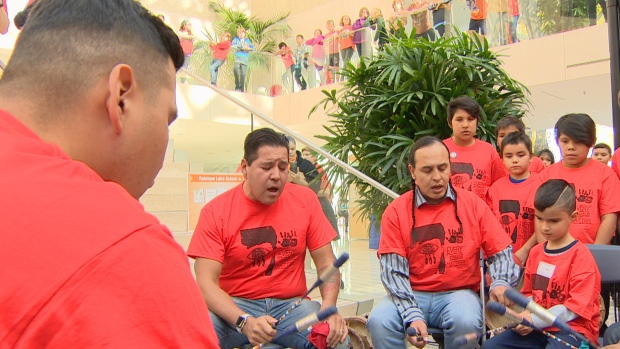 Hundreds of people gathered together in orange shirts at Edmonton City Hall Friday in a touching show of support for residential school survivors.
People were there to honour the survivors in a special ceremony for Orange Shirt Day.
"It was inspiring to see the amount of people that came out, this movement of the Orange Shirt Day has really taken off," said 40-year-old Rocky Morin, an intergenerational survivor whose mother and many aunts and uncles went to residential schools.
Orange Shirt Day came from the story of Phyllis Webstad, whose orange shirt was taken from her on her first day at residential school in B.C. in 1973.
Morin, from Enoch Cree Nation, said he was moved to see Webstad's story had such an impact on so many people.
"It kind of indicates that we're being heard and our mainstream Canadian brothers and sisters are working with us and walking towards reconciliation together."
Morin's group Sacred Drum played a memorial song to remember the children who never came home from residential schools.
He, like many others, wore the orange T-shirt with a logo designed by 16-year-old Amy Peters, describing it as a "perfect" tribute.
The design was picked from 380 entries to a competition run by Safe and Caring Schools and Communities.
Peters came to Edmonton from Delburne, east of Red Deer, to be a part of the event. She said it was surreal to see so many people wearing the shirt with her design.
She showed no nerves as she took the podium to say she was thrilled to be part of the ceremony.
"It's amazing. It's a great opportunity to bring awareness to this cause," she said.
Her design shows a dreamcatcher in place of a child's eye, representing the dream to be back home with family.
While many were wearing that shirt, Treaty 6 Grand Chief Willie Littlechild chose an Oilers T-shirt for the event.
"I wanted to acknowledge the Edmonton Oilers because they've done a tremendous amount of work as a hockey team to promote reconciliation," Littlechild said.
Littlechild said it was great to see so many school children at city hall learning about the legacy of residential schools and the continuing impact.
Education Minister David Eggen echoed that.
Eggen said to him, residential schools sounded more like prisons.
He said the government will make sure all educators in the province will learn the teachings of the Truth and Reconciliation Commission in the next three years.
Having been dedicated to reconciliation for many years, Morin said it was encouraging to hear the City of Edmonton make an official proclamation recognizing Orange Shirt Day.
"Many residential school survivors, all they wanted was to be heard,": he said. "To have a voice for Canada, to acknowledge this happened, so that we can move forward to reconciliation."