Do Catholic and public school boards face uphill battle to remain relevant?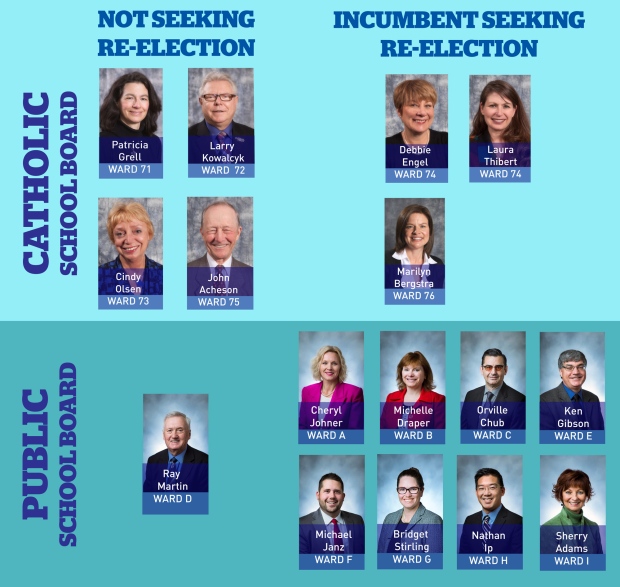 Voters have an opportunity in next month's election to vote for new trustees who can help refocus and reinvigorate the Edmonton Catholic school board, says John Acheson, outgoing trustee for Ward 75.
Four of the board's seven trustees are not seeking re-election, and Acheson said he hopes those who replace them will bring a new sense of purpose.
"We've got a chance now for people to come in and say, 'No, we are the parents, and we speak for the parents, let's take a fresh look at this,' " Acheson said.
"They are representing the parents and the parent community vis-a-vis the children's education. That is such a critical, almost philosophical issue, because if it's not the parents that are going to control education it's going to be the state."
Current board was embroiled in controversies
The current board has been embroiled in a number of public battles, including one centred around a 7-year-old transgender child.
Her mother wanted the girl to be able to use the washroom of the gender her child identifies with.
The majority of trustees took the position that the girl could use a washroom specifically set aside for transgender students.
That debate, at times, devolved into name-calling among trustees.
The board was also divided on the issue of extending the contract of Edmonton Catholic Schools superintendent Joan Carr, the highest paid superintendent in Alberta.
Her contract, worth $415,905 in salary and benefits, was extended to August 2018 in a close vote earlier this year.
At a board meeting in May, trustees Patricia Grell and Marilyn Bergstra were publicly taken to task by what the board called "their blatant disrespect for the decisions made by the board."
The reprimand came after the two questioned a mandatory requirement that stipulates all graduating students must have nine credits in religious studies to be able to participate in commencement ceremonies.
Alberta Minister of Education David Eggen has expressed concerns about the troubled Catholic school board.
In 2016, Eggen appointed a deputy minister to work with the board on improving its accountability.
"It's so easy for trustees to turn things over to the administration." – John Acheson, out-going Edmonton Catholic school trustee
The Oct. 16 election is a chance to bring in "a new perspective, a fresh perspective" to the sometimes embattled board, said Patricia Grell, who is also not seeking re-election.
"They should be progressive people, not being sent in by any particular lobby group by either the administration or the archdiocese," she said.
Disagreements among trustees were not simply personality clashes but were influenced by outside sources, Grell said.
The current board, in some way, has abandoned its governance responsibilities, said Acheson.
"It's so easy for trustees to turn things over to the administration, from a governance point of view," he said. "This new board has got to struggle for relevancy."
The issue of relevancy is something faced by all school boards in the province, Acheson said.
More incumbents in races for public trustee seats
With incumbents running in all but one ward, the Edmonton public school board is unlikely to see the same turnover in trustees as the Catholic board.
There are four candidates vying for the Ward D seat, left vacant by outgoing trustee Ray Martin.
Infrastructure is another issue facing both school boards, said Martin.
"We can't keep up," he said. "In Beverly, in my ward, we have a brand new school, but we had to shut down three to get the one."
High schools face the prospect of having no spaces by the 2020-2021 school year, Martin said. While new neighbourhoods need schools, mature neighbourhoods are faced with having to replace aging school buildings.
Those school closure discussions will continue for years to come, he said.
There are almost 100,000 students attending public schools in Edmonton, and classrooms are "more complicated" ever, said Martin.
"Our schools are little United Nations," he said.
One-quarter of students are "English language learners," the Indigenous population is growing, and there are many special education students, all factors that create a complex learning environment, said Martin.