Albertans 'not overly' engaged in UCP leadership race, says would-be candidate Paul Hinman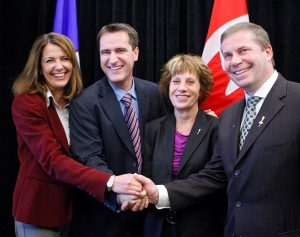 A would-be candidate in the United Conservative Party (UCP) leadership race says Albertans are "not overly, at this point" engaged in the contest to choose the first leader for the amalgamated Wildrose and Progressive Conservative parties.
As Paul Hinman scrambles to come up with the $57,500 he still needs to stay in the contest by Tuesday's 5 p.m. deadline, he says the lack of engagement is symptomatic of the overall attitude with politics and politicians.
"There's just a lot of apathy when it comes to politics in general," Hinman said.
As an experienced politician who has won two elections as an MLA for the defunct Alberta Alliance and Wildrose parties, Hinman is alarmed — but not surprised — by what he hears on the doorstep.
"Most people, when I talk to them  … if you ask them the question, 'You think it makes any difference who you elect?', the answer is usually 'No,' " he said.
Hinman believes the level of interest would increase if voters had power to "fire" their elected officials.
"We need to engage and be accountable to the public," he said.
The campaign deposit Hinman must pay Tuesday afternoon represents half of the $75,000 entrance fee, plus a $20,000 refundable compliance fee for following leadership-race rules set out by the party.
As the fifth person to enter the race, Hinman is the only candidate who has said he will have trouble meeting the payment deadline.
Sprinting to finish
"I'm sprinting to the end," he said, with a chuckle. "The last half isn't as easy as the first half, that's how it's going."
But Hinman said the entry fee doesn't stop him from giving the race a shot, if only to raise issues he feels have been overlooked or ignored.
"We need to be able to fire our politicians in between elections, and I don't know that it's a high enough priority with the other leadership candidates," he said.
The other late entry into the leadership campaign, former Wildrose president Jeff Callaway, was initially concerned about the expensive entry fee, but his campaign says it is pleasantly surprised by the reception the candidate is getting.
"Jeff, having been party president for several years, was able to develop an expansive network of individuals who support out-of-the-box ideas," campaign co chair Cameron Davies said.
The other three candidates in the leadership campaign — Jason Kenney, Brian Jean and Doug Schweitzer — all say they have paid the entry fee.
Party members will vote for the new leader over three days starting Oct. 26. The winner will be announced Oct. 28 in Calgary.