Alberta justice minister halts plan to require deposits from legal-aid clients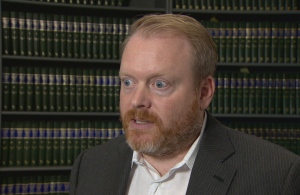 Justice Minister Kathleen Ganley has halted a plan by Legal Aid Alberta to charge prospective clients up-front deposits.
Legal Aid Alberta implemented the new policy last Thursday, announcing that clients would be required to pay deposits of $25 to $150 before they could be assigned lawyers.
Ganley weighed in Tuesday with a written statement on the issue.
"I have asked Legal Aid Alberta to put a hold on this process until I can meet with them to discuss the implications, financial and otherwise," Ganley said.
Not long after Ganley issued her statement, Legal Aid Alberta put out one of its own, saying it will suspend the policy for now.
"Today Minister of Justice and Solicitor General Kathleen Ganley asked us to temporarily suspend our policy of exploring prepayment options from clients until we can meet with her and discuss the policy in more detail," John Panusa, president and CEO of Legal Aid Alberta, said in a statement.
"We have agreed to this request, and look forward to what we are confident will be constructive discussions with the minister and her officials as we work together to continue improving access to justice for Albertans."
Panusa said Legal Aid Alberta had no intention of denying service to people who can't afford to pay for it.
"As Legal Aid Alberta is a legal assistance service, and not a free service, we continue to explore with government viable options for working with those we serve in a fiscally responsible way, without denying service to those who are vulnerable or unable to contribute."
Earlier in the day, the Edmonton Criminal Trial Lawyers Association denounced the deposit plan.
'Ultimately, the government is responsible'
"I think it's extremely, extremely unfortunate that they're collecting money from the most vulnerable people in Alberta," said Dan Chivers, association president. "It is abhorrent that they are trying to collect this money. This is something that the government should be paying for in the big picture."
Chivers said he opposes the policy in practice and on principle.
"These are people who are in custody, on various forms of social assistance," he said. "They're collecting, I think, what people would say are small amounts of money. It's a lot of money for these individuals."
Chiver said the blame for the problem belongs to the provincial government for under-funding legal-aid services.
"Ultimately, the government is responsible for the funding," Chivers said. "And their lack of funding will create situations like this."
A spokesperson for Ganley's office said the province has increased legal-aid funding by more than 20 per cent, or $13.6 million, since the NDP government was elected in May 2015.  
In the 2016-17 budget, legal aid received $77.9 million in funding.