'You want to turn and run': Chief of fire-threatened First Nation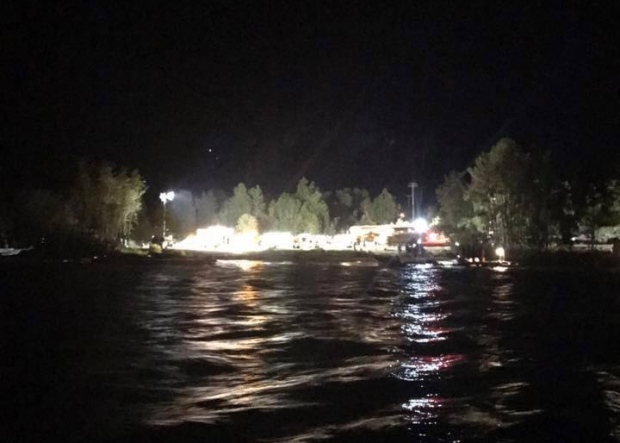 A handful of people remain in a northern Manitoba First Nation community where an encroaching forest fire forced some family members to split up amid a hurried evacuation on Tuesday night.
"You want to turn and run from this approaching fire," Wasagamack Chief Alex McDougall said Wednesday in a telephone interview from the community, about 470 kilometres northeast of Winnipeg.
On Tuesday afternoon about 2,000 residents made the 10-kilometre trip by boat to St. Theresa Point First Nation, where they awaited flights to southern Manitoba.
"It's quite scary," said Keewatinook Liberal MLA Judy Klassen. She was up into the early hours of Wednesday morning talking with people evacuated from Wasagamack.
Klassen said some families were separated during the abrupt exit.
"You get on a boat in the middle of the night, it's dark and you don't know where you're going to be ending up or where the boat is taking you," Klassen said, adding many ended up staying at a school in her home community of St. Theresa Point First Nation.
Klassen said roughly 30 leaders from the community and people trained in fighting forest fires remain in the community.
'We were very fortunate'
McDougall said the fire spread into the outskirts of the community on Tuesday, and while smoke remains a problem a shift in wind direction kept the fire at bay.
"We were very fortunate," he said, adding no residential buildings have been lost yet, though the roof of the local band office was damaged by heavy winds.
The nighttime boat evacuation was scary, he says, and unlike anything he's every experienced.
"It's not something that one would stick around and watch," he said. "It was both scary and amazing to see."
About 1,100 people from Wasagamack remained at the school gym and airport in St. Theresa Point airport Wednesday morning as they waited to be flown to Winnipeg and Brandon, the chief said.
"They've been waiting in terminals and gymnasiums all night — these are still some of our elderly and very young. I am sure they're very tired," McDougall said, adding officials with the Canadian Red Cross notified him two planes destined for St. Theresa Point on Tuesday were forced to turn around due to poor visibility.
Evacuees arrive in Winnipeg, Brandon
Partial evacuations have also taken place in St. Theresa Point and Garden Hill First Nation.
About 850 residents from of those communities are being flown to Winnipeg and Brandon, as are the 2,000 evacuees from Wasagamack. The Canadian Red Cross said 135 evacuees from the three communities had arrived in Winnipeg and Brandon as of Wednesday morning.
About 850 residents from Poplar River First Nation are currently staying in hotels in Winnipeg from an evacuation. Many of the evacuees from Wasagamack, St. Theresa Point and Garden Hill will head to hotels in Brandon.
About 130 forest fires are burning in Manitoba right now. The fire near the three communities covered an estimated 15,000 hectares as of Tuesday night. 
'It happens so fast'
Klassen has personal experience with the devastation forest fires can visit upon remote northern Manitoba communities. Her first home, which she built herself, burned to the ground in St. Theresa Point almost 20 years ago.
"It happens so fast," she said. "I've been in a forest fire situation and just like that my home was gone."
She encourages anyone interested in donating supplies to contact the Canadian Red Cross.
Klassen said she will continue to share updates about the fire and evacuations through her Facebook page.
"Stay tuned … as soon as I know something, you guys will know something."
McDougall said he is proud of how quickly his community members came together to co-ordinate the evacuation.
"This threat to our community brought a lot of the members to come and work together and try and help each other out," he said.
"We're still very much at high alert here and we're trying to do our best to protect our community."'