Work conditions 'killing us,' says Alberta Mountie pleading for Ottawa's help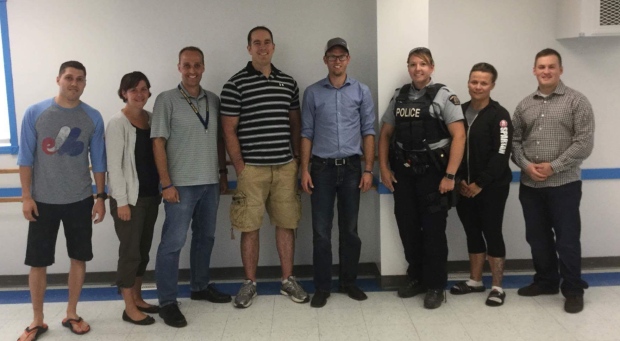 A group of Alberta Mounties is calling on the federal government to step in and resolve longstanding issues around wages and working conditions that are leaving RCMP officers overworked, exhausted and poorly compensated, says one member.
Cpl. James Smith in the Valleyview detachment was among six members and three of their spouses to meet with Conservative MP Arnold Viersen Tuesday. He also defied the RCMP Act by adding his voice to a growing wave of those speaking out publicly across the country.
"We're burning out, we need help on the front lines here," said Smith, who accused management of failing to acknowledge problems or communicate them to Ottawa, forcing members to seek  assistance from members of Parliament directly.  "We're truly in a state of crisis. Evidence of that is everywhere."
In April, Smith joined thousands of Mounties who removed the yellow stripes from their uniform pants in protest after the federal government announced a new pay package falling short of expectations.
Many officers also signed up with the National Police Federation, giving the group enough members to file an application to certify their own union.
Problems, however, go well beyond the latest compensation package, said Smith, adding resources have failed to keep pace as expectations continue to grow.
He said police calls that used to take minutes now last hours, while RCMP lack a strategy to backfill maternity or sick leave.  Instead, said Smith, those responsibilities are heaped on remaining staff in addition to existing duties, as they attempt to maintain a high level of service.
Fatigued and bitter
"And that's killing us," said Smith, a 10-year veteran who warns that members with just two years experience are "getting fatigued and bitter" due to the heavier workload.
"I think it's a big public safety issue," he added. "We are first responders. We respond to some pretty bad calls for service, life or death situations. Having your police officers well rested and in good shape and in good mental health — to me that's crucial."
RCMP administration and the federal government did not respond to Smith's criticisms. But Public Security Minister Ralph Goodale previously expressed support for the pay package.
In response to CBC's interview request, Viersen's office provided a brief statement: "He's happy to meet with constituents and hear their concerns," said a spokesperson.
Among those concerns is the toll conditions are taking on their families as regular overtime keeps them apart.
"As a father I feel disappointed in myself," said Smith, father of two young children whom he hopes to spend more time with in the future.  
Issues around uniforms and equipment were also raised at Tuesday's meeting, said Smith, noting some police cruisers are on the roads "long after they should be in operation."
Smith has been waiting eight months to replace the 10-year-old "duty belt" he wears to carry various tools of the trade. And he's also heard stories of cadets sharing breaches in parades.
"When your cadets have to share pants for parade duties — that's embarrassing," he said.
andrea.huncar@cbc.ca      @andreahuncar