Where Are They Now?! The Official Cheat Sheet to Young Hollywood's Most Unpredictable Couples
Once Selena Gomez and Justin Bieber parted ways for good (and then once more, for good measure), we figured it would be smooth sailing from then on out when it came to figuring out the status of Hollywood's freshest-faced young lovers. Right?
Oh, so wrong.
Like high school only with more disposable income, keeping track of who's dating whom at any given time has become a full-time job (today it has, at least!) as celebrities in their late teens and early twenties navigate the joys and heartaches of relationships that quite often—for varied and sometimes quite relatable reasons—fall into "it's complicated" territory.
So, without a moment to lose, as all statuses are subject to change at any given moment, here's the official rundown of where some of Hollywood's most prominent roller-coaster couples are right now:
Richard Beetham / Splash News
Brooklyn Beckham, 18, & Chloë Grace Moretz, 20
These two are at exactly the right age to have realized that, while they may have a great time together, they also have their whole lives ahead of them and long distance is hard. A rumored off-and-on couple since 2014, when they "kinda started hanging out," Moretz smartly didn't confirm she was dating Victoria and David Beckham's eldest son until May 2016 (several months after his 18th birthday). Just a few months later, however, they went their separate ways after a blissful summer spent largely in Los Angeles, where the actress purchased a $3.4 million home last year. But breaking up is hard to do (and never feels harder than when you're at a very tender age), and they were just spotted out and about in New York City, where Beckham has enrolled at Parsons School of Design. According to The Sun, Moretz was overheard telling people at a party they attended that they were back together. 
Verdict: Chloë Grace, who earlier this year shot Louis C.K.'s super-secret new movie I Love You, Daddy, which will premiere at the Toronto International Film Festival next month, and Brooklyn, a model and photographer, have a lot of time to be more-than-friends, grow apart, reunite, call it off, get back together, etc.—and the VIP frequent flyer miles to help them on their journey.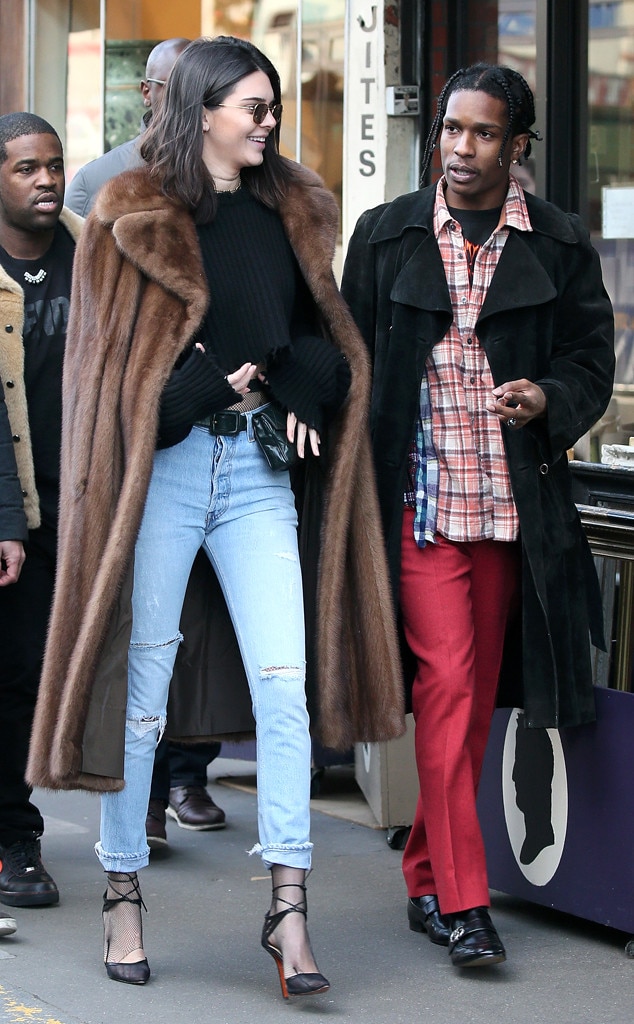 Pierre Suu/GC Images
Kendall Jenner, 21, & A$AP Rocky, 28
Talk about logistical difficulties! The burgeoning supermodel is always jetting between photo shoots, fashion weeks and family stuff, while the rapper is likewise usually on the move while performing. But like Carmen Sandiego, they keep popping up together in capital cities all over the world—Paris, Rome, Miami, Los Angeles, New York. After starting 2017 off with a très chic sighting during Paris Fashion Week, they parties at Coachella together in April and the longtime friends looked very much like a couple at the Met Gala. A particularly intimate moment was captured on Kim Kardashian's Snapchat, in fact.
"Kendall is seeing a few people, and she's not exclusive with anyone at the moment," an insider told E! News last December. "She's been going back and forth for a while with both [NBA player Jordan Clarkson] and A$AP Rocky." In March, a source told People, "Kendall's still not exclusive with anyone, but she's definitely been showing more interest in A$AP."
Verdict: A few months went by, making it conceivable that whatever was going on had cooled off, but earlier this month they were spotted together leaving a surprise Tyler the Creator show in NYC. Sounds like Kendall is still showing interest.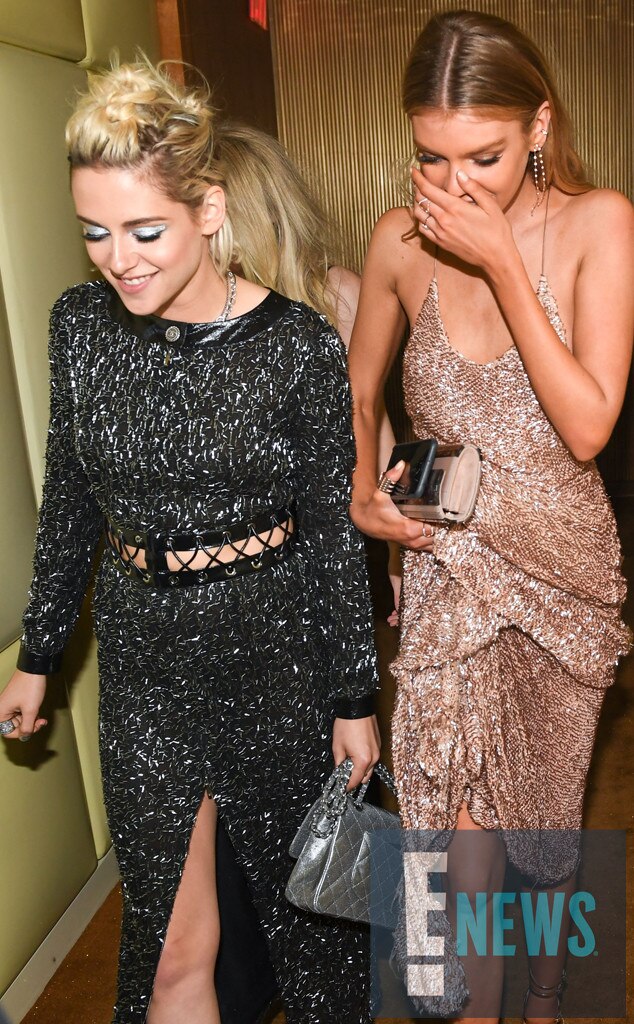 Billy Farrell/BFA/REX/Shutterstock
Kristen Stewart, 27, & Stella Maxwell, 27
More than eight months after they were first romantically linked, the Personal Shopper star and the Victoria's Secret Angel still seem to have eyes only for each other. They split their time between L.A., where Stewart is from and has a home, and Maxwell's pad in New York, the center of the fashion industry. In fact, they were just spotted today in NYC, where fittings for this year's Victoria's Secret Fashion Show are already underway, and last month they showed up in impromptu pics taken at a same-sex wedding in Winnipeg, where Stewart and Maxwell happened to be at the same restaurant where the reception was taking place. "They were just trying to have a good time just like the rest of us," bride Kayleigh Jennings told E! News after the reception.
Verdict: Kristen and Stella continue to make the most of every moment together.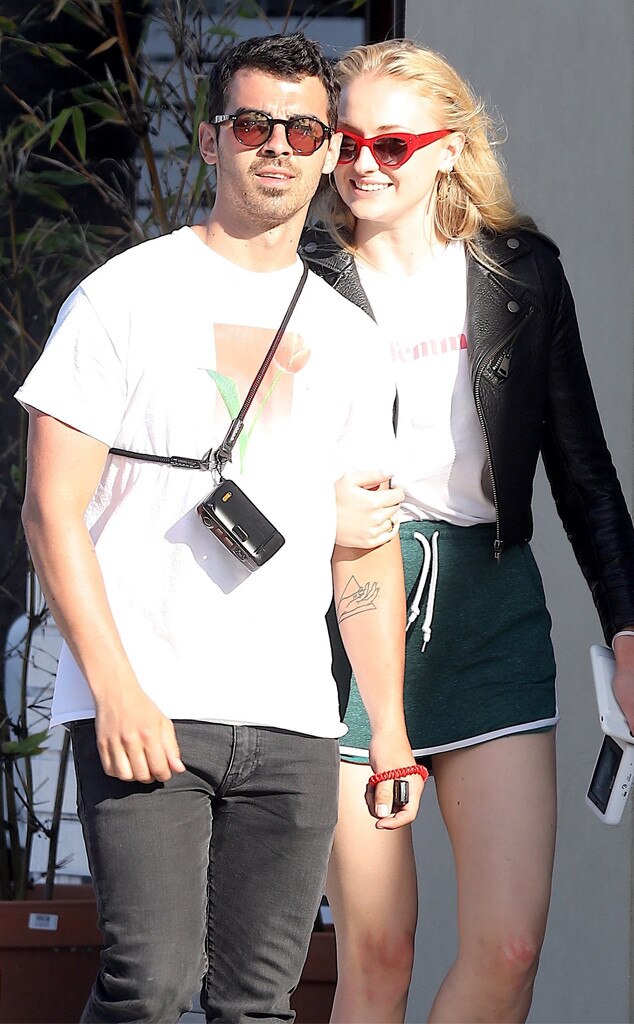 Malibu Joe/ / BACKGRID
Joe Jonas, 28, & Sophie Turner, 21
We hope it's the just-concluded seventh season of Game of Thrones and his touring schedule that kept the British actress and the DNCE frontman apart for most of the summer so far, prompting breakup rumors. Because we don't like to think the spell was broken by admitting that they were a couple. If those superstitions were true…then no relationship would last!
"I'm in a relationship, but it's a very private relationship," Turner, who started seeing Jonas last fall, told London's Sunday Times last month. She explained, "I very much isolated myself for a while and forgot what was fun. Going out with friends, going out to eat, not really having a care. And people I've met recently in my life have drawn me out of that."
She had told Marie Claire a few months ago, however, that dating such a paparazzi magnet was a bit like "living in a fishbowl. It's frustrating it's the most mundane things that make the news—how boring!"
Verdict: Competing schedules (Sophie had Comic-Con and a whirlwind of press, Joe just performed from Las Vegas during the MTV VMAs…) have kept them apart lately, but when they're together, they're adorable.
Kylie Jenner, 20, & Tyga, 27
After breaking up and making up multiple times in a two-year span, these two are done. While getting ready for this year's Met Gala in May, Kylie told her pals and glam squad (and production team), "I've had more fun this past month than I have in, like, years. Like the last three years of my life were just like a blur. I just stayed in the house all day."
The rapper waxed philosophic on the subject last month, telling Power 106's The Breakfast Club, "I mean, we started off as friends, and then we got into a relationship. It ain't a losing thing. "When you make a decision to not be in a relationship with somebody, you make that decision, you split ways."
Tyga continued, "I have love for her, but I'm not in love no more…When you're with anybody that first year, it's magic and then after that you start realizing a bunch of s–t. I think the main thing was a lot of people—a lot of outside influences—and…she's younger than me and she's dealing with perception. I'm older so I can deal with perception. But for her, growing up how she grew up, image and perception was everything."
Verdict: Never say never, but don't let any future hangouts between Tyga and anyone in Kylie's orbit confuse you: They have moved on. Game over.
Kylie Jenner, 20, & Travis Scott, 25
Case in point: Kylie is now dating the "Antidote" rapper, who's seen gifting her with multiple bouquets of flowers in a recent episode of Life of Kylie. In June each got half of a butterfly on their respective ankles that, when aligned side by side, create a whole butterfly. Scott recently upped the ante by presenting Kylie with a diamond butterfly necklace for her 20th birthday earlier this month.
Verdict: Game on!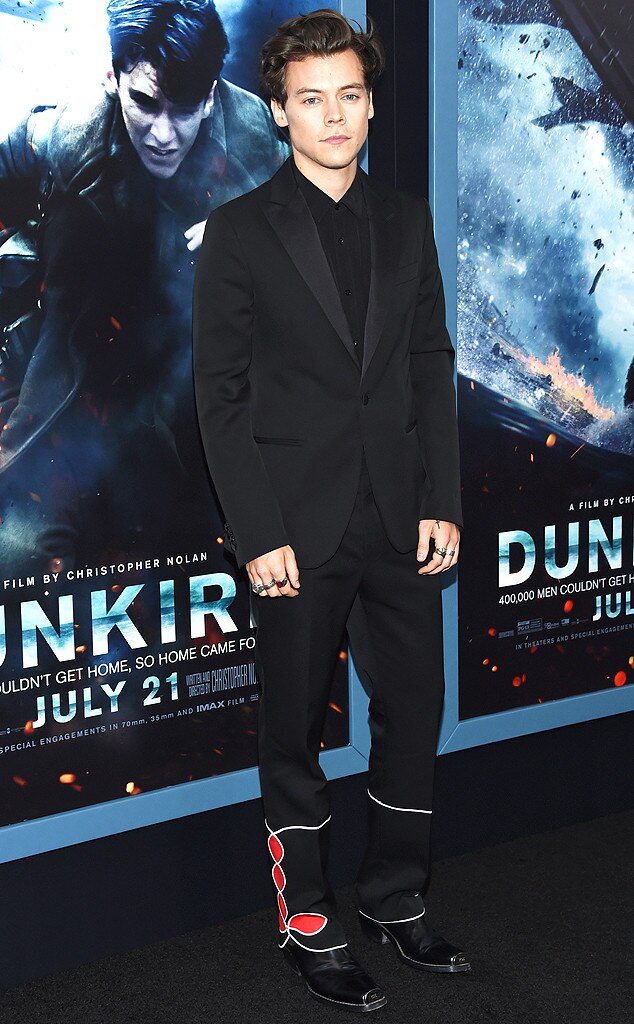 Andrew H. Walker/REX/Shutterstock
Harry Styles, 23, &…
Unlike Liam Payne, who has set up house with Cheryl Cole and their new baby, or Louis Tomlinson, also a new dad, this former One Directioner is flying solo with a vengeance. About a year removed from his casual, when-in-Rome relationship with Kendall Jenner, just a few months ago he appeared to be dating Tess Ward, 27, after meeting the British food blogger in February.  "I wouldn't say they [are] super serious or in love, but they're really getting to know each other," a source told E! News in May.
Most recently, however, the "Sign of the Times" singer and Dunkirk actor is said to be "in the early stages of dating" 27-year-old Victoria's Secret model Camille Rowe. A source told The Sun, "He's very protective of his relationships so isn't going to want to make a big show of things. They are well suited and seem happy. She's a real star on the rise. He seems besotted." Then again, Styles also told BBC 1 Radio host Nick Grimshaw that he didn't know Rowe but was "sure she's a wonderful person" when his pal flashed a picture of her during an interview last month.
Verdict: We may have to wait for Styles' sophomore album for any real insight into his love life. But really…who's expecting Harry Styles to settle down any time soon?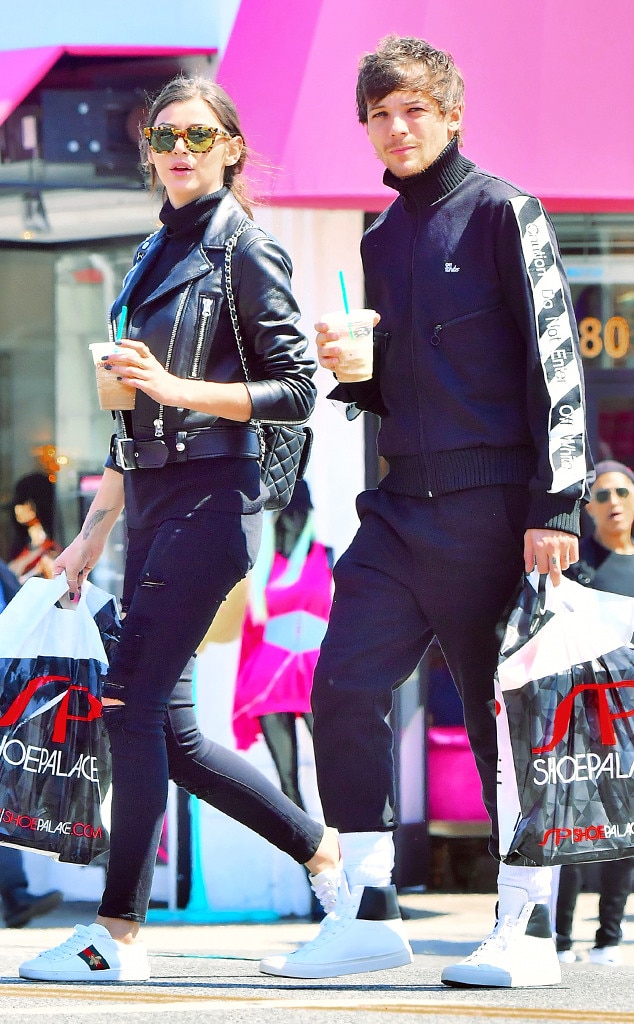 Marksman/MEGA
Louis Tomlinson, 25, & Eleanor Calder, 25
Their two-year break after four years of dating was more eventful than some, with Louis sowing his boy-band heartthrob oats and ultimately welcoming a child with Briana Jungwirth in January 2016. But Louis—older and wiser and no longer hitched to 1D—and Eleanor's paths crossed again earlier this year in the wake of his mother's untimely death from cancer and they have rekindled their relationship. A small, seemingly new "E" tattoo on Tomlinson's hand—and a potentially corresponding "L" on Calder's left ring finger—sent fans into a frenzy last month.
Verdict: Perhaps a long break was just what they needed to put them back on the same page. It worked for…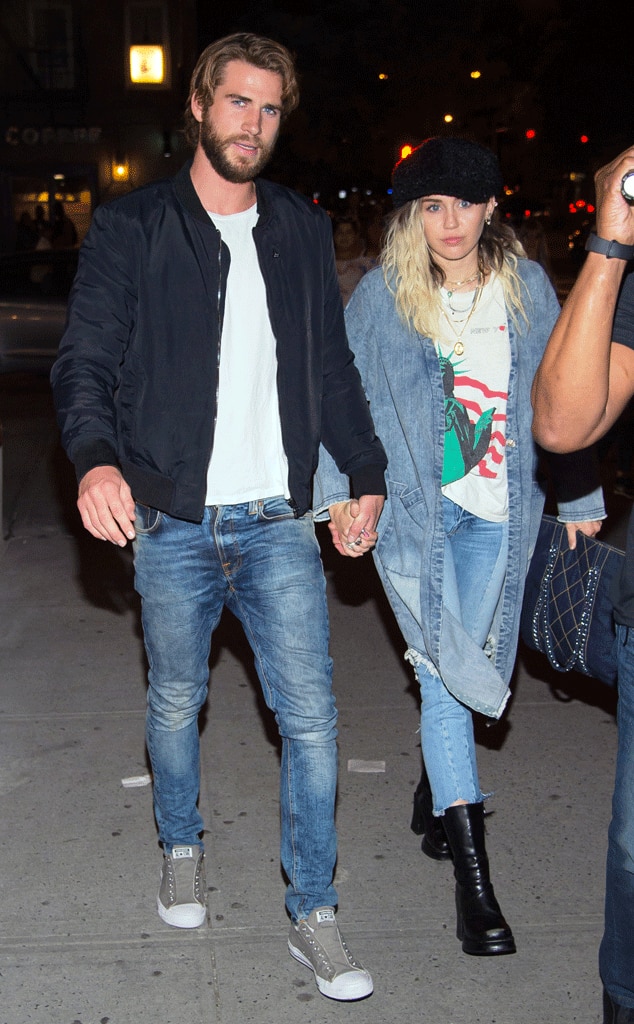 XactpiX/ Splash News
Miley Cyrus, 24, & Liam Hemsworth, 27
If you were the one person banking on these two lovebirds to work it out two years after splitting in the wake of the Bangerz era, after a seemingly unlikely relationship in the first place…well then you win all the gold!
The once tempestuous couple, who ended their year-plus engagement in September 2013, only to rekindle toward the end of 2015, have proved every naysayer wrong and have come out looking like the wisest young duo in Hollywood in the process. And don't worry, Miley wasn't in the running for any of that gold either.
"I never would've believed you if three years ago you told me I'd be here writing this song," the pop star told Billboard about her Liam-inspired single "Malibu" when it came out in May. When they first broke up, Cyrus threw herself into work (with a hefty side of fun) "'cause I needed to change so much. And changing with someone else not changing like that is too hard. Suddenly you're like, 'I don't recognize you anymore.' We had to refall for each other."
Hemsworth told GQ, about the breakup, "Of course it was hard, man. But at the time we were going in different directions and it's just what needed to happen. We were both super young and it was a good decision at the time—we both needed that."
Verdict: Not just on the same page, but writing a whole damn new book together.