Viral Connor McDavid song gets hip-hop remix for Edmonton Folk Music Festival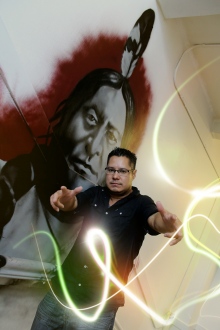 The Indigenous drumming group behind a viral Edmonton Oilers tribute song will unveil a remix of the song at the Edmonton Folk Music Festival this weekend.
The song, which was first performed by the Logan Alexis Singers outside Rexall Place in February 2016, transports listeners back to the team's glory decade when the Oilers, led by Wayne Gretzky, won four Stanley Cups in five years.
"Let's go back to the good old days, let's go back to the Gretzky days. Go Oilers, go. You can do it. You've got Connor McDavid, Nuge, Ebs and Hall," they sing, referring to teammates Ryan Nugent-Hopkins, Jordan Eberle and Taylor Hall.
For First Nations rapper Madjikal, also known as Keith Laboucan, the song was inspiring when he heard it for the first time at a powwow. It made him want to head to the Oilers' new home at Rogers Place and play the song on his hand drum.
"It's one of those songs that makes you wanna get up, and wanna dance," Laboucan said. "You wanna learn it, because it's so powerful. It impacts you and makes you feel proud as a First Nations person."
'City of Champions'
So Laboucan, a resident of the Driftpile Cree Nation, made a remix with his brother DJ Hooligan.
"We the dynasty with them five cups," Laboucan raps. "We sippin' champagne, nah it's Orange Crush," 
He was asked by Rob Alexis of the Logan Alexis Singers to give the song a new life with the hope it would resonate with First Nations youth and reach a larger audience.
"We're kind of getting tired of going to all the radio stations," Alexis said.
"We can give them a contemporary song they can play on the radio."
Alexis said he's not an expert when it comes to hip hop, but the remix called "City of Champions (Connor McDavid)" is resonating with him in a way he didn't expect.
"The more I listen to it, the more I like it," he said. "I thought it was great."
On Saturday around 9 p.m. and Sunday around 3 p.m., Madjikal and DJ Hooligan will join the Logan Alexis Singers during their performance at the folk festival.
It will be the first time they perform "City of Champions (Connor McDavid)," a song that has yet to be released. 
"It is going to be an honour. We're just hoping that they like it," Alexis said. "I'm just excited to see all the world-renowned artists that are going to be there."
For Laboucan, his first Edmonton Folk Music Festival appearance has been close to 10 years in the making. 
"The dream has come full circle finally," Laboucan said. "Now to be on the same bill as Logan Alexis, who pretty much paved the way and opened the door for us, I guess that's the way that the future was written."
Both Laboucan and Alexis said their dream is to have the song played at an Edmonton Oilers game.