Tony Callihoo, respected healer, sundancer, remembered in N.W.T., Alberta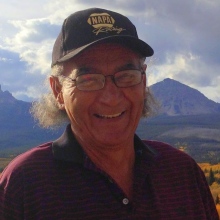 People across borders are remembering Tony Callihoo, a respected healer and Sundancer who was raised on the Blood Reserve in Alberta and has family in Hay River, N.W.T.
Callihoo died last weekend in Minnesota at age 73.
In the N.W.T., Callihoo worked at the Somba Ke healing lodge near Dettah and ran sweat lodges. He also worked with ex-prisoners, sexual offenders and youth.
James Jenka, a community wellness worker in Yellowknife, remembers him as "his brother, his mentor, his elder."
The two met at the Nechi Centre in Alberta in the nineties when Callihoo was training alcohol and drug counsellors.
"Tony was very instrumental in my healing journey. He introduced me to the traditional ways which I have been following ever since. He was one of the kindest, gentlest souls I have ever met in my life," said Jenka.
"If it wasn't for him, I don't think I'd be where I am at today. I owe a lot to my friend. I just wish him that he has a safe journey home."
Sobriety, life lessons
Norman Yakeleya was also trained by Callihoo. He remembers him as an early pioneer and a kind-hearted role model.
"He was very gifted, very professional, very culturally grounded. He was living a life of sobriety. He spoke from the heart with conviction and commitment to sobriety, to wellness, to recovery, to the importance of passing on lessons of life."
Tony Callihoo had three children. Dennis Callihoo lives in Lethbridge, Alta. He said his father was "always there to help out someone in need."
Dennis Callihoo remembers his father being alcoholic for the first 10 years of his life. "Then he was able to quit that and start to become what people know him as now. This very caring, generous and gentle human being."
Callihoo worked at the Friendship Centre in Lethbridge and was a well respected Sundancer. Keith Chief Moon started to dance with him in the mid-eighties and says everyone looked up to Callihoo.
"He wasn't judgmental, he always wanted to do things in a good way. He was a person that had qualities that not too many people have. He was very respectful."
'A safe harbour'
Callihoo was found dead near his retreat center The Sacred Earth Retreat and Cultural Center in Grand Rapids, Minnesota, on Aug. 12. His death was ruled a suicide by authorities.
Calihoo's wife, Yogini Barbara Joy, said she will continue taking care of their not-for-profit center, which will be renamed after Callihoo.
She remembers her husband as "a safe harbour" giving "light and peace" to people, and says she hopes Indigenous people will come teach there for people in need.
On social media, several people in Canada have raised concerns about Callihoo's death calling it "suspicious," but Joy said the Sheriff's department was very diligent.
"They went through everything. They investigated for two days."  
Callihoo's Sundance circle will hold a healing circle Saturday on the Blood Reserve. In Hay River, a memorial service will be held Aug. 28 at the Friendship Centre.
Sharon Gairdner, Callihoo's sister, said her brother was loved by many people, not only his biological family in the N.W.T.
"Everywhere he went, he touched people's lives."