Summer storms blow business into Edmonton live-music bar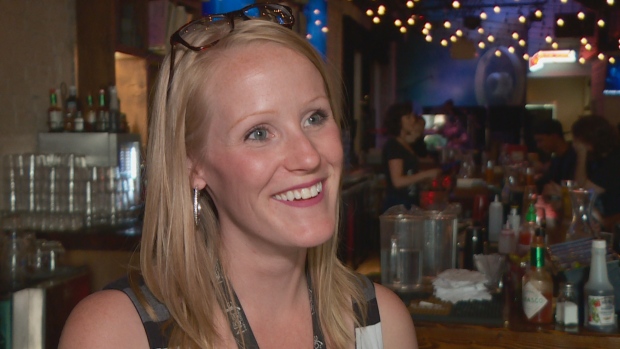 An Edmonton live-music bar has scooped up two big-name performers in as many weeks after severe weather forced outdoor venues to close.
A thunderstorm silenced July Talk's performance at K-Days July 27. Two weeks later, on Aug. 10, concerns about high winds shut down Shakey Graves at Folk Fest.
Both times, the Needle Vinyl Tavern on Jasper Avenue stepped in last-minute to host the cancelled performances.
Amanda James, the bar's general manager, said staff scrambled to prepare the bar for Thursday's impromptu Shakey Graves gig.
"I was making savage phone calls to staff to get them all here," she said.
The venue hit capacity within an hour of announcing the concert on Twitter, James said. Hundreds more lined the sidewalk outside.
"Shakey Graves I don't think we ever would have had here," James said. 
"We have the headliners on stage but on nights like that, the fans that are showing up … they're the headliners," she added. "It's so much energy."
Big bands bring in big business
Business volume doubled from 10 p.m. to 1 a.m., raking in thousands of extra dollars as fans flocked to the bar.
Bartender Georgia Coughlan said she pocketed about one and a half times her usual tips.
She abandoned a dinner with friends to pick up the extra shift Thursday.
"We're going to get killed tonight," Coughlan recalled thinking, as she squeezed past a lineup outside the venue.
And there wasn't any more elbow room indoors either, she added.
"It was probably about five people deep and along the entire perimeter of the bar," Coughlan said.
​The Needle Vinyl Tavern's management hasn't ruled out a formal partnership with Edmonton festivals that host musicians outdoors.
"It's a great option," James said. "It's something we are already reaching towards with Folk Fest."