Shirt featuring offensive term for Indigenous women pulled from Simons' shelves after complaints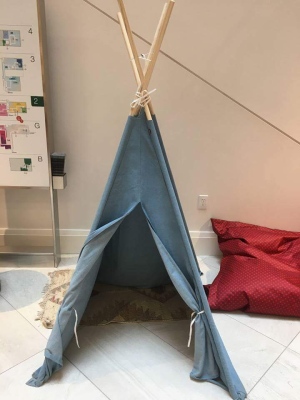 Canadian-based fashion retailer Simons faced a backlash of complaints Monday after a denim shirt embroidered with an offensive word referring to Indigenous women was found on a sale rack in the retailer's Calgary store, next to a teepee display.
A photo of the $190 men's shirt, embroidered with a label reading "Squaw Valley" on the front left pocket, was forwarded to the Calgary organization Uproot YYC by a concerned member of the Indigenous community.
"I was in shock [when I saw it]" said Melanie Hudson of Uproot YYC, which describes itself as a "grassroots collective" that helps amplify the voices of local artists of colour.
Hudson said the woman who took the photo approached the floor manager at the Calgary Simons store, who was alarmed when told what the word "squaw" meant.
The offensive term is considered demeaning and derogatory toward Indigenous women.
"She [the floor manager] said it was up to customers whether they wanted to buy the shirt or not," said Hudson.
"I think this is really harmful and inappropriate. I can't believe this is being sold. Even though I'm not Indigenous, [as a person of color] I have a sense of what it feels like to be dehumanized and have the use of a particular word to dehumanize us."
'This is not acceptable in 2017'
"This is not acceptable in 2017. It would literally be like having the N-word printed on a shirt and selling it — it's the equivalent for Indigenous people," said Michelle Robinson, a First Nations woman who is running for a Calgary city council seat.
"I think it's racism. Once again, we have people that don't understand what slanderous terms are. I want to respect that the store manager is a product of our society and the lack of understanding of racism, having approved for it to be on sale, but that lack of education on Indigenous issues shows that we have a long way to go with racism in this country and this city."
Squaw Valley, located in Fresno County, California, is the name of one of the largest ski resorts in the United States and played host to the 1960 Winter Olympics.
However, Hudson believes the name of the resort promoted on the apparel is a deeply disrespectful, racist term that should have caught the attention of someone before it crossed the border.
"The fact is we're not in California. I don't know what kind of relationship they [Squaw Valley] have with Simons, but given Canada's history with Indigenous folks, that it was put on the shelves without prior thought was not wise," said Hudson.
With the National Inquiry into Missing and Murdered Indigenous Women and Girls underway in Canada, some believe it's stereotypes represented by words like "squaw" that perpetuate the MMIWG crisis.
Term promotes stereotypes: entrepreneur
"This is completely not acceptable and should be removed from Simons," said Calgary-based First Nations entrepreneur Nicole Robertson.
"It's offensive and stereotypes our Indigenous women back to a time when settlers believed that our women were voiceless child bearers, enslaved and subhuman – a notion that needs reassessment, as we still have many MMIWG in this country."
Hudson said after multiple complaints were made to the Calgary Simons location by phone, the shirt was taken off the shelf. When CBC visited the store, the shirt was no longer displayed.
A quote from owners Richard and Peter Simons on the retailer's website states, "We are known for offering the most sought-after styles and looks from the world's design capitals and providing a level of service available nowhere else."
CBC has contacted Simons to request comment, but has not yet received a response.
Hudson said it's a good thing the shirt was pulled off the shelves and the incident provides an opportunity to initiate change.
"It opens the door and gets people to talk about why this is hurtful," she said.
"I think more education is needed."