Scientific Cinema: Michael Almereyda on "Marjorie Prime"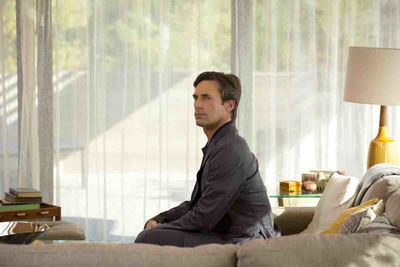 "Marjorie Prime" is the allusive and poetic new film by essential American independent Michael Almereyda. It's adapted from the Pulitzer-shortlisted play of the same name by Jordan Harrison that was originally staged at the Mark Taper Forum, in Los Angeles, in 2014.
The movie premiered at Sundance and won the prestigious Alfred P. Sloan Foundation prize. A science fiction-inflected story set in circa 2045, "Marjorie Prime" is a roundelay, or chamber drama, centered on three characters: Marjorie (Lois Smith, reprising her stage role), a dementia-afflicted 86-year-old former concert violinist who lives with her daughter, Tess (Geena Davis) and son-in-law, Jon (Tim Robbins), in an airy beach house on the eastern shore.
Almereyda's adaptation is intelligently staged as a series of bracing, forthright and open conversations on essential questions of mortality, mourning and the past. These prickly issues are given particular clarity and dramatic weight with "Primes," digital holograms whose advanced software enables them to acquire important knowledge and personal details. They can quickly achieve the richly humanistic qualities of empathy, intuition and openness.
Introduced in an opening conversation with Marjorie, Walter (Jon Hamm) is a simulacrum of the woman's dead husband, now gone 15 years. The twist is he marks a younger iteration, when the couple first met, and Walter is a debonair and handsome man is his early 40s. "Marjorie Prime" is not about the science or its moral implications. The technology is the deus ex machina, a way to probe and confront existential questions of individual and personality.
Michael Almereyda has been making idiosyncratic works since his wonderful debut, "Twister," in 1989. His best films, his sinuously beautiful black and white vampire movie, "Nadja," produced by David Lynch, and his modern dress adaptation, "Hamlet," are stylistically nervy and visually hypnotic. He has also made freewheeling documentaries on significant artists, like Sam Shepard and the photographer William Eggleston.
The director has been on a roll as of late. "Marjorie Prime" follows quickly on the heels of his fantastic "Experimenter," made two years earlier, a visually supple and nonlinear biography on the social and behavioral theorist Stanley Milgram, featuring great performances by Peter Sarsgaard and Winona Ryder. With the theatrical release of "Marjorie Prime," Almereyda talked to RogerEbert.com about his life and work, the particular challenges of adaptation, his influences, and his work with his extraordinary cast.
What compelled you to make this adaptation of the play by Jordan Harrison?
The starting point was I wanted to work with Lois [Smith] and it was ready made, in a sense. I liked the design of the play and what it was about, and the characters and the structure. It felt like a movie could be built from that in a way that would be exciting and dynamic and not stage-bound. I was really to work with Lois and build outward from that.
How did you conceive the work visually to reconceive the material cinematically?
The story is [set] in a house by the beach, and for me, that opened it up and gave it more visual possibilities. The presence of the ocean as a real thing, and a metaphor, enhances the story. I added some flashbacks—one per character—purposefully to fill out the idea of memory being unreliable. I put in a couple of swimming scenes. In most ways it is very respectful of the play. I tried to be true to the play, but I also recognized how fun and exciting it would be to include these other elements.
Did Harrison have input into your adaptation?
Sure. I showed him a kind of treatment. I also revealed these ideas that were different from the play. The one idea that he actually changed the play. In the original production, the house was not a house, it was an old-age care home. I thought it would be appropriate to make it more focused and intimate, by saying, it is just this house, and it is just this family, and it is not everybody else. He recognized the logic of that and changed it. The other changes, I'd say, are not antagonistic toward the play, like the character of Julie [Stephanie Andujar]. In the play she is off-stage and you never see her. You only hear about her. I brought her forward. In general there's a sympathy between the play and the movie.
With so many great directors, Orson Welles, Alain Resnais, Ingmar Bergman, the question of memory is central to their work.
Movies do relate to memory in a way that is very vital to the fabric of the movies, the flow of imagery, the way we remember them. You can read those movies as you ready those memories, and they don't really change. That is subtext in this movie. Jordan wrote about the film, "My Best Friend's Wedding," but I actually quote from it. It adds an a hall of mirrors aspect that is not in the play.
Stylistically, the movie is very subtle, and not the least bit ostentatious, but the decor, mise-en-scene, the framing and camera work, is quite beautiful. How did you work with your cinematographer, Sean Price Williams, in finding that kind of visual rhythm?
We talked about it in terms of Bergman and Renoir films, movies that are about internal spaces, movies that showcase faces and voices. The style is maybe more spare and controlled than what Sean is best known for, which I guess is hand-held and more volatile. He is a very resourceful guy. He was invaluable. We'd known each other for a while, but had never worked together. It was really fun. I don't know anybody else who could have handled that schedule so gracefully and worked so effectively under the pressure of the schedule. I am really indebted to him.
Do you like to rehearse before you shoot?
If you have the right actors, rehearsals don't give you the extra ground. There's something about the immediacy of film acting, the spontaneity and the daring of it, that benefits from not having rehearsal. If people are complicit, if they have skills and empathy, you rehearse on camera. Often there are sparks flying from that. It just assumes you have the right actors, and that is what I try to do. These are very talented people. You get the right people, and they radiate a kind of truth in the moment. That does not require rehearsal.
Lois Smith is closely connected to the part because she originated her role in the theatrical productions, but how did you come to cast the other significant parts?
Jon was the next person aboard. I thought he was right for the role, and I happened to know somebody who played softball with him. [That could be the crucial ingredient to casting the right person.] He read the script and he was keen on it. He jumped in. That was lucky. The search for Tess was a little more elaborate. I had my sights on people who either weren't available or interested or reachable. Geena Davis's agent read it, and suggested her. I thought, Of course, I had not seen her for a while. That was another bit of luck.
Tim makes a cameo in my very first movie ["Twister"], before he became the Tim Robbins that we know. I had not seen much of him lately, and did not think he'd be willing to do it. We tried to reach him and he jumped it, too. Again, it was fortuitous. Everybody was there because they wanted to be. It's not the kind of film, it's a tight schedule, without much money. The luxury of that is the people believe in that, and they sign on because they know they are going to get more, not less because of that. It felt lucky.
Do you think of this film as a companion piece to your previous feature, "Experimenter"?
I think "Marjorie Prime" is a more self-contained piece. Other people have pointed out it has more to do with the very first film I wrote that got made, which was "Cherry 2000" [1987], not a film that I directed. In a strange way it has resonance, a wacky double bill, because it deals with artificial intelligence and the question of whether machines are capable of having souls and the way people turn into machines, how humanity can be both limited and enhanced by our relationship to technology. I'd point farther back than the film you just made. I hope they are all connected in different ways. My job is to keep making them as well as I can.
A film I thought of in watching yours was Chris Marker's great science fiction short, "La jetee," different here because in that film a character comes from the past, but I was struck by this central notion of the Prime.
I will not reject the compliment, but I was not thinking a lot about that film, or Resnais, Marker, or Tarkovsky, even though they are among my very favorite filmmakers and they are responsible for some of the greatest films about memory and science fiction films about memory. I saw this film as more intimate, minimalist, and I would not admit to aspiring to that kind of level. It is a modest film, but it is ambitiously embracing a lot of ideas, and it comes from the play, and the ideas that were set loose in the play. I was recently thrown onto a panel about Chris Marker, and I have been thinking about him now more than when I was making the movie. There's a great line, from "Sans soleil": "Remembering is not the opposite of forgetting. It's the inner pocket of forgetting. We are surrounded by forgetfulness." The thought is very powerful.
You have made features, adaptations like "Hamlet," documentary portraits, essay films, shorts, but I am struck by the fact how each film is about human behavior and consequence. You have another wonderful film out right now, a documentary called "Escapes," about the writer and filmmaker Hampton Fancher. Does your approach to making films change depending on the nature of the work?
I don't think they are separable. I think they come together. There's a corresponding form to whatever the subject is, and it is organic, and not schematic or willed. Each movie has its own logic and its own excitement. It comes out of working with specific people, but also the ideas are related to who they are and what they embody. Hampton by his nature, he is protean, he is multifaceted. The film has that kind of energy, and that seems like a natural outgrowth of who he was and the improbability of his story.
You are a filmmaker, but one of the great artistic influences on you was your friendship with the great film critic Manny Farber. What was that relationship like?
He had a profound [impact] because he was the first working artist I knew whose work was framed by that activity. It was not just his passion for movies, his voice as a critic, it was much more than that. He was in fact stepping back from criticism and writing was a great ordeal for him. He would talk in disparaging, hilarious ways about how murderous it was. As a painter, he is still not adequately appreciated, and I am happy to say I am working on a book with Robert Polito, who edited the Library of America edition, and [novelist] Jonathan Lethem, who's also big admirer of Manny's even though he did not know him. This book is going to collect his paintings alongside some of the writing by Manny and people who love his work. It is meant to be a tribute, but also a recognition of how multifaceted he was, and how his influence persists.
I understand you have also been working on a film about the poet John Ashbery.
I hope it is going to be wonderful. It's not going to be huge. John and I had been corresponding for a while. When I finally met him, he said, 'We should collaborate.' When John Ashbery says that to you, you don't say when, you just say yes. It has not been easy to conjure this out of nothing. [Sean Price Williams and I] spent time with him, and I think it will appear on the FilmStruck website before the year is out.
You have just completed production of a new film, "Tonight at Noon," from a novel by Lethem. What accounts for all of this increased activity?
I have figured out how to streamline things. I still have dreams of making movies with bigger budgets, and they might be considered to have more of a voice in pop culture. I really do. I don't want to let go of that. I also realize that you grow up a lot of your life with wishful thinking and waiting. I have figured out ways to avoid doing that. I am working on a bigger movie about Nikola Tesla, set in the past, so it is not an easy film to make. I am also working on an adaptation of Don DeLillo's "White Noise." That seems more likely to catch fire.