Roger Federer cruises into Rogers Cup final with victory over unseeded Robin Haase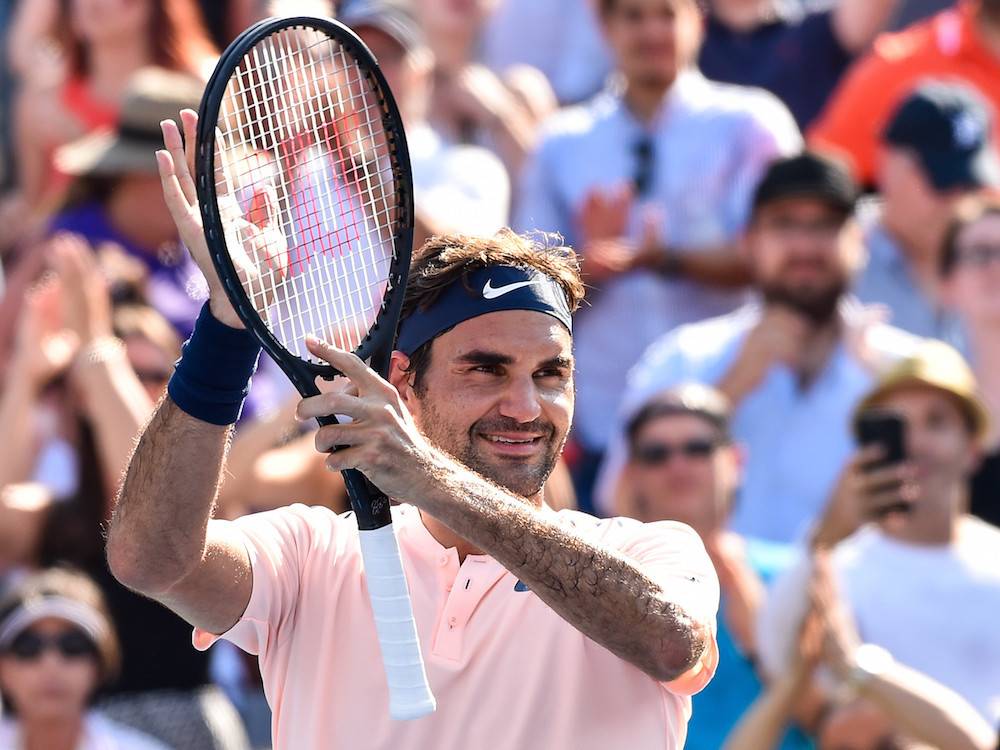 By Bill Beacon
MONTREAL — Any misgivings Roger Federer may have had about playing in the Rogers Cup are behind him now that the Swiss master has reached the final.
The second-seeded Federer used a 6-3, 7-6 (5) victory over unseeded Robin Haase of the Netherlands on Saturday afternoon to reach his sixth final of the year, where he will be seeking a sixth win.
He had considering skipping the event, which would have been disastrous for the promoters with world No. 1 Andy Murray as well as Novak Djokovic and Stan Wawrinka already out with injuries. But Federer decided to play and now has a chance to add to a tally that includes Australian Open and Wimbledon titles this year.
"I'm very happy that I've made it here," he said. "It was a good decision for me.
"If I would have known I would have gone to the finals, I would have said 'yes' right away. Sometimes you've just got to wait and see how you feel. I'm most happy that I'm actually really healthy going into the finals. I haven't wasted too much energy. I've been able to keep points short. I've been really clean at net. I think my concentration and just my playing has gone up a notch. I'm just playing better."
The second-seeded Federer is seeking a third Rogers Cup title but his first in Montreal, having won in 2004 and 2006 in Toronto. A victory would give Federer, currently ranked third in the world, one of the top two seeds at the U.S. Open that begins Aug. 28 in New York.
The 36-year-old, coming off victories in Germany and at Wimbledon, is on a 16-match winning streak, his longest since 2012.
In Sunday's final, he will face the winner of the second semifinal between 18-year-old Denis Shapovalov of Richmond Hill, Ont., and 20-year-old Alexander Zverev of Germany.
"I think those young players don't quite know what to expect, and (neither) do I, because nobody quite knows," said Federer. "Even though, Zverev is a more experienced player than Shapovalov at this stage.
"It's a huge opportunity for them. It's exciting. To have a player at 18 or 20 years old in the finals of a Masters 1000 is not something we've seen very often. Very rarely, except maybe when Andy, Novak and Rafa (Nadal) were coming up. They were such great teenagers that we maybe saw it more often. Not even I probably achieved finals of a Masters 1000 at that age. It's very exciting for tennis."
Especially for Shapovalov, who has been on fire all week with wins over Nadal and Juan Martin Del Potro, among others. And the packed Uniprix Stadium grandstands have been aroar when the teenager plays.
"I guess this is where my experience kicks in," said Federer. "I've seen some great atmospheres over the years.
"Almost everywhere I've gone, I've been in such close battles, where the crowd goes wild. You just expect that in a finals like this. I know that's not going to be the problem for me. It will be 'what are his serving patterns? What are his shot-making decisions? How much can I focus on my own game? How much does he allow me to play my own game?' The rest happens by itself really at this stage of my career.
"But even Zverev, same thing. I haven't played him that much yet. Never really on a hard court, except at the Hopman Cup. It will also be a good match to watch, I think."
Haase, who upset seventh-seeded Grigor Dimitrov in the third round, was in his first career semifinal of a Masters Series tournament. He earned US$220,760.
"I hope it gives me a lot of confidence," Haase said of his performance for the week. "Next week (in Cincinnati), different conditions, different courts, so it's tournament by tournament. But, in general, to make an achievement like this is good because it shows you can do it."
In a doubles semifinal, seventh-seeded Rohan Bopanna of India and Ivan Dodig of Croatia defeated sixth-seeded Raven Klaasen of the Netherlands and Rajeev Ram of the United States 4-6, 7-6 (8), 11-9.