Record pole vault has Alysha Newman primed to 'put Canada on the map' for years to come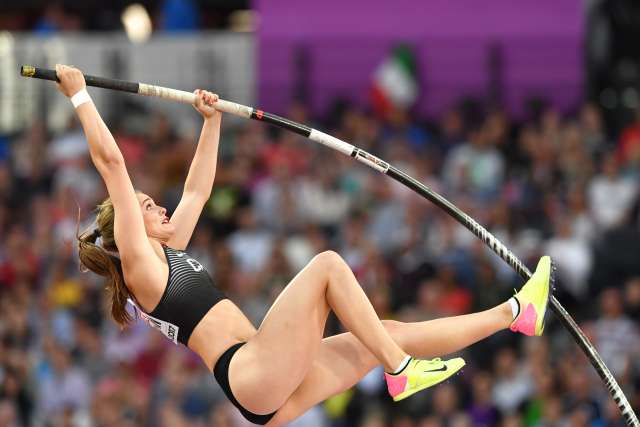 The jump was certainly impressive enough to warrant a call from home: 4.75 metres for a new Canadian women's pole vault record.
But Alysha Newman's mom Paula wanted to know what the back flip was about.
"My mom called me and said 'Alysha, you did a back flip! You don't do that every time," Newman recalled. "I said, 'you know what mom, I don't know why I didn't do it at worlds. It's just that (4.75), it feels like I'm in the game now. I can be a medalist now.'
"I did the fist pump, too. Then I fell back down on the mat. I don't even remember doing that. All this pressure I've been putting on myself. All this time and effort. That was just release. So much weight lifted off my shoulders. I kind of laugh at it, really."
Newman, a 23-year-old from Toronto, raised the bar in Beckum, Germany on Sunday, extending the rather amazing roll she has been on since setting a new Canadian indoor record in January. Her run includes a 4.71 m clearance in Coral Gables, Fla., which had been the previous Canadian best, and a seventh-place finish at worlds in London, where she made it over 4.65 m.
This dream season corresponds with completion of a kinesiology degree from the University of Miami, and a switch to coaches Doug Wood and Zdenek Krykorka at Bolton Pole Vault in Ontario.
"With the support of my family and coaches and Athletics Canada, I know I have a great future, knowing you don't really peak until you're 30 in women's pole vault," she said. "It just shows I could potentially get more than one Olympic medal. That's my goal. I want to do five Olympics total and medal in as many as I can. I want to put Canada on the map for the women's pole vault. I want to be one of the best in the world."
The world record belongs to Russia's Elena Isinbaeva, the only woman to go over five metres. But she's out of the game.
This year's top list is led by Ekaterini Stefanidi of Greece at 4.91 m. She'll be the favourite to take home the US$50,000 first prize on Friday as the Diamond League wraps up with the second of two finals in Brussels. There's $20,000 for second, $10,000 for third and it trickles down to $2,000 for eighth. Newman is one of 12 women jumping for dollars. Only four of them have better season bests.
"That gives me a great shot at top three and one through eight is great prize money," said Newman. "I try not to go in thinking about the money, because I always tell everyone even if I didn't get paid doing this, I would still do it. I love doing it."
Alysha Newman vaults at the world athletics championships in London on Aug. 6. Andrej Isakovic / AFP / Getty Images
That's obvious from every picture you've seen lately of Newman. There is joy plastered all over her face. At the worlds. At Beckum. In Zurich's main train station, where she topped 4.62 m in a rock concert-like atmosphere. She walked out to Shawn Mendes belting out There's Nothing Holdin' Me Back, which she calls her go-to song of late.
"That's what's so cool about pole vault: you can take it to the street," Newman said. "I find when the crowd is so close and they're cheering and clapping, all they're focused on is you. You're in the limelight. So you put a lot of pressure on yourself. You don't want to look weird. You don't want to mess up. You want to jump well and put on a show for people."
Her prowess and showmanship has grown the fan base.
"Everyone I talk to lately has such high compliments about me when I jump," she said. "They say, 'we just want to watch you because you bring so much life and energy to every jump.' I don't even purposely do it. Those emotions just come out naturally because I've been holding them in for special moments, like my seventh at worlds and my Canadian record. You work so hard and they only come a couple times a year, so it builds up and that's when I release it."
After Friday night, the dream season will be over. It will be time to help her sister decorate a Toronto condo, to visit friends in Miami and Vancouver.
"I just need a mental break," she said. "This year was a shock to me. We didn't know what was going to happen. I came back from school. We didn't know if I was going to click with the new coaches, we didn't know if Europe and travelling was going to make me homesick or if I was going to compete as well.
"So it was an experimental year. And everything we wanted or even more has been accomplished."
• Email: dbarnes@postmedia.com | Twitter: @sportsdanbarnes