'Life-threatening' flooding continues in southeast Texas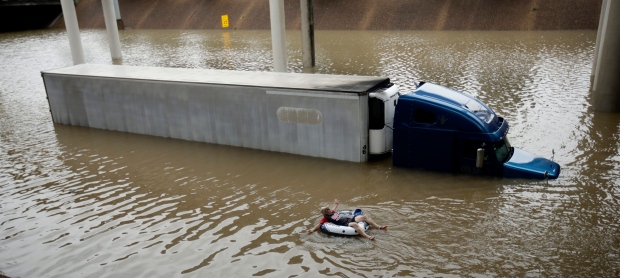 At least 2 deaths blamed on the storm.
About 6.8 million people, or one-quarter of the Texas population, affected.
Average rainfall totals in some parts of Texas expected to end up around one metre.
U.S. President Donald Trump to visit Texas on Tuesday.
U.S. officials warned Monday that tropical storm Harvey was still a "dangerous and historic storm" and said they expected more than 450,000 disaster victims to file for assistance.
"This is a landmark event," Brock Long, administrator for the Federal Emergency Management Agency, said during a news briefing Monday morning. "We have not seen an event like this. You could not draw this forecast up. You could not dream this forecast up."
Long said more than 15,000 applications for help have been processed so far, and the agency also anticipates that more than 30,000 people will have to be placed in shelters temporarily.
People in the path of Harvey were advised to continue to shelter in place as "catastrophic and life-threatening" flooding continued in southeast Texas and headed east toward Louisiana, the U.S. National Hurricane Center said.
Harvey, which made landfall late Friday as a Category 4 hurricane, was set to dump more rain on Houston, worsening flooding that has paralyzed the U.S.'s fourth-largest city. The storm was expected to dump an additional 38 to 63 centimetres of rainfall on the Houston and Galveston areas before moving offshore through Tuesday and then following a "slow northeastward motion."
The U.S. National Weather Service said the exact path of the storm was uncertain but that peak flooding was expected on Wednesday and Thursday as rivers crested.
Rescue workers were overwhelmed attending to emergency calls and had to give top priority to life-and-death situations,
leaving many affected families to fend for themselves as several hospitals in the Houston area were evacuated due to the rising waters.
'Life-sustaining mission'
Rescue efforts continued Monday.
"We're not at recovery yet," Long said. "Right now, this mission is a life-safety, life-sustaining mission."
Long said the federal government was bolstering security in Texas and working to restore power and infrastructure like emergency communications.
Elaine Duke, acting head of the Department of Homeland Security, said her department has made "every resource available" to deal with the storm.
"People need help, and we are working to provide it," she said Monday.
Long said while Houston had seen the worst flooding, between 30 and 50 counties in the state were affected. 
The U.S. Coast Guard posted aerial video of catastrophic flooding in Houston.
#USCG Video: Coast Guard assess the aftermath of damage caused by #HurricaneHarvey during their search and rescue operations. pic.twitter.com/23eSED1ka5
Before Harvey is gone, some parts of Houston and its suburbs could get as much as 1.3 metres of rain, which would be the highest amount ever recorded in Texas, the U.S. National Weather Service said. Some areas have already received about half that amount since Thursday. Average rainfall totals will end up around one metre.
"The breadth and intensity of this rainfall is beyond anything experienced before," the NWS said in a statement.
The White House announced that President Donald Trump would visit Texas on Tuesday.
Going to a Cabinet Meeting (tele-conference) at 11:00 A.M. on #Harvey. Even experts have said they've never seen one like this!
Costs of the damage were still being assessed as the storm continued, but one of the world's largest reinsurers on Monday said damages from Harvey are estimated to be well below those from major storms that hit New Orleans and New York.
Hannover Re said that insured losses for Katrina in 2005 were around $80 billion US, while losses from Sandy in 2012 were $36 billion. 
"We are far from Katrina and Sandy in magnitude in the case of Hurricane Harvey," a spokeswoman for the company said.