Indigenous filmmaker flips the script on Standing Rock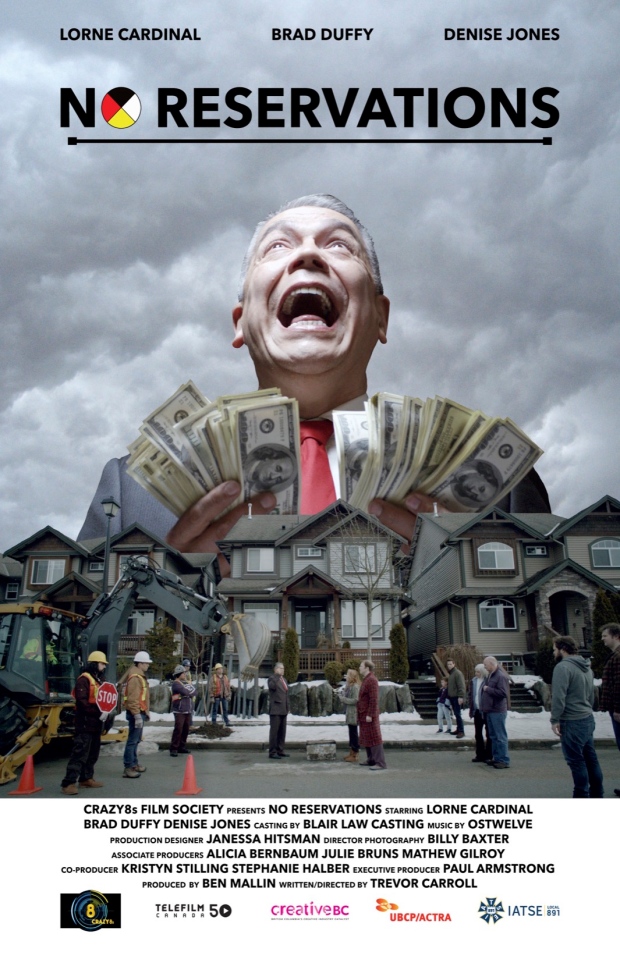 A new short film is using comedy to imagine what it would look like if the roles in Standing Rock, N.D., were reversed.
No Reservations tells the story of a First Nations company given approval to run a pipeline through a white, suburban neighbourhood.
"I wanted to give a different perspective and put people in our shoes to see how it would feel if we put a pipeline underneath their land," said Trevor Carroll, who wrote and directed the film.
The film opens with Peter and Marilyn Whiteman in the quiet, imaginary suburb of Sitting Pebble. A visibly First Nations pipeline company official notifies the Whitemans that they are "building a pipeline" under their home. The Whitemans decide to fight back by rounding up their neighbours and building a blockade out of hockey nets and pool noodles.
[embedded content]
Carroll, an Anishinaabe from Wikwemikong, shot the film in eight days on a $1,000 budget.
He says he wanted to use the film to give non-Indigenous people a different perspective, and is hoping it will change attitudes toward Indigenous people.
"This doesn't just cover Standing Rock," he said. "It covers how Indigenous people are treated in general and how people perceive us." 
Carroll points out the many misconceptions people have of Indigenous people — from taxes or imaginary handouts, to life on a reserve. He wonders aloud what it would be like if the situations were reversed:  "Would they be activists? How does it feel?"
While Standing Rock was unfolding, Carroll says, he intensely followed the news updates, blogs and online commentary on the controversial Dakota Access Pipeline and talked about how divisive the issue became.
"There was people that was supporting the water protectors and there was people supporting the pipelines. They were primarily from a Caucasian background," Carroll said. "I didn't want to do [the film] in a way that would be violent." 
Instead, he chose humour to get his message across.
"I really feel like comedy is a really good way of approaching the subject," Carroll said. "You can capture the emotion and the message behind what we're doing, but people react to it in a different way as opposed to just hitting people over the head with what was happening."
Pitch contest
No Reservations is the second film Carroll has directed in his 15-year career in the film industry.
The film got its start when Carroll pitched the idea during a Vancouver filmmaking challenge known as the Crazy8s.
Carroll's entry was among the 216 vetted by the organizers, who invited him to make his pitch in person. He was among those chosen to make a film.
Carroll, who also owns a casting company in Vancouver, managed to land well-known Canadian actor Lorne Cardinal as the film's lead  after running into him at an audition.
"Bringing him on board was really a dream come true," Carroll said.
Everyone involved in the production, from producing to acting to editing, worked on a volunteer basis, Carroll says.
The $1,000 that was provided by the Crazy8s film group went toward feeding the cast and crew for the weekend of shooting.
Plans for the film
After his mother passed away last year, Carroll decided that he would try to give his all to a career in film. It was the motivation behind the pitch and so far, it has paid off.
No Reservations, which premiered earlier this month at the Abinaska Film festival in Ottawa, has been accepted into multiple film festivals across Canada.
"People have different reactions to it.," Carroll said. "They don't know whether they should laugh at some parts or [not]. It's a touchy subject."
However, he says, most of the feedback has been positive. 
"It's a great conversation piece to start about how Indigenous peoples are treated," Carroll said.
Though he is using the film festivals as a way to get his name out, Carroll is hoping the film reaches as many viewers as possible.