In Trump's Washington, tourists find pain and hope in a 'special time' for the U.S.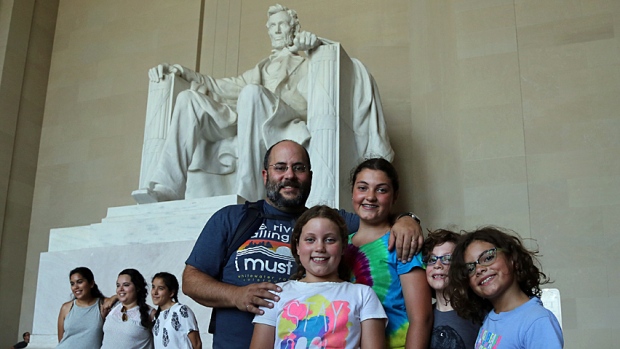 For civic-minded Americans on holiday, a pilgrimage to Washington, D.C.,  is practically a rite of summer. Amid Donald Trump's turbulent presidency, though, some tourists find themselves struggling to reconcile pride in their historical surroundings with the unusual cascade of problems flooding the White House.
Standing beneath a six-metre-tall marble statue of America's 16th president Abraham Lincoln, Joe Cohen read the inscription on the north wall of the Lincoln Memorial: "Let us strive on to finish the work we are in, to bind up the nation's wounds."
The tourist from Austin, Texas, explained to one of his sons that Lincoln delivered that speech near the end of the Civil War, an event that cleaved the country 150 years ago.
"Seeing Lincoln's words, and knowing that half the country opposed him, and still he didn't speak ill towards them, he understood the bigger picture," Cohen said. "It kind of makes me sad about where we are now."
The 42-year-old found Lincoln's words "profound" — so much so that he hesitated to connect them to the current presidency. For Cohen, the temptation to draw comparisons became tougher to ignore as he toured monuments to the country's greatest leaders. Trump himself stood under the Lincoln sculpture on the eve of his Inauguration, following one of the most polarizing U.S. elections ever.
"When I think about 10 years, 20 years, 50 years [from now]," he said, "Americans will be going back to the Hall of Presidents and seeing president after president after president — and then seeing Donald Trump? It's just an embarrassment."
(Hours later, Trump would tweet a denial that he called the White House "a dump.")
Trump has yet to achieve any major legislative wins. But near the White House gate on Pennsylvania Avenue, Dennise Palioglou said that was no fault of the president's, blaming Congress and Trump's cabinet for holding him back. The nurse from Taunton, Mass., hoped the Republican Party would at least grant him a bill to repeal the Affordable Care Act.
She called Trump's first seven months in office a "painful period."
To Jason Bredemeier, that's an understatement.
Taking photos outside the president's mansion, the Democrat from Falls City, Neb., admitted that when he planned this trip with his family a year ago, "I was certain Hillary Clinton would be living in that house."
Every president except for George Washington resided there as well. That Trump follows the line of succession is a reality Bredemeier finds difficult to square with the respect he holds for the highest office in the land. It angers him.
"He's made a mockery of the presidency."
Hasan Rizvi, an English teacher from Rochester, N.Y., felt something else when he looked back at the executive mansion.
"Sadness," he said. "But at the same time we have hope. The country has been around for 300 to 350 years or so, and there have of course been some ups and downs."
Mostly downs
Lately, it's been mostly downs, say Trump's critics.
In just the last week, his West Wing has experienced head-spinning personnel changes and leaked transcripts of damning phone calls with world leaders. That's not to mention a steady trickle of Russia-related scandals.
All of which Noah Bragg, from Asheville, N.C., dismissed as fodder for "fake news," as he paced around the Washington Monument in army fatigue pants, a National Rifle Association T-shirt and a Make America Great Again hat.
"What chaos?" he said. "I don't think it's chaotic at all. You have to break an egg to make an omelette."
Pushing a baby stroller not far from the limestone obelisk, Paul Semon said he found inspiration in the grandeur of his surroundings. He wants the country to go back to what he believes it once was — a land of liberty and limited government, according to his interpretation of the constitution.
He also approves of Trump seeking new curbs on authorized immigration. Trump endorsed a bill last week that would tighten the green card system to restrict who gets to come to the United States.
"We need to slow down and have people who come to this country assimilate to our ways and our life, not the other way around," Semon said.
Overhearing his remarks while descending a hill from the National Monument, Vietnam War veteran Bob Pace cheered him on.
More than anything, the army veteran from Pleasanton, Calif., admires Trump's investment in defence.
"Protection of our country is the most important thing there is," the 68-year-old said.
Dan Jones from Pittsburgh mused about a future Donald J. Trump memorial. After all, he said, the president has already sealed his place in American history.
"I think it's a special time in history that people can't see right now," he said. "It's something that when you look back maybe eight years from now, they'll say that things were rough in the beginning but we're going to end up in a better place."
The country, he said, is moving in the right direction, buoyed by fewer regulations and a more hard-line approach to immigration.
At the main Reflecting Pool of the National Mall, Damien Crawford saw it differently as he soaked in the civil-rights lore.
"I think of history, you know what I'm saying? The 'I Have a Dream' speech, that happened right here," the 22-year-old from Chicago said.
Though it's his first time in D.C., Crawford has no plans to see the White House, mainly because of who lives there.
Crawford's uncle, William Hunter, was troubled by Trump's recent policy banning transgender people from the military. In that announcement, Hunter heard echoes of the kinds of abuses African-Americans resisted during the civil rights era.
"Discrimination," he said. "It's all about banning and segregation and pushing things away."
Put another way, he said, it sounded like history threatening to repeat itself.