'I thought I was dead': Alberta man recalls boat accident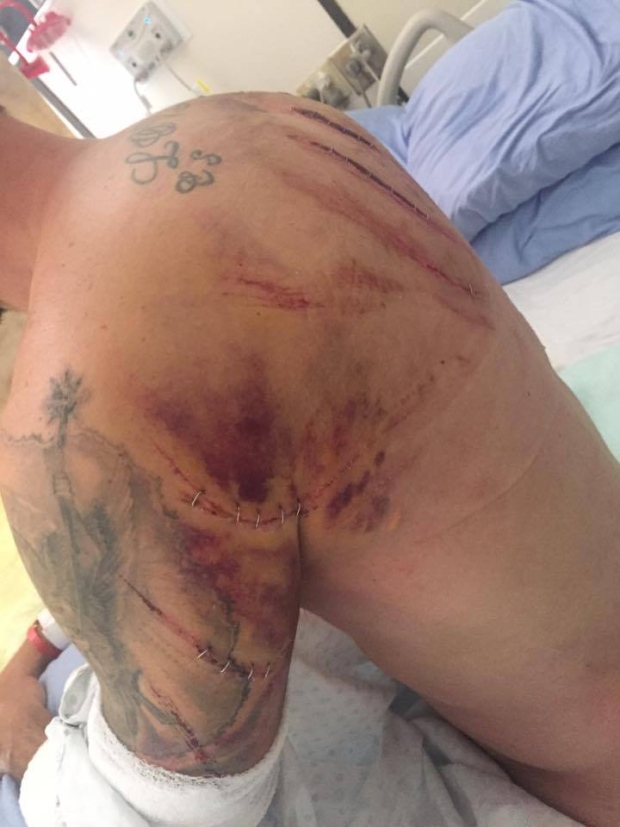 Warning: graphic content 
Jeff Lovasz remembers all of it — the crush of water, the excruciating pain of his bones breaking and the bloody mess of his arm after the accident.
"I remember locking eyes with one of my good friends and just saying, 'You got to help me, I'm dying,' " Lovasz said. 
The 27-year-old from St. Albert, Alta., remained conscious after the serious boating accident on Jackfish Lake July 15.
"It was just a normal day at the lake with my buddies," he recalled.
They took turns wake-surfing on the lake, about 60 kilometres west of Edmonton. Lovasz said his watersport skills were rusty, but added, "I'm a pretty confident swimmer and you don't think of the worst-case scenario."
He wiped out behind his friend's boat and said he was floating in the water when something smashed into the back of his head.
At first, Lovasz thought the jarring pain was from his surfboard.
But when he came up for air, Lovasz said he saw a pontoon boat slowing down in the distance.
"I tried to keep calm and keep swimming," he said. 
'Extremely, extremely excruciating'
That's when he saw the blood "from getting chewed up and spat out from the propeller" and realized he had been dragged under the speeding boat.
Lovasz suffered a broken scapula, fractured ribs and vertebrae, and multiple deep cuts to his arms, head and back.
"I tried to lift my left arm to swim and basically it was inside out," he recalled. "I was starting to go under."
Friends raced to pull him from the water.
"They dragged me out by my broken right shoulder," Lovasz said. "That was extremely, extremely excrutiating."
They rushed the bloodied young man to shore, where paramedics took over. 
'All I could hear was him screaming in the back, 'Mom, save me. Mom, Mom I need you.' And he was screaming a horrific scream.' – Carmelle Sevigny-Black
Lovasz's mother, Carmelle Sevigny-Black, said she got a call from the ambulance on its way to Edmonton.
"It was a sound that I don't ever want to hear again," she recalled. 
"All I could hear was him screaming in the back, 'Mom, save me. Mom, Mom, I need you.' And he was screaming a horrific scream."
'Being alive is a miracle'
At the hospital, Lovasz drifted in and out of consciousness. Painkillers made him hallucinate about bright lights, he recalled.
"I actually thought I was dead," he said. "I woke up in the emergency room and it was 20 doctors all around me, assessing me."
A doctor told him he had dodged paralysis by millimetres, Lovasz said.
"Just me being alive is a miracle."
Lovasz left hospital two weeks ago and said he is struggling to put his life back together.
He has been diagnosed with PTSD, which triggers flashbacks and panic attacks.
The accident brought him closer to God and his family, but Lovasz said he has gone "from possibly drowning in water to now definitely drowning in debt."
He is uninsured and has been unable to run his mechanical contracting business since the accident, costing him tens of thousands of dollars.
His family is raising money online, though Lovasz said he's hesitant to ask strangers for help.
"I never ask for much or felt the need to ask for donations or handouts," he said. "I really have no other option."
He hopes his accident serves as a warning to boaters, Lovasz added. 
"If it has a motor, it can be a lethal weapon," he said. "I want people to never have the experience of what I'm going through right now.
"Life is way too precious and way too fragile. Know it can be gone in one second, from a completely happy time to you not being there anymore."