'Get some stability': Kasich wants Trump to stop the White House staff churn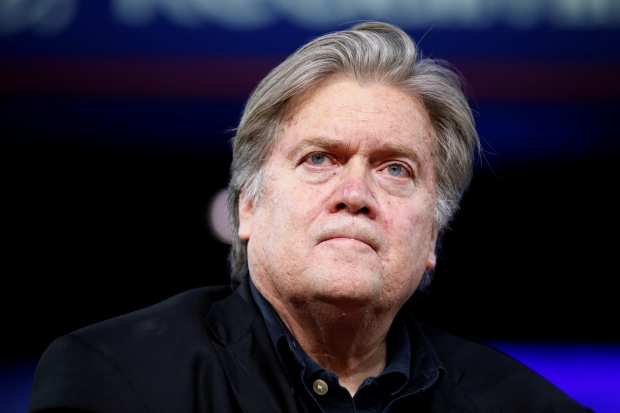 Republican Ohio Gov. John Kasich urged President Donald Trump on Sunday to stop the staff chaos at the White House and "build a team." 
Kasich appeared on CNN's State of the Union two days after strategist Steve Bannon became the latest to leave Trump's staff, and is among those who fear the turnover is hampering Trump's ability to notch a major legislative victory. 
"You have to be focused, you have to build a team," said Kasich, who challenged Trump for the Republican presidential nomination and refused to endorse him in last November's election.
"They've got to get some stability within the staff … You can't keep putting new people in the lineup and think you're going to win a world championship." 
Bannon and chief of staff John Kelly, a retired marine general, "mutually agreed" that Friday would be Bannon's last day, according to a White House spokesperson. 
In seven months in office, Trump has also dismissed a national security adviser, a chief of staff, two communications directors and a press secretary, among others.
Bannon repeatedly clashed with other top advisers, most notably Trump's son-in-law, Jared Kushner.
David Bossie, a political activist and former deputy campaign manager in Trump's bid for the presidency, said Bannon wanted to "give the general [Kelly] an opportunity to have a clean slate."
'A lack of leadership'
Bossie dismissed concerns that divisions within the White House staff were hurting Trump's ability to get his priorities passed.
"In every presidency there are factions. There's no difference here," Bossie said on Fox News Sunday.
Instead, Bossie pinned the lack of a health-care victory on Republican leaders in Congress. He said he agrees that House and Senate leadership have not bought into the president's agenda, and he claimed that House Speaker Paul Ryan and Senate majority leader Mitch McConnell owe their positions to the "issues President Trump won on."
"No one is saying the president is not leading. There's a lack of leadership on one side of Pennsylvania Avenue," Bossie said.
Republican leaders on Capitol Hill made themselves scarce on Sunday's news talk shows. In their home states and districts for the August recess, they skipped the opportunity to weigh in more on the president's comments about the violence in Charlottesville, Va., where a white nationalist rally last week lead to one death and several wounded, as well as Bannon's exit from the White House.
U.S. in 'very critical' time, senator says 
Sen. Tim Scott, a South Carolina Republican, was an exception, urging Trump on CBS's Face the Nation to spend time with people who have lived through the country's difficult racial past.
Steve Bannon, innovator in weaponized news, is hoist by his own petard: Keith Boag
Scott said earlier in the week that Trump had compromised his moral authority with his comments that appeared to equate neo-Nazis and white supremacists with those who came out to oppose them in Charlottesville.
Trump said there were "very fine people, on both sides" of the clashes.
Scott said the U.S. is in a "very critical and sensitive time." He said the president's actions would speak louder than his words. 
"If the president wants to have a better understanding and appreciation for what he should do next, he needs to hear something from folks who have gone through this painful history," Scott said. "Without that personal connection to the painful past, it will be hard for him to regain that moral authority, from my perspective."