Epix's "Get Shorty" Adaptation Lacks Rhythm of Elmore Leonard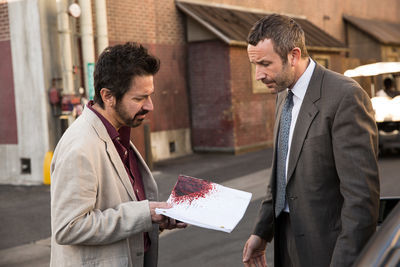 Elmore Leonard's best work hinges on rhythm, balancing his twisting plots with his amazing gift to give his characters little details that make them spring off the page. Leonard has often been tough to adapt to film and television, but when it works, it really works, such as with FX's phenomenal "Justified" and films like "Out of Sight" and "Get Shorty," which has now been very loosely adapted into a television series for Epix. A great cast and talented crew have been assembled for the project, which only uses the concept of crime meets Hollywood to tell its own story—it's not that dissimilar from how Noah Hawley uses the tone of the Coen brothers and "Fargo" for his show of the same name (however, there aren't too many ways in which I can compare the two, given how much I love the FX hit). In the case of this frustrating series, the zippy, clever speed of Leonard turns sluggish, and that's the last thing any project related to his masterful writing should be.
The underrated Chris O'Dowd stars as Miles Daly, a low-level criminal in Pahrump, Nevada, where he works for a crime lord named Amara (Lidia Porto) and her moronic nephew Yago (Goya Robles). Miles is basically just a clean-up guy, the fellow Amara calls to bury the body when Yago goes too far torturing one of their enemies. His partner Louis (Sean Bridgers) helps him dig the holes. Around six months ago, Miles' wife Katie (Lucy Walters) decided she'd had enough of his dangerous lifestyle and left him, taking their daughter Emma (Carolyn Dodd) with her. Miles is hopeful that he can win back his family, but he's going to need a more respectable career to do so.
An opportunity for just such a thing falls into his lap when Miles and Louis seek out a wannabe screenwriter who owes Amara money. When the writer ends up dead, Miles takes his unproduced screenplay, and, what do you know, it's really good. He happens upon a washed-up producer of B-movies named Rick Moreweather (Ray Romano) and tries to go straight, but Amara's business ends up being heavily involved in the production as well. A talented team works behind the cameras, including creator Davey Holmes ("Shameless," "In Treatment"), producer and director Allen Coulter ("The Sopranos"), and director Adam Arkin (a regular TV directing veteran), whose father Alan Arkin appears in episode three.
It sounds like a recipe for great television, doesn't it? Dowd, Arkin, Coulter, Romano—how could this go wrong? The answer is simple—pacing. Every episode runs close to an hour, and would have worked significantly better at either a commercial-driven 44 minutes or even all the way down to 30 minutes. I kept thinking that I would have loved to see this story with this cast told in a feature-length form. But instead of around 105 minutes, we get 600. Scenes go on too long, the plot spins its wheels, and one can sense that the narrative is being stretched well far past its breaking point. What results is a show that works in moments—you can't get a cast this talented together and not produce some interesting moments—but never develops a rhythm. Dark comedies and stories of criminals require streamlined pacing. All this version of "Get Shorty" made me want to do was go back to the underrated 1995 film or the book itself.