Athletes denied rightful medals by competitors' doping get their retroactive moment in the spotlight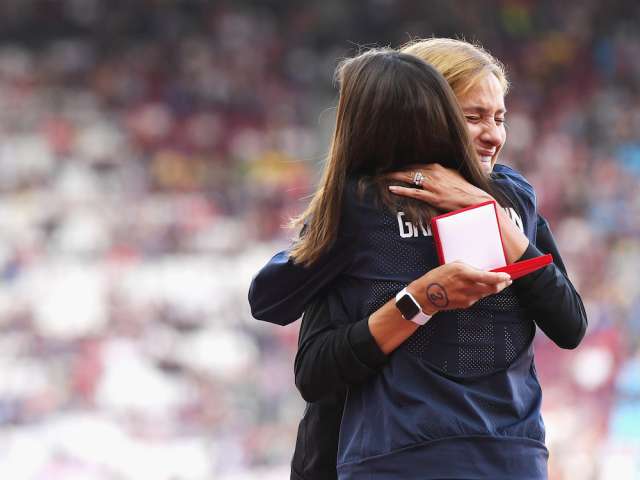 By Christopher Clarey
LONDON — Tears, so many tears, in sports.
Tears for making the team, for missing the cut, for finally clearing the height, for hitting the hurdle and taking a tumble.
Or tears of more unusual provenance, such as those Kara Goucher shed Saturday night in the London Stadium as she held a new silver medal in her hand 10 years after she should have won it in the first place.
"It's become, like, such a painful memory," she said, struggling yet determined to get the words out. "We deserve to have this opportunity, because it was robbed from us."
Doping has become so commonplace in track and field and other sports that it is losing its power to shock, even to generate outrage. If the Russians can game the system by passing clean samples through a secret hole in the wall in an accredited laboratory in the midst of the 2014 Winter Olympics, then what isn't possible?
But however deep the rot, the emotions of the victims are no less raw. More often expressed in private, those emotions broke into the open at the world track and field championships as the International Association of Athletics Federations made the best of a bad situation by conducting medal reallocation ceremonies before the start of the first three nights of competition.
They were odd but poignant affairs with their empty steps on the podiums and their spectre of missed opportunities.
Sebastian Coe, president of the IAAF, the sport's global governing body, pushed for these ceremonies, a first at a major global championships. In total, 11 individual athletes and five relay teams were awarded new medals in the wake of bans generated by the retesting of samples from past championships.
There would have been more ceremonies if logistical issues and prior commitments had not kept some athletes from making the journey to London.
"I think the two words that come to mind are awkward and bittersweet," said Natasha Hastings, part of the American women's 4×400-metre relay team at the 2013 world championships, which received gold medals Friday night. "It's sweet in the sense that it's good to see the effort being made to promote clean sport and that the ones doing it the right way are rewarded, and this is kind of an attempt to give us back that moment. But it's bitter because it's another reminder that this is something in our sport, that no matter how much we try to push it to the back of our mind, there are cheaters out there."
The topic was back front and centre, not long after Goucher's ceremony, as American Justin Gatlin, twice banned for doping offences, upset Usain Bolt to win the 100 metres.
Gatlin was booed vociferously, even though he returned from his second ban in 2010 and has been competing for the last seven seasons. He generated no such rancor when he competed in the same stadium in the 2012 Olympics.
Since then, as he has become an increasing threat to the popular Bolt, Gatlin has been a lightning rod for public frustration with doping, particularly in Britain. On Sunday, as Gatlin received his gold medal from Coe, there were more extended boos.
Coe was among those who pushed for a lifetime ban for Gatlin after his second offence, in 2006, and reiterated Sunday that he wished that it had been possible. But such penalties have not withstood legal challenges.
The rules, as even Bolt has repeatedly pointed out, allow Gatlin to compete, and it seemed excessive, even arbitrary, to single him out for censure.
He was, after all, one of four finalists in the men's 100 metres at the 2015 world championships in Beijing to have served a doping ban. It was also striking to hear the warm applause Sunday afternoon as Amantle Montsho of Botswana was introduced for the first round of the women's 400 metres. Montsho, the 2011 world champion, has just returned from a two-year doping ban, and it seemed few in the crowd had a clue.
"Gatlin is the one who everyone knows and is unrepentant, but he's not the one bad athlete," Ross Tucker, a South African sports scientist, said in a podcast Sunday.
Gatlin has never admitted to intentional doping (he blamed his second positive test on a massage therapist, Christopher Whetstine, claiming he sabotaged him by rubbing him with steroid cream). Gatlin should not be seen as a role model, even for all his community service and outreach to his fellow sprinters, but that does not mean he should carry the whole load for his sport's sins.
They have been manifold, requiring constant rewriting of the record books, but there has been new resolve, with the IAAF maintaining its ban on the Russian federation and overhauling its anti-doping and ethical safeguards.
Kara Goucher and Jo Pavey embrace after receiving their reallocated medals from the women's 10,000 metres at the 2007 world championships. David Ramos / Getty Images
Goucher, 39, originally won bronze as an American outsider in the women's 10,000 metres at the 2007 world championships but was promoted to silver after Elvan Abeylegesse of Turkey was stripped of her second-place finish following retroactive testing in 2015.
It still took nearly two years for Goucher to receive official word from the IAAF on her silver medal.
"That's hard and makes us feel like we don't matter," she said.
When confirmation arrived, by email two weeks ago, she cancelled her plans to be in Seattle for a sponsor commitment, paid extra to expedite a passport for her 6-year-old son, Cole, and came with her family to London.
Shortly before the evening session began Saturday, Goucher and Jo Pavey, the British runner promoted to third place, stepped onto the medal podium to applause from the crowd, which would eventually number more than 55,000.
The top step remained empty, and no anthem was played (Tirunesh Dibaba of Ethiopia remains the rightful gold medalist), but there was still something powerful in the air.
"I basically have been crying for, like, two weeks since I found out about this," Goucher said. "But I was actually fine tonight until I saw Jo. And it's just a lot of pain, just really emotional, but it's all good in the end."
Goucher has been fighting other anti-doping battles. In 2013, she and her husband, Adam, reported potential infractions by their former coach Alberto Salazar to the U.S. Anti-Doping Agency. An investigation continues, though Salazar has denied any rules violations.
Asked if she had more faith in the current anti-doping system, Goucher laughed through the tears. "I don't know; that's another conversation," she said. "If this is the way we have to catch people, retroactively waiting until we have better testing, that's better than nothing, but I'd like to see medals turned around quicker and people caught sooner."
The promotion from bronze to silver might seem a minor distinction, but not in Goucher's mind and not just because she would have earned $40,000 more in prize money and tens of thousands more in sponsor bonuses.
"I never really believed I could win, and maybe if I had finished second, I would have dreamed a little bigger and believed in myself a little bit more and felt like I deserved it," she said.
In the past, some athletes have had to settle for receiving new medals by mail. In 2013, Adam Nelson, the American shot-putter, got his very belated gold medal from the 2004 Olympics in an airport food court in Atlanta. He later was honoured with a full medal ceremony, including the traditional Greek wreath on his head, at last year's Olympic trials in Eugene, Oregon.
It seems the right approach, even if there is the risk of the promoted medallists someday being discredited themselves.
Best of all would be that track and field finally does so good a job at policing its shady precinct that such ceremonial mulligans are no longer necessary.