Rob Lowe Calls Bill Paxton His ''Closest Friend in the Industry'' in Emotional Tribute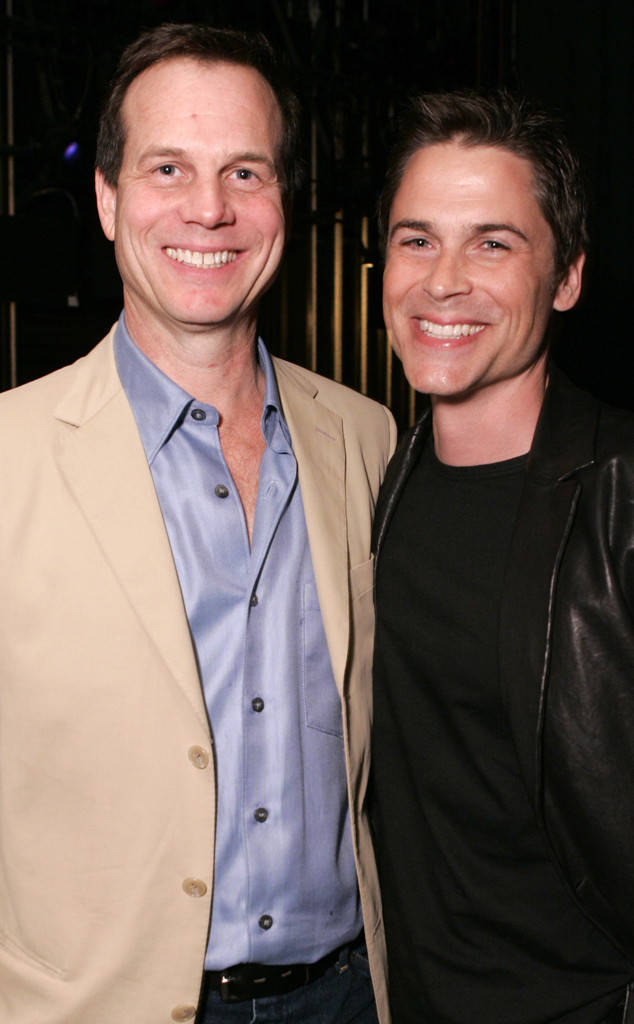 Like all of Hollywood, Rob Lowe is mourning the loss of Bill Paxton. 
The Big Love star passed unexpectedly on Feb. 25 following complications from a surgery, and as Lowe relayed to The Hollywood Reporter in an essay published Tuesday, he'll never forget the impact Paxton made on his personal and professional life.
Lowe and Paxton met in 1991, and years later, the close friends co-starred in heist comedy Frank and Jesse. What followed for Rob and Bill was many years of memory-making, both in front of and behind the camera. 
He wrote, "The first time I ever took my kids fishing was with Bill and his son… fast-forward to 20 years later my son still fishes every weekend and that's because of Bill.What made Bill really special to me was that we both lived outside of L.A. I've lived in Santa Barbara for 25 years. He lived in Ojai for 30 years." 
"He's one of the reasons I moved out of L.A. because I saw a really similar marriage, a really solid man who is building a life not completely centered around the business in spite of the fact that he grew up in the business," Lowe added.
After kick-starting his career with roles in The Terminator and Weird Science, Paxton earned his big break with acclaimed performances in Aliens, Twister and Titanic.  While filming Titanic in the late 90s, Lowe revealed Bill "sent his closest friends a book of sketches that he made of his three and a half weeks on the North Atlantic, going to dive the Titanic."
"Bill is very old-school chivalrous, understood grace notes, the importance of a handwritten letter, the grand gesture. He was very much a man out of his time in a way," Rob explained. 
He continued, "Bill was the most loyal, old-school friend. The type that showed for every single occasion, no matter how small—Bill would be there. If it was, you know, my kid's Bar Mitzvah, Bill's there. If it was my mother's funeral, Bill's there. If it was my book launch party, Bill's there."
Lowe also opened up about leaning on Paxton in a business that doesn't necessarily lend itself to genuine relationships. "Bill was not only one of my closest friends, but he was without a question my closest friend in the industry," Rob shared.
He went on, "To have someone with a common experience, that's really hard in this business, because we get to a place if we're lucky that very few people get to go, so the numbers are small to begin with and then to find somebody in that small group of people who have experienced this life, to find somebody who you're so simpatico with is a rarity. There will be no replacement for me. There will not be."