Tom Hardy Anchors FX's Engaging "Taboo"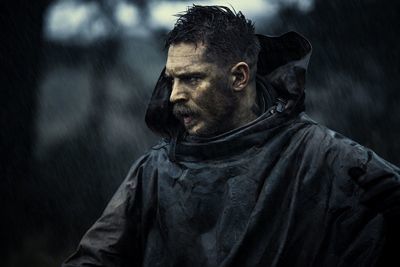 FX's "Taboo," premiering this Tuesday, January 10th, is the kind of slow-burn drama that I worry will become increasingly rare as weekly television tries to pick up the pace to compete with binge-viewed streaming services. The non-streaming shows that took off last year were built on a structure of weekly surprises (think the twisting and turning of HBO's "Westworld") and "Taboo" is a show of building pleasures instead of immediate ones. It's a series that demands one give in to its showy language and dirty melodrama, built around a mysterious character with undefined motives. At first, it feels like little more than an exercise in period style, even with a great, charismatic performance at its center, but subsequent episodes hint at a complex, rewarding drama to come. It's the kind of program that's remarkably hard to review off only three episodes, but I'm certainly excited to see more.
Series creator Stephen Knight reunites with the man who anchored his excellent "Locke" in this project co-produced by the great Ridley Scott, and co-starring an ensemble that gets more interesting with each episode. Tom's father, 'Chips' Hardy, co-created the show as well. The younger Hardy stars as Jimmy Delaney, a ghost returned to 1814 London after the death of his father. Delaney had been exiled to Africa and considered dead many years ago. His arrival at his father's funeral provokes gasps, and the "Hamlet" allegory doesn't end there, as dear old Pop Delaney died in a mysterious fashion.
Like Hamlet, Jimmy Delaney has a sister, a half-one known as Zilpha (Oona Chaplin), with whom he has, shall we say, an unusual relationship. Chaplin is deft at playing both fear and fascination at her brother's return. Zilpha's husband Thorne (Jefferson Hall) is nothing but furious because he had his eyes on some of his father-in-law's property, particularly a slice of land known as Nootka Sound, which the East India Trading Company really wants. The dangerous island near Canada, from where Delaney's mother hailed, is not only part of a major trading channel but valuable on a militaristic level to the British and American governments. And now a madman who may have gone insane in Africa holds the rights to it.
While much of "Taboo" is mood-setting (Knight loves natural light reflecting off water and the budget for fake dirt must have been intense), the narrative essentially settles on the battle for Nootka Sound. Does Delaney even know how valuable this land is to the people who want it or is he holding on to it merely for personal reasons? As he realizes that everyone around him wants him dead, Delaney becomes a masterful manipulator, forming his own team of criminals and companions, including his father's servant Brace (David Hayman) and a madam played by Franka Potente. Future episodes fill out the ensemble even further with the great Stephen Graham ("Boardwalk Empire") and Michael Kelly ("House of Cards"), and Jonathan Pryce plays the villainous head of the East India Trading Company. It's definitely a Tom Hardy vehicle, but it's got a hell of an ensemble supporting him.
Still, I suspect your enjoyment of "Taboo" may come down to where you fall on the "Loving Tom Hardy" scale. If you thought "Locke" could have been an hour longer, this is the show for you. Hardy is fantastic, playing the relatable drive of a man looking for revenge alternately with the more mysterious aspects of Delaney's character. What exactly happened to him and what he became in Africa is unclear, but let's just say the word "ghost" may not be entirely symbolic. Delaney appears to be able to communicate with the dead and might be willing to do dark magic to get what he needs. Hardy is excellent at balancing the wit of a character who has to outthink his opponents with that of one who might be just as inclined to rip their throats with his teeth when politics fail.
Perhaps I worry too much about the pace of "Taboo" throwing viewers off. Shows like "Outlander" and other period dramas have long worked from a slower-than-average template. But will this period drama, with its outbursts of violence and generally unappealing setting, play to those viewers? Only time will tell. Let's hope viewers are patient enough to give this promising show the chance to develop.