Richard Linklater: Dream Is Destiny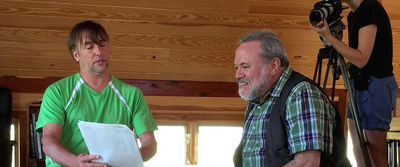 It's good to be Richard Linklater. How many other American
film directors can you name who've had three feature-length documentaries made
about them, before they've reached the age of 60? One of the docs is "Double
Play" and it's kind of a, well, double play: the critic and filmmaker Gabe
Klinger's 2013 picture chronicles the friendship between Linklater and
avant-garde filmmaker James Benning. I haven't seen 2014's "21 Years: Richard
Linklater." But this year brings "Richard Linklater: Dream Is Destiny,"
co-directed by Karen Bernstein and Louis Black.
Not the comedian Louis Black; this Black was the founder of the alt-newspaper the Austin Chronicle, one of the
founders of the SXSW Film Festival and an active champion of filmmaking in the
region (this year he brought a restoration of Eagle Penell's "Last Night At the
Alamo" to BAM Cinemafest). He also acted in Linklater's early feature "Slacker"
and is seen interviewing Linklater throughout this movie. His presence is
properly indicative of the film's treatment of Linklater as both a Hollywood
outsider and a regional filmmaker par excellence.
The movie is more conventional than Klinger's: it goes for
the archival-footage-and-interviews format, and one of the early observations
from actor Jack Black, who's done memorable work in a couple of Linklater's
films, sets the theme: Puncturing the notion of the divinely inspired or
pretentiously inscrutable artiste, Black says, "When you see his process, you
just go, 'Oh, it's hard work.'"
Invoking Linklater's roots—his formative years in
Huntsville, his teen ambitions to be a novelist AND a Major League Baseball player—the movie
presses the work-ethic trope hard. It's interesting to hear Julie Delpy, who
costarred with Ethan Hawke in a trilogy of relationship films beginning with
1995's "Before Sunrise," say that Linklater himself would never make the kind
of impulsive offer that Ethan Hawke's Jesse makes of Delpy's Celine in that
picture. Linklater's stick-to-it ethos is by necessity pragmatic—as film critic
Kent Jones observes, "This is a guy who adapts to circumstances."
But he does so in order to make art, not to make a financial
fortune, and the movie does a good job of showing how the filmmaker has
maintained his independence, keeping Hollywood at arm's length while never
approaching it with disdain. The movie's strongest patch is early on,
chronicling the creation of "Slacker" and its attendant micro-success. Seeing
John Pierson interviewed brings the early '90s optimism about American
indie films back in a heady rush, as does seeing the clip of our own founder
Roger Ebert talking about the movie. I'd have liked to hear more about the
"dumping" of "Dazed and Confused" by distributor Universal, and Linklater's
reflections on how the movie subsequently became a cult item anyway. One sequence depicting a fallow period for Linklater
in terms of critical reception features a dopey audio montage that attempts to
float Linklater upon a sea of bad-review-troubles; I would have preferred,
again, to hear from Linklater himself about the failed narrative experiment of
"Fast Food Nation." (Kent Jones also bemoans the reception of the masterpiece
"A Scanner Darkly" in 2006; don't look at me, my friend, I gave it four stars
in Premiere.) The stuff dealing with 2014's "Boyhood" does remind one just what
an extraordinary accomplishment that movie is. And again, it is an occasion to
celebrate the filmmaker's "Git-R-Done" ethos: To entertain "the idea that there was fear he wasn't gonna finish
'Boyhood'," Ethan Hawke says, "was to fundamentally misunderstand him." While
not an earth-shaker, this movie is an amiable and informative look at a guy who
is shaping up to be, yes, one of the major American directors of the last fifty
years.