Michael Bay's Chauvinist Reputation Remains Intact and No One Seems Less Concerned About That Than Michael Bay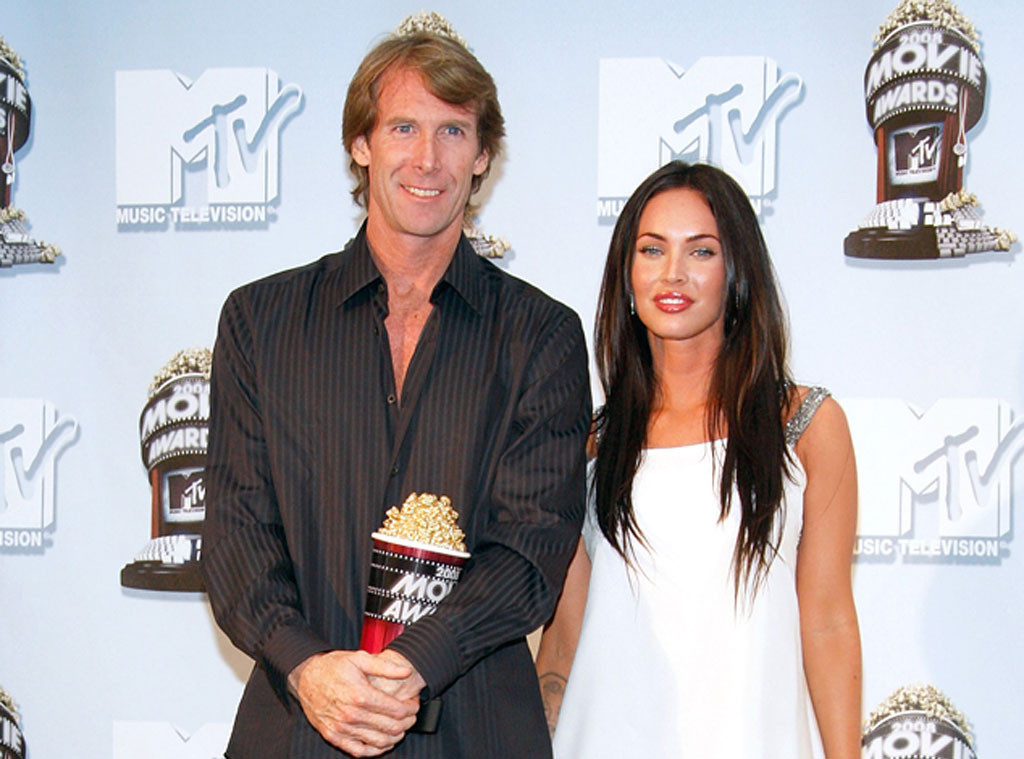 Frazer Harrison/Getty Images
Michael Bay recently estimated his net worth at "half a B."
So it isn't surprising that over the course of his career he hasn't felt the need to tinker with either his filmmaking method or his off-set persona, both of which reliably come off as unabashedly chauvinistic.
Bay being critical of Kate Beckinsale's looks when they shot Pearl Harbor 16 years ago is absurd on every level, considering she's one of the most physically stunning actresses in the business and she nails the (presumably required) 1940s-era wholesome-yet-glamorous pinup look in the 2001 film.sc
Buena Vista Pictures
But the director gushing about Josh Hartnett's star quality and saying he hired Beckinsale because he "didn't want someone who was too beautiful"—as it would have "disturbed" female moviegoers—is also what we know now to be quintessential Bay.
That nugget from a 2001 Movieline interview is only different in the sense that, these days, Bay doesn't usually have to think much about his female audience, because Pearl Harbor was the last quasi-romantic film he directed. The rest have been squarely targeted at boys of varying ages, and those young gents showed up in droves to watch four Transformers movies, none of them being too concerned with how he treated Megan Fox or Rosie Hungtington-Whiteley on set.
Jaimie Trueblood/Paramount Pictures
But despite all the think pieces devoted to the subject, it's doubtful he's an actual misogynist, because it takes energy to hate women, and Bay seems more dismissive of them than anything else.
In a joint interview with Scarlett Johansson given to BlackFilm.com in 2005 about the sci-fi clone thriller The Island—which flopped and was the last film Bay directed that tried to have a compelling female lead—Johansson is fairly complimentary of the auteur, calling him "one of about two or three people that can do…[action and sci-fi] right," and she said he was "sensitive" to her needs when she'd be losing steam after doing take after take on a tough scene.
Dimitrios Kambouris/WireImage
"The fact that he could see me in this was very surprising," she also said appreciatively of Bay. "It was lovely. It was very nice. As an actor you see yourself in all different kinds of roles. You imagine that you can play them. But it's not always that way looking at it from an industry point of view."
Bay, while not insulting Johansson's looks or anything, was explicit about why he cast Ewan McGregorin The Island—he has a sense of "boyish wonderment," "kind of like a Nic Cage thing"—and said of the Scottish thesp, "He really is a serious actor. He really is. He's a consummate pro." He even noted what a "very good blue screen actor" McGregor was.
But he paid short shrift to Johansson, instead making the sort of cracks that in hindsight make sense now, after his storied feud with Fox and Beckinsale's still-relevant 15-year-old anecdote.
"I said sign me up [for The Island]," Johansson told BlackFilm, and "it was very easy, no turmoil."
"Until we met," Bay interjected. And when she called him "lovely" to work with, as well as "loud and just boisterous and rude," he corrected her (probably in jest, but still), and said, "Blunt. Blunt, there's a difference."
He also recalled that the first draft of ScarJo's character "was pregnant and it was too 'woe is me' through the whole story." And asked later on what audiences would see on the DVD version of The Island, Bay joked, "Scarlett naked."
She joined in, adding, "The personal home video collection," but…
Would Johansson now, with 11 years more experience under her belt, want to repeat the experience? Or would she be quite so laudatory in an interview with a filmmaker who obviously has his…
Ways about him?
While he was working on the script for the first Transformers at the time, he would go on to make two of the robots-in-disguise films with Megan Fox playing opposite Shia LaBeouf.
"He's like Napoleon and he wants to create this insane, infamous, mad-man reputation," Fox famously told the U.K. magazine Wonderland in 2009. "He wants to be like Hitler on his sets, and he is. So he's a nightmare to work for but when you get him away from set, and he's not in director mode, I kind of really enjoy his personality because he's so awkward, so hopelessly awkward. He has no social skills at all. And it's endearing to watch him. He's vulnerable and fragile in real life and then on set he's a tyrant."
While it's the comparisons to Napoleon and Hitler that have stuck with people, especially during the part of the saga where Fox wasn't invited back for the third Transformers film, the whole "no social skills at all" part may have stuck more in Bay's craw (if the almost-billionaire even has a craw that things get stuck in) than the part about him being tough to work with.
He knows he's demanding—as he himself noted in his 2005 interview with BlackFilm—and he has always seemed pretty content with that. But was he more stricken by Fox pulling back the curtain on the all-too-human wizard at work?
"'I'm sorry, Megan. I'm sorry I made you work 12 hours. I'm sorry that I'm making you show up on time,'" he scoffed to GQ in 2011, almost two years after Fox's "Hitler" interview.
However, Rosie Huntington-Whiteley, who starred opposite Shia LeBeouf in Transformers: Dark of the Moon, was a real doll.
John Shearer/Getty Images For MAXIM
"Listen, I mean, Rosie came in and she would say hello to the crew. She would acknowledge the crew. She'd say thank you," Bay also recalled to GQ.
No one is now going to fault Huntington-Whiteley for having impeccable manners, but once again, it was her deference to him on set that stood out in Bay's mind rather than anything she did on camera.
But Bay has never tried to insist to the contrary that he's really concerned about strong female roles.
LaBeouf also didn't put on airs about what his director was up to with the female characters in the Transformers series, telling the Los Angeles Times in 2011, "Mike films women in a way that appeals to a 16-year-old sexuality. It's summer. It's Michael's style. And I think [Fox] never got comfortable with it. This is a girl who was taken from complete obscurity and placed in a sex-driven role in front of the whole world and told she was the sexiest woman in America. And she had a hard time accepting it. When Mike would ask her to do specific things, there was no time for fluffy talk. We're on the run. And the one thing Mike lacks is tact…Rosie comes with this Victoria's Secret background, and she's comfortable with it, so she can get down with Mike's way of working and it makes the whole set vibe very different
Asked about the rampant sexism in Bay's movies, re-confirmed by LaBeouf's characterization of the environment on set and the product on screen, Huntington-Whiteley sweetly told Access Hollywood in 2011, "I think what Shia was saying was that Michael loves women, and I think he films women in a very sensual way… We had great fun. I never feel uncomfortable with Michael. And if I do, I make sure I tell him. He's always respects it."
Even Fox, back in the Bay production fold (though under the direction of Jonathan Liebesman) for Teenage Mutant Ninja Turtles in 2014 and its sequel, in theaters Friday, told Entertainment Weekly in 2014 that she's actually "always loved" the filmmaker.
"We've had our battles in the past but even when I've been really outspoken about difficulties we've had, I've always followed up by saying that I have a particular affinity to him. He can be very vulnerable, and he's very likeable and loveable. I've always been very vocal about that as well. But, sometimes we clash because we both have very willful, powerful personalities."
Of course Bay seems to be the only one who gets to bring that sort of personality to the set and get away unscathed.
Though the discussion rages on (a rep for Bay has not yet responded to a request for comment about Beckinsale's accurate memory of his remarks 15 years ago) about just how much of a female-denigrating tyrant Bay may be and why people shouldn't indirectly support his M.O. by seeing his movies, there is a discernible fact to be mined from the debate:
Bay is all about business and his vision of what makes a marketable film. Oh, and fact No. 2: He doesn't seem to care at all how he comes off so long as it isn't bad for business.
Talking to Rolling Stone late last year about shooting his passion project, 13 Hours: The Secret Soldiers of Benghazi (which was shot for about $50 million, got mixed reviews and made $52.8 million at the domestic box office), he said, "I wish you could see me on set. It's a fun set, but it's a hard set. You're going to work your ass off. We literally shoot 75 shots a day, and they're not bulls–t shots—they're real setups. There's so much dick time in the film industry—wasting money, screwing around. Sometimes you've gotta say, 'Get that camera over here. Bop, bop, bop, bop, bop.'"
"One of my favorite things," 13 Hours star John Krasinski also said to Rolling Stone, "which was hard at the time but in retrospect is hilarious, was there would be takes where Michael would walk up to you afterward and go, 'None of what you just did is in my movie.' He wasn't even pissed—it was genuinely, like, 'That was awful.'"
So no matter who you ask, he sounds like a taskmaster. And the fifth Transformers film, The Last Knight, is on its way.
And Bay has a circle of friends and colleagues who don't think his approach to movie-making (or life) is so remarkable.
"That playboy thing people say about him is really no different than any other single guy in L.A.," TNMT producer Brad Fuller, a close friend of Bay's, told Mother Jones for a 2013 profile about the filmmaker. "And I'm spending time with the guy every day, and I know he isn't homophobic. As for the misogyny charge…he makes women look more beautiful than anyone else. I don't think that's misogynistic."
Or so Bay told Rolling Stone: "I can sometimes be a shy guy. At dinner I'm reserved, but when I'm on the set, I'm not. It's weird."