Cameron Crowe Comes to Showtime with "Roadies"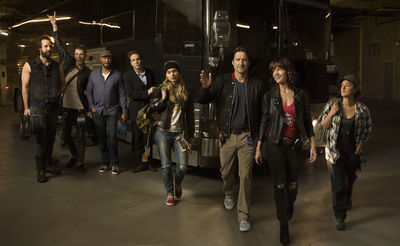 I'm of a generation that put Cameron Crowe on a pretty high
pedestal, and I've heard that from a number of colleagues of a similar age recently who are pinning their hopes on Showtime's "Roadies" as the comeback vehicle
for the once-so-essential writer/director after misfires like "We Bought a Zoo" and "Aloha." The good news is that it's very
watchable, consistently enjoyable and even shows sparks of that Crowe wit and
emotional honesty that drove films like "Say Anything …" and "Almost Famous." The
bad news is that it feels a little thin in places, almost like a Crowe's Greatest
Hits.
Seriously, if you made anyone who knows anything about Crowe watch the
pilot of "Roadies" they'd be able to guess who created it. Mike McCready (of Pearl Jam) is name-checked
within minutes, as are Lynyrd Skynyrd and The Replacements. Someone says that
the only two things one needs to live are oxygen and family. And that's before
the credits. And, again, Crowe has made a project about how humans are
emotional more than rational, defined by the people they know and love more
than anything else. But there's something comforting about just how much "Roadies"
plays to Crowe's strengths as a writer and director, even if one seems like it
would have made a bigger impact on the television landscape a decade ago.
Luke Wilson and Carla Gugino may be the "biggest names" on "Roadies,"
but the show actually belongs to Imogen Poots. Her character is the standard
Crowe protagonist—someone set on a different path by an emotional outburst and
meeting the right person at the right time. She even has a "Jerry Maguire"-like moment in the pilot. Poots plays Kelly Ann, who we meet on her last day working
on the tour of the fictional Staton-House Band. She's ready to move on with her
life and find a job that sparks her more creatively, but her plans change with
the arrival of a money man (Rafe Spall) who has been brought in to streamline
expenses and the aforementioned outburst. At the same time, Bill (Wilson) is given more responsibility—not his
strongest asset—and his fellow tour leader Shelli (Gugino), well, doesn't have
much of a character yet. She has a slightly troubled marriage, but we never
meet her husband. Bill sleeps around and may have an interest in Shelli, but
that's about it. And there are other supporting characters flitting around
backstage, including ones played by Keisha Castle-Hughes and Luis Guzman, but
they're incredibly loosely defined and even inconsistent over the first three
episodes. For now, we don't see Bill, Shelli and Kelly Ann as characters as
much as we do mouthpieces for Crowe. To that end, we get more speeches about
the power of music and history of rock 'n' roll than we do character
development.
The fact that the characters all have echoes of their
creator more than their own personalities, combined with the behind-the-scenes
aesthetic à la "Sports Night" and "The Newsroom," gives "Roadies"
notable commonalities with Aaron Sorkin, with less cynicism. Like Sorkin's
best shows, we're given a window into the behind-the-scenes people who make the on-camera personalities tick, but
Crowe is far more interested in human emotion than pure process. It's hard to even tell what most of these people actually do. He peppers his
scripts with lines like "You either love what you do or you get the fuck out,"
but you get the feeling that he still means it. I'm sure people roll their eyes
at Crowe's sentimentality, and those people shouldn't sign up for this tour,
but it never felt calculated to me. The end of the premiere of "Roadies" is
SO "Crowe" that I laughed out loud, but I loved it for the same reason. It may
be cheese, but some of the best, emotionally moving music of all time is built
on a similar foundation of unabashed sentimentality. He makes no apologies. Yes, he needs to strengthen his
characters, and I hope that comes over the course of the first season, but I'm
willing to let the set list play out. I still trust the man who wrote it.