Woody Allen Not Offended by Rape Joke at Cannes Film Festival's Opening Ceremony, but Blake Lively Was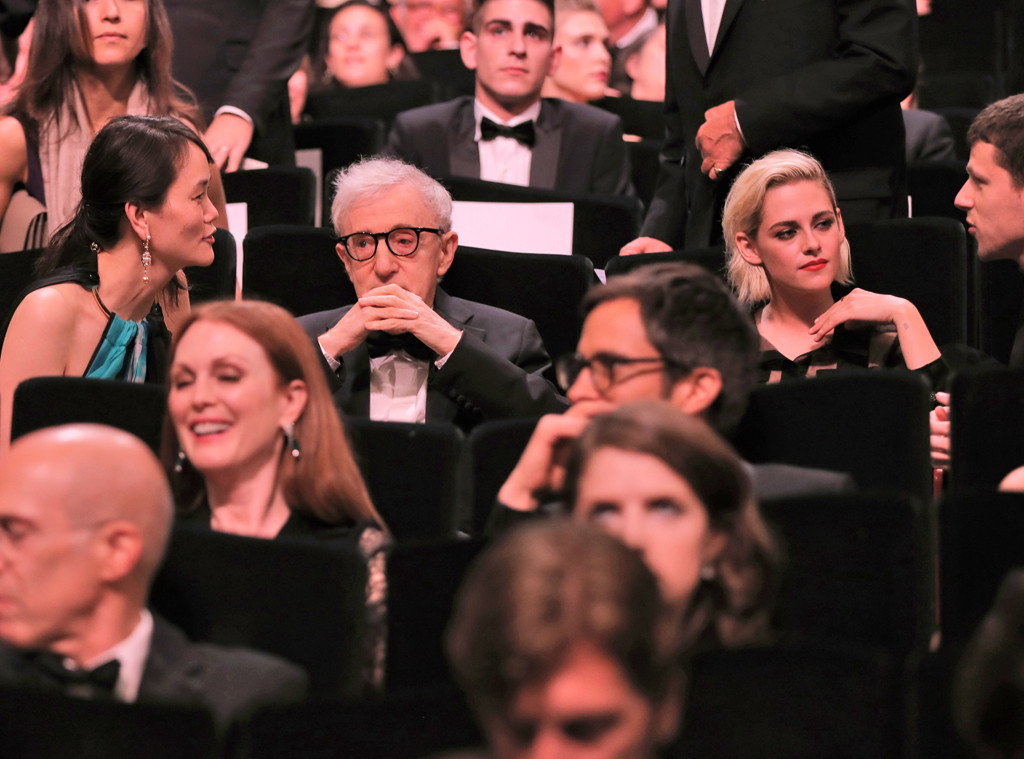 The 2016 Cannes Film Festival began with bang Wednesday.
Laurent Lafitte, a French comedian and the opening night's master of ceremonies, made a joke about the sexual assault allegations leveled against Woody Allen. "You've shot so many of your films here in Europe and yet in the U.S. you haven't even been convicted of rape," Laurent said. The audience, which included Blake Lively and Kristen Stewart, gasped. "Thank you for coming tonight, sir," Laurent continued. "Although it's the least you could do. Your film isn't even in competition. What's the worst that could happen?…Or that it's not as good as Manhattan?" Laurent's joke seemingly made reference to Roman Polanski, who was arrested in the U.S. in 1977 and charged with raping a 13-year-old girl; the director fled to Europe to avoid prison after accepting a plea bargain on a lesser charge.
At a lunch for his film Cafe Society Thursday, Woody addressed the joke. "I am completely in favor of comedians making any jokes they want," he told Variety's Ramin Setoodeh. "I am a non-judgmental or [non]-censorship person on jokes. I'm a comic myself and I feel they should be free to make whatever jokes they want." In fact, he added, "It would take a lot to offend me. What bothered me most last night was the length of the show before the movie. I'm sitting there. I know I have a movie that's an hour and a half, I would like the introduction ceremony to be 20 minutes, half hour at the most. I don't want you to spend an hour on the show. By the time my movie comes around at the end, you're antsy in your seat. To me, that is the mistake of the show. It goes on for too long. Cut that down."
Blake, meanwhile, said Laurent's controversial jokes weren't just aimed at Woody. "He made three homophobic comments in a row. A Hitler joke. And a rape joke. It was all within 30 seconds…What on Earth was happening?" the actress asked. "It was really confusing."
Moreover, the actress told Variety, "I think any jokes about rape, homophobia or Hitler is not a joke. I think that was a hard thing [to] swallow in 30 seconds. Film festivals are such a beautiful, respectful festivals of film and artists and to have that, it felt like it wouldn't have happened if it was in the 1940s. I can't imagine Fred Astaire and Bing Crosby going out and doing that. It was more disappointing for the artists in the room that someone was going up there making jokes about something that wasn't funny."
Laurent's rape joke came hours after Woody's estranged son, Ronan Farrow, published an essay in The Hollywood Reporter that attacked the media for failing to challenge his director father over sister Dylan Farrow's allegations of sexual abuse. On Wednesday, New York's Jada Yuan asked Woody if he had read Ronan's widely circulated essay; the director said he had not.
VALERY HACHE/AFP/Getty Images
Like Woody, Blake has not read Ronan's essay. "I came home and went to bed at whatever time we finished. I haven't been in it, so I don't want to speak on something I haven't read," she told Vulture's Kyle Buchannan Thursday. "I think that's dangerous. It's definitely something that being at the festival, the media these days, you come to a film festival about film and people talk about all different types of things. You know? That can be definitely tricky to navigate, I'm sure. I don't want to speak about something I haven't read."
Earlier this week, Kristen said she was aware of the sexual abuse allegations Dylan made against Woody in the 1990s; after an investigation, police did not pursue accusations that Woody had abused Dylan, who was 7 at the time. In her open letter to The New York Times in 2014, though, Dylan condemned stars including Scarlett Johansson and Emma Stone for supporting his work.
After she was cast, Stewart talked to actor Jesse Eisenberg about the situation. "I was like, 'What do you think? We don't know any of these people involved. I can personalize situations, which would be very wrong.' At the end of the day, Jesse and I talked about this," she told Variety. "If we were persecuted for the amount of s–t that's been said about us that's not true, our lives would be over. The experience of making the movie was so outside of that, it was fruitful for the two of us to go on with it." Eisenberg, for his part, said he doesn't recall the conversation.