Ken Loach's "I, Daniel Blake" wins Palme d'Or at Cannes 2016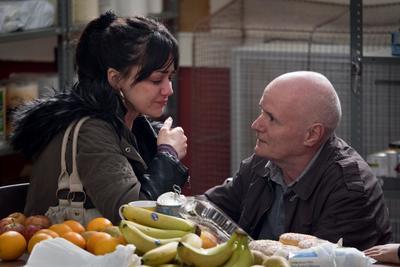 At least they didn't give a prize to "The Last Face."
In a victory that ran counter to many prognosticators' guesses, Ken Loach won the Palme d'Or for "I, Daniel Blake," about a carpenter (Dave Johns) in the north of England who struggles to retain his dignity as he navigates the bureaucracy of British social services. Loach is now one of a handful of filmmakers who have won two Palmes—his first, also regarded as a surprise, was for "The Wind That Shakes the Barley" in 2006.
In his acceptance speech, the 79-year-old director talked about the
power of cinema as a means of dissent. Film, he said, "can bring us worlds of the
imagination, and it can bring us the world that we live in." He added, referencing the United Kingdom's status as the fifth-wealthiest nation,
"The world that we live in is at a dangerous point just now, within
the grip of a project of austerity driven by ideas that we call
neoliberalism that have brought us to near-catastrophe."
In a quintessential bit of Cannes cognitive dissonance, the Palme was presented to Loach by jury president George Miller's former "Mad Max" star, Mel Gibson, not exactly a figure known for his inclusive or humanist sentiments.
About the deliberation process, Miller told the awards audience that "nothing was left unsaid." Yet shut out was German director Maren Ade's "Toni Erdmann," a record-setting critical favorite. When the director Houda Benyamina won the Camera d'Or (best first feature) for "Divines," she gave a raucous French-language speech calling for the presence of more women at the festival. The British director Andrea Arnold won the (de facto third-place) Jury Prize for her road movie, "American Honey."
In a decision that provoked audible hostility from the rowdy press corps, Xavier Dolan's viciously received "It's Only the End of the World," mostly shot in closeup, won the second-place Grand Jury Prize. Best Director was split in two, between a former Palme winner, Cristian Mungiu (for "Graduation"), and Olivier Assayas, whose genre-bending ghost story "Personal Shopper" represented a considerable departure for him.
Elsewhere, "A Separation" director Asghar Farhadi's "The Salesman" won two awards, for Farhadi's screenplay and for lead actor Shahab Hosseini's performance. Best Actress went to Jaclyn Jose for Filipino director Brillante Mendoza's "Ma' Rosa." Jose won over several powerhouse competitors, including Sonia Braga ("Aquarius"), Ruth Negga ("Loving"), Isabelle Huppert ("Elle"), Adèle Haenel ("The Unknown Girl"), and Sandra Hüller from "Toni Erdmann."
The awards ceremony, which included musical tributes to past Palme winners (the broadcast's cutaway to juror Donald Sutherland as the theme from "MASH" played was priceless), had its usual Oscars-meets-United Nations flavor, and included an homage to legendary French actor Jean-Pierre Léaud, who received an honorary Palme d'Or.