David Letterman bids goodbye to the Late Show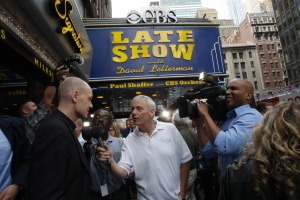 David Letterman ended his 33-year career as a late-night television host Wednesday, ushered into retirement by four presidents who declared "our long national nightmare is over" and saying there was nothing he could ever do to repay his audience.
The taped intro of President Barack Obama and former Presidents George Bush, Bill Clinton and George W. Bush referenced President Gerald Ford's declaration to the country when he took office following the 1974 resignation of Richard Nixon. Letterman sidled up to Obama to say, "you're just kidding, right?"
Ten stars from Steve Martin to Tina Fey delivered the final Top Ten list of "things I've always wanted to say to Dave." Julia Louis-Dreyfus, with Jerry Seinfeld standing nearby, said, "Thanks for letting me take part in another hugely disappointing series finale."
Number One was Bill Murray: "Dave, I'll never have the money I owe you."
Letterman joked in his monologue that he's been on the air for so long that the hot show when he started was "Keeping Up with the Gabors."
An audience member of the final taping of the Late Show with David Letterman speaks to a reporter outside the Ed Sullivan Theater in New York on Wednesday. (Mary Altaffer/The Associated Press)
"You want to know what I'm going to do now that I'm retired?" he said. "By God, I hope to become the new face of Scientology."
Letterman said goodbye after 6,028 broadcasts of his late-night shows on CBS and NBC. True to his self-deprecating style, he said Stephen Hawking estimated that tenure delivered "about eight minutes of laughter."
Letterman will be replaced in September by Stephen Colbert, who he endorsed by saying, "I think he'll do a wonderful job."
The final Late Show broadcast ran long, some 17 minutes over its usual hour, and CBS planned to let the show air without cutting it. Some Canadian viewers in the Eastern time zone were jarred when at 12:35 ET, with Letterman in the middle of a heartfelt closing message from his desk, the feed on some CTV channels switched to a recorded program for several minutes.
Well, I don't know if that was Rogers or CTV, but it was really unfortunate to have part of Letterman's last segment cut out by simulcast.
— @punditsguide
From his start on NBC's Late Night in February 1982, Letterman's comedy was about more than telling jokes. He attached a camera to a monkey's back, tossed watermelons off a roof and wore a suit of Alka-Seltzer to plunge into a tank of water. Celebrities used to being fawned over either clicked with his prickly personality or didn't, and when Cher called him "an asshole," it became a memorable moment.
He shifted to CBS in 1993 when NBC gave the Tonight Show to Jay Leno instead of Letterman, a slight he never forgot or forgave.
Letterman even began his final monologue Wednesday by joking, "It's beginning to look like I'm not going to get the Tonight Show."
In this image released by CBS, The Foo Fighters perform Everlong during a taping of David Letterman's final Late Show on Wednesday. (Jeffrey R. Staab/CBS via AP)
The tricks subsided as Letterman mellowed with age and fatherhood. His audience welcomed him back after a heart bypass, listened as he became the first late-night host back on the air after the 2001 terrorist attacks and saw him acknowledge to inappropriately having sex with a subordinate.
"When I screw up now, and Lord knows I'll be screwing up, I'll have to go on somebody else's show to apologize," Letterman said.
Letterman, whose wife Regina and son Harry were in the audience, was serenaded at the end by the band Foo Fighters. They sang Everlong, the same song they played when he returned following heart surgery in February 2000.
Late night hosts Jimmy Kimmel, Jimmy Fallon and Conan O'Brien each encouraged viewers to watch Letterman instead or watch their own shows later through DVR technology.
His last few weeks have been warmly nostalgic, with Letterman entertaining old friends like Murray, Tom Hanks, George Clooney and Julia Roberts. Anticipating the end, viewers sent Letterman to the top of the late-night ratings the week before last for the first time since Jimmy Fallon took over at NBC's Tonight Show and they competed with original telecasts.
Congratulating Thunder Bay's one and only Paul Shaffer, heart + soul of the Letterman show, hugely talented musician and arranger#Letterman
— @BobRae48
Letterman, before saying goodbye, thanked virtually everyone involved with the show from CBS Corp. Chairman Leslie Moonves to his researchers and crew members.
"It's so obvious every night and again tonight that they were so much better at their jobs than I am at my job," he said.
Letterman remained dry-eyed throughout the broadcast, but several audience members who filed out of the Ed Sullivan Theater had tears in their eyes.
"He was guarded but you could tell it was really hard for him," said John Bernstein, who flew in from Los Angeles to attend the final taping. "You could see his emotion. But I think he's feeling a lot more than he's showing."
In this image released by CBS, David Letterman appears behind the desk one final time as host of the Late Show. (Jeffrey R. Staab/CBS via The Associated Press)
Source:: http://www.cbc.ca/news/arts/david-letterman-emotions-in-check-hosts-final-late-show-1.3081539?cmp=rss