Mark Ruffalo Makes Avengers: Age of Ultron Premiere a Family Affair—See His Kids' Red Carpet Looks!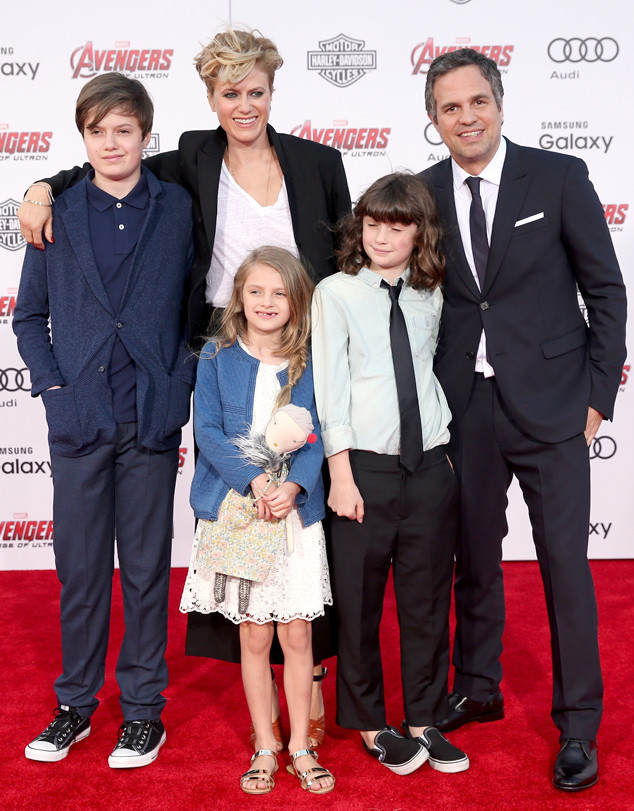 Mark Davis/Getty Images
Lights, camera, family!
Mark Ruffalo has had his share of red carpet movie premieres around the world. But on Monday night, the Avengers: Age of Ultron star decided to celebrate his latest flick with his entire family.
Joined by wife Sunrise Coigney, Ruffalo smiled bright for the cameras as he gave his loved ones a big taste of the Hollywood lifestyle.
"On the way to the Age Of Ultron premier," he captioned on Instagram before meeting the press. "Kids freaking out in car. #AvengerAgeOfUltron"
His son Keen looked handsome in a blue ensemble that included a blazer and black Converse All Stars sneakers. Meanwhile, daughter Odette looked cute in a white dress and flats while carrying one of her beloved stuffed animals.
PHOTOS: More movie premiere moments we loved 
Mark Davis/Getty Images
Meanwhile, Bella continued to rock her signature red carpet style with a black tie, matching pants and Vans sneakers. Just a few days earlier, the 10-year-old daughter joined Ruffalo at the 2015 MTV Movie Awards where they donned matching J. Crew outfits.
"On the way to the MTVMovie Awards with Bella Noche," he captioned on Instagram. "I hope she forgives me for biting her style." Trust us, after meeting Chris Evans and Chris Hemsworth backstage, we have a feeling there weren't any hard feelings.
It's been a wild week for Ruffalo who will return to the big screen in Marvel's upcoming film out May 1.
Whether honoring co-star Robert Downey Jr. at the Movie Awards or chatting with news outlets around the world, Ruffalo has been a busy man.
From the looks of things, however, his kids don't seem to mind dad's busy schedule that will get back to normal sooner rather than later. After all, daddy is The Hulk. 
PHOTOS: Your first look at Avengers: Age of Ultron 
RELATED VIDEOS:
Source:: http://ca.eonline.com/news/646359/mark-ruffalo-makes-avengers-age-of-ultron-premiere-a-family-affair-see-his-kids-red-carpet-looks?cmpid=rss-000000-rssfeed-365-topstories&utm_source=eonline&utm_medium=rssfeeds&utm_campaign=rss_topstories