Joan Collins Flawlessly Dishes All About Her Delicious "Manipulating" Role on The Royals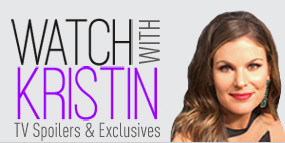 Are you ready for some major mama drama?
The Royals is getting a healthy dose of it on this Sunday's all-new episode, because the flawless and absolutely fierce legend Joan Collins makes her highly anticipated debut, and it's going to give you major nostalgia for her Dynasty days! And the part she's playing? It's oh-so-perfect.
She's playing the queen mother, of course! It was the juiciness of the role that attracted Collins to The Royals in the first place.
"It was a great role," Collins tells E! News. "When I first heard about The Royals being made a long time ago, about a year ago, I mentioned to my agent, 'That sounds like a really interesting project, particularly being done as a scripted series on E! because I think there's not enough scripted series that are particularly glamorous.'"
MORE: Wait, The Royals didn't actually film in Monaco? Check out this behind-the-scenes exclusive!
And the fact that her role on the show is playing Queen Helena's (Elizabeth Hurley) "manipulating" mother was just the cherry on top.
"The character that I'm playing is actually the one in control," Collins says. "She knows what's going on with all the madness and naughtiness and decadence that's going on with the royal family, the fictional royal family. She decides it's time to step in and stop it all. She is the manipulating mom."
Press play on our exclusive video above now to see what else Collins had to say about her upcoming role on The Royals, if she's going to get into any Dynasty-level catfights on the E! show, and what it was like finally getting the chance to play Hurley's mother in a project after so many near-misses!
Plus, you absolutely must hear her advice to women everywhere. Listen to it, take it to heart, abide by it every day for the rest of your life. That way, you can be just as flawless as she is! (Although, no guarantees on that one. Collins is superhuman as far as we can tell!)
The Royals airs Sundays at 10 p.m. on E!
CLICK: Check out these behind-the-scenes pics from The Royals! 
RELATED VIDEOS:
Source:: http://ca.eonline.com/news/649730/joan-collins-flawlessly-dishes-all-about-her-delicious-manipulating-role-on-the-royals?cmpid=rss-000000-rssfeed-365-topstories&utm_source=eonline&utm_medium=rssfeeds&utm_campaign=rss_topstories