Anne Hathaway Comes Close to Flashing New York While Experiencing a Marilyn Monroe Moment With Her Skirt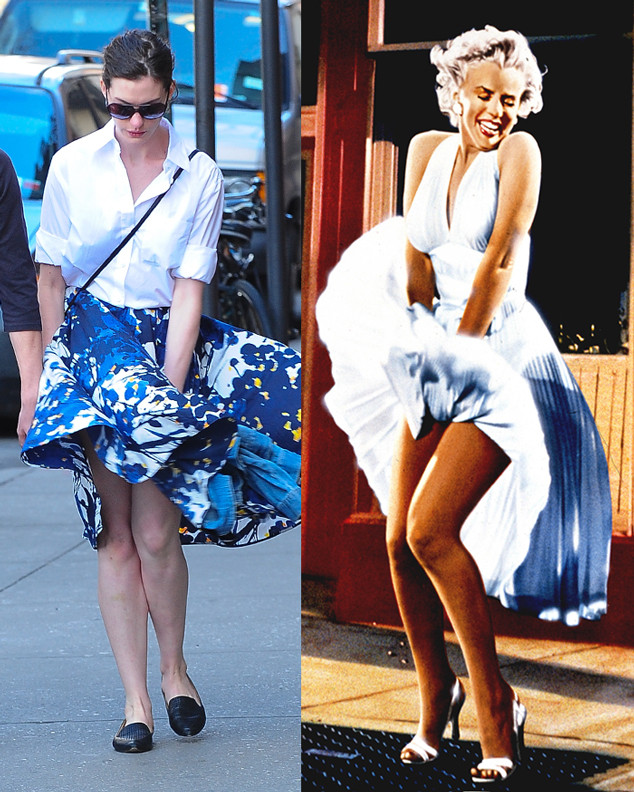 JDH Imagez/Splash News; 20th Century Fox
Today's forecast calls for unusual weather and unpredictable wardrobe malfunctions.
Anne Hathaway was just trying to enjoy a spring day in Manhattan Wednesday afternoon with husband Adam Shulman.
Wearing a floral skirt with a white button-down and black flats, the Brooklyn native was dressed perfectly for a city that experienced temperatures in the 70s. Bet you don't miss that snow, right New Yorkers? Her husband looked just as spiffy in a retro Fleetwood Mac T-shirt, denim jeans and black sneakers.
But while strolling hand-in-hand, a sudden burst of wind surfaced in the air that forced Hathaway's skirt to fly up.  Based on her face, the Les Misérables and Devil Wears Prada star was more than caught off guard. Luckily, nothing shocking was revealed. Phew!
PHOTOS: Anne Hathaway's best movie roles 
The moment, however, quickly reminded us of the memorable scene from The Seven Year Itch starring Marilyn Monroe. The 1955 romantic comedy featured a scene when the blond bombshell's white halter dress puffed up as she stood near the subway. Gotta be careful, ladies. 
Just last week, Hathaway did manage to strip down to her skivvies while channeling Miley Cyrus on Lip Sync Battle.
In hopes of recreating the former Disney star's music video for "Wrecking Ball," the Oscar winner proved even she can't be tamed while singing on a very familiar prop. And did we mention the A-listers can also rap?
Yes, she absolutely slayed when performing Mary J. Blige's "Love." "I thought she was going to do a show tune, to be honest," Emily Blunt joked after her close friend showed some serious street cred. Don't mess with Anne!
PHOTOS: These stars had less luck in avoiding wardrobe malfunctions 
RELATED VIDEOS:
Source:: http://ca.eonline.com/news/646868/anne-hathaway-comes-close-to-flashing-new-york-while-experiencing-a-marilyn-monroe-moment-with-her-skirt?cmpid=rss-000000-rssfeed-365-topstories&utm_source=eonline&utm_medium=rssfeeds&utm_campaign=rss_topstories