Will Nunavut's baby death probe heal feelings of mistrust?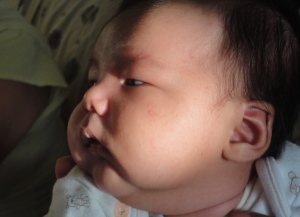 Nearly four months after a CBC investigation raised serious questions about the tragic death of a baby boy in Nunavut from a common viral infection, the territorial government has finally announced the scope of a pending independent investigation.
But those familiar with the 2012 death of Makibi Timilak say they are skeptical of the investigation's independence and are critical of its narrow scope.
Makibi died hours after a nurse in his hometown of Cape Dorset refused to see the boy. Nunavut's rules require nurses to see sick infants in person.
In the months leading up to Makibi's death, the nurse in question, Debbie McKeown, faced a series of allegations that she'd refused to see other patients and misdiagnosed others. After Makibi's death, complaints continued.
Despite that, the government, which employs nurses, promoted McKeown to the top nursing post in Cape Dorset. Government emails obtained by CBC News show that health department employees believed their mishandling of the nurse left the community's health "at risk." Still, they employed her.
In announcing details of the investigation last week, Health Minister Paul Okalik vowed that Nunavut wants to learn "how we can avoid these situations in the future."
When Makibi's parents, Neevee Akesuk and Luutaaq Qaumagiaq, spoke to CBC News last year, they believed that talking to the media would lead to change.
The couple was hopeful the boy's death would drive Nunavut to keep a more watchful eye on nurses in its remote communities and improve how they handle complaints. They also hoped to protect their second child — a baby girl named Ahme — from the same fate as her brother.
Qaumagiaq is angry at how the investigation is unfolding.
"What about the other complaints before my son died? She put all the people of Cape Dorset in danger," says Qaumagiaq. "I'm afraid that this might happen to someone again."
Focus of probe under fire
His main concern is the investigation's terms of reference. It states that the review will focus only on Makibi's death and what followed.
Makibi Timilak died in April, 2012, after a nurse allegedly refused to see him. (Family photo)
The investigation's terms of reference states that "the purpose of the review is to determine: (i) what steps were taken in the wake of Makibi's death, (ii) whether the steps taken were appropriate in the circumstances."
That ignores one of the most troubling questions raised by the CBC investigation: Why didn't the Nunavut government act when complaints began mounting against McKeown months before Makibi's death?
"Any event preceding such a tragedy like this is critical in understanding the whole story," says Elise Van Schaik, a former health department employee who in 2014 was involved in reviewing McKeown's actions. "It's very disheartening and very disappointing."
Scope 'open to the reviewer'
In mid-February of 2012 — nearly two months before Makibi's death — fellow Cape Dorset nurse Gwen Slade filed a series of complaints with the regional nursing oversight body against McKeown, alleging she'd made troubling chart errors, misdiagnosed several patients and refused to see others.
Shortly after, Slade also filed grievances with the government alleging McKeown bullied her in the workplace. According to government emails, McKeown was found guilty of workplace harassment in that case, as well as a later one in mid-2013.
Earlier this year, McKeown admitted to a number of the allegations filed to the regional nursing college, the Registered Nurses Association of N.W.T. and Nunavut (RNANT/NU). As part of her discipline, she faced substantial requirements to re-enter the nursing field.
Recently, however, she's gone to court to fight that disciplinary action, saying she'd already been punished for the wrongdoings earlier on.
The health department selected Katherine Peterson, a Yellowknife, N.W.T.-based lawyer, to head the review.
When pressed about the limited scope, Nunavut's health minister said it's possible the appointed investigator can do "more extensive work" and he leaves the decision "open to the reviewer."
'Current of mistrust'
Concerns are also being raised about the independence of the reviewer.
Peterson has worked for the Nunavut government on labour relations cases such as arbitration and dismissals, and also done employment litigation work in the territory. She's also acted as counsel for the city of Iqaluit.
The health minister says they focused on finding a reviewer who had "some independence and at the same time, somebody that is familiar with Nunavut and has done some work here.
"I didn't want to find someone who had no knowledge of the environment that people work in here," said Okalik. "So I'm very pleased with this selection."
He says Peterson retains her independence because she's never worked for the health department.
Elise Van Schaik, who worked for the Nunavut health department for five years, says she's worried about the narrow scope of the probe into Makibi's death. (CBC)
Former health department director Van Schaik, however, says she's worried about the department appointing its own investigator, especially given the allegations of lack of accountability and transparency.
"When a department hires a lawyer to investigate itself, it lends itself to a situation where there's more chance for bias," she says.
Peterson will report to the health minister, providing not only regular updates but submitting the final review to the health minister by Nov. 30, according to the terms of reference.
The minister may table it in the legislature or release it to the public. It's not clear he's required to do either, though Okalik has vowed to be "transparent and open."
It will have to be if it seeks to address the "underlying current of mistrust" many now feel about the territory's health care system, says Van Schaik.
image2015 02 27 172156 (PDF)
image2015 02 27 172156 (Text)
On mobile? View government documents here
Source:: http://www.cbc.ca/news/canada/will-nunavut-s-baby-death-probe-heal-feelings-of-mistrust-1.2979777?cmp=rss