Whistler's Cassie Sharpe wins World Cup halfpipe gold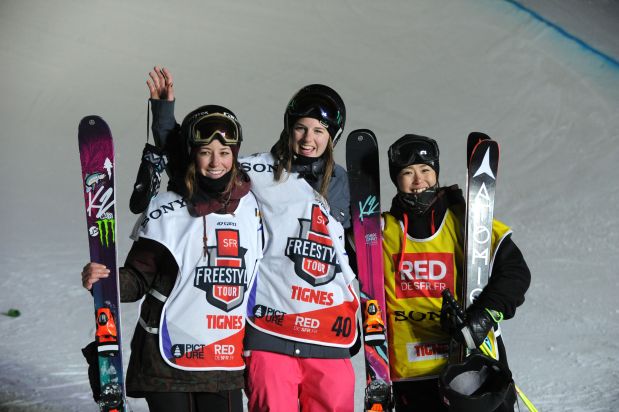 VANCOUVER — Flying higher than any woman has gone previously lifted halfpipe skier Cassie Sharpe of Whistler to a first World Cup victory Thursday at the season-closing event in Tignes, France.
The 22-year-old, originally from Comox, scored 93.80 on her third run in the six-skier final, although she'd already clinched gold with a score of 91.80 on her second run. Among others, she beat out 2014 Olympic bronze medallist Ayana Onozuka of Japan, who was second with a best run of 90.40 and Olympic silver medallist Marie Martinod of France, who was fourth at 84.40.
"It's amazing," Sharpe said on a conference call. "I feel super good, super stoked for the run I put down."
It capped a breakout couple of months for the first-year national team skier. She earned a silver medal at the FIS world championships in Austria in January against a field weakened by the fact the top half-dozen women in the world were at X Games in Aspen, Colo.
But other than American Maddie Bowman, the 2014 Sochi gold medallist and a three-time X Games champion, all the top women were in Tignes.
"I'm new to this circuit," said Sharpe. "All these girls have been competing for so long, been together for so long. It was fun to come in and mix it up a little. It shows I can play with them, I can play with the big dogs."
"My riding has improved and I've become a stronger skier from (worlds) to now. I kept pushing my amplitude and my grabs were more defined by the third (run). I was going really big."
Canadian coach Trennon Paynter said that was the key to Sharpe's win.
"Cassie's (winning) run was pretty mind-blowing. She was going higher in the pipe than any girl has ever gone. It was absolutely amazing how good she went. She literally made history for the sport of halfpipe."
In the men's event, 2014 Olympic silver medallist Mike Riddle of Squamish, who had failed to podium in any event this season, earned the win with a score of 95.00, edging out Sochi gold medallist Mike Wise, whose best run was a 94.20.
"I was so stoked I landed all three runs (in the final), which for me is kind of rare," said Riddle, the sixth different male to win in six major competitions around the world this season. "I'm unbelievably happy. Everybody was skiing at such a high level."
Riddle said not having hit the podium since the Olympics "plays on the mind a little bit." But he admitted he really hadn't been aiming for the podium before Thursday while choosing to work on new tricks and new combinations.
"I'm trying to think long term with my skiing … but I knew I had an outside chance of winning (at Tignes). I'd been skiing really well this week. I didn't crash in training for two days, which is awesome because the body doesn't appreciate that.
"I'm very happy to put down a podium run."
gkingston@vancouversun.com
Source:: http://www.canada.com/sports/winter-sports/Whistler+Cassie+Sharpe+wins+World+halfpipe+gold/10884619/story.html