Volunteer group helps First Nations with stray dogs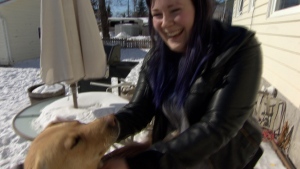 Cady Shaw is a dedicated animal lover. (CBC)
A group of dog lovers have formed CC RezQs, a volunteer-run animal rescue service aimed at helping First Nations communities with stray dogs.
"Lots of the reserves that we've gone to have been very grateful," Cady Shaw, co-founder of the group, said. "And they work with us. And they will let us know if there are particular dogs in need or if there are situations that need attention."
The idea for the group came from Shaw's friend Caillin Rodonets. Rodonets' work takes her to many First Nations and she noticed many dogs that were running loose, abandoned or being neglected.
Shaw has adopted two dogs, including the very first one they picked up. She is also caring for two more dogs as she works to find homes for the animals.
It has been a year since the group started its work and so far they have found homes for 14 dogs. They ensure each animal is seen by a veterinarian before getting it goes to a home.
"Sometimes the dogs can pack up," Shaw said. "And if they're not properly trained, you know, there have been dog attacks and we want to prevent that."
The project keeps everyone in the group very busy. Shaw is also studying at the University of Regina and working.
Another Regina-based member of the group is Angele Beeslie.
"It gives them a chance to be loved one-on-one," Beeslie said. "And not have to fight for their food or attention."
Shaw said C-C Rez-Qs is always grateful for any donations and offers of foster homes for the rescued dogs.
Cady Shaw provides a temporary home to dogs picked up as strays. She also has adopted two rescued dogs. (CBC)
Source:: http://www.cbc.ca/news/canada/saskatchewan/volunteer-group-helps-first-nations-with-stray-dogs-1.2983726?cmp=rss