This Mother of Three's "Flabby" Bikini Photo With Stretch Marks Goes Viral: See the Inspirational Pic!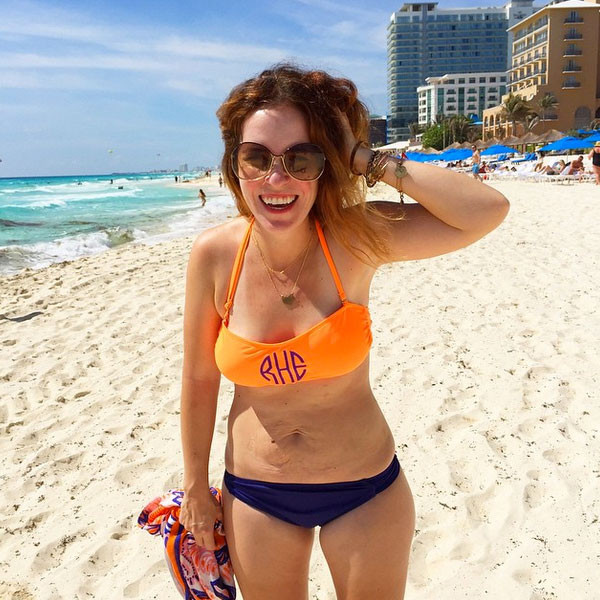 Instagram
Way to go, Rachel Hollis!
This mother of three and blogger inspired a bevy of fans this week by posting a "flabby" photo of herself in a bikini. The beachy photo, which was taken on vacation in Cancun, has gone viral since Hollis posted it on Instagram this past weekend.
"I have stretch marks and I wear a bikini," Hollis captioned the pic. "I have a belly that's permanently flabby from carrying three giant babies and I wear a bikini. My belly button is saggy… (which is something I didn't even know was possible before!!) and I wear a bikini. I wear a bikini because I'm proud of this body and every mark on it."
PHOTOS: Stars' powerful quotes about feminism
Hollis added, "Those marks prove that I was blessed enough to carry my babies and that flabby tummy means I worked hard to lose what weight I could. I wear a bikini because the only man who's opinion matters knows what I went through to look this way. That same man says he's never seen anything sexier than my body, marks and all. They aren't scars ladies, they're stripes and you've earned them. Flaunt that body with pride! #HollisHoliday."
Hollis' inspiring photo has already garnered almost 1,300 likes on Instagram and more than 382,000 likes on Facebook.
"Bless you! Let's make real women 'normal' again!!!" one fan commented. Another shared, "Seeing this may give me the courage to wear a bikini again. Had my son almost 8 years ago and haven't shown my stomach since."
PHOTOS: Stars in bikinis
RELATED VIDEOS:
Source:: http://ca.eonline.com/news/639967/this-mother-of-three-s-flabby-bikini-photo-with-stretch-marks-goes-viral-see-the-inspirational-pic?cmpid=rss-000000-rssfeed-365-topstories&utm_source=eonline&utm_medium=rssfeeds&utm_campaign=rss_topstories