Ted Cruz, presidential bids, and why being 1st is worst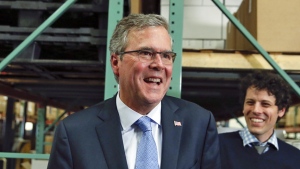 U.S. presidential history has not favoured the likes of declared Republican candidate Ted Cruz.
Not necessarily because of his reputation as a Tea Party firebrand, nor for his evangelical leanings, nor his narrative as a Canadian-born Texan of Cuban-European ancestry.
Historically, Washington strategists say, the Texas senator may have doomed his chances to assume the Oval Office because he belongs to that class of unenviable keeners: viable candidates who were the first to declare their bid for the White House.
The stats look bad, said Mercedes Schlapp, a Republican strategist and a former spokesperson for president George H.W. Bush.
No Republican candidate on record has ever won the nomination after being first to announce, Schlapp noted.
Former Florida Governor Jeb Bush is expected to mount a presidential run in 2016, and is widely considered to be an establishment choice for the Republican nomination. (Shannon Stapleton/Reuters)
"I could imagine all the other campaigns going, 'Let's see who is going to announce first,'" she said from Alexandria, Va.
"Whether you want to call it superstition or not, there is not a good likelihood of you being the nominee based on that history."
In a rousing speech on Monday at the Jerry Falwell-founded Liberty University in Virginia, Cruz officially launched his campaign to become commander-in-chief, vowing to reignite "the promise of America" and to repeal Obamacare, the health care plan that is a particular lightning rod for conservative Republicans.
But with the November 2016 election still 20 months away, and a potentially large field of Republican candidates yet to announce, Cruz risks losing momentum when it will count.
First-in jinx
"Burnout is a real possibility," said Joe Lestingi, a strategist with the Democratic direct mail firm Chadderton Group. "The truth is, presidential campaigns are marathons, and if you burn out, you lose the race."
For her part, Schlapp considers Cruz a "second-tier candidate" and a long shot stacked against better positioned rivals like Florida Senator Marco Rubio, former governor Jeb Bush and Wisconsin Gov. Scott Walker.
'He's the lead car now creating the draft for everyone behind him. He's going to be taking the most hits and getting the most bugs on his windshield.'- Joe Lestingi, Chadderton Group stategist
Still, she views his early "splash" into the race as a savvy fundraising tactic.
Money is the lifeblood of a presidential campaign, with the "basic entry fee" for a serious presidential contender hovering around $50 million, according to Greg Valliere, chief political strategist for the Washington-based Potomac Research Group.
By securing the limelight now, Valliere said, Cruz can capture headlines and some dollars while he's at it.
"He wanted to go first to lock in sources of funding," he said. "It's a smart move."
That is, as long as Cruz feels he really can overcome the first-in jinx.
I'm running for President and I hope to earn your support! pic.twitter.com/0UTqaIoytP
— @tedcruz
According to a November 2014 analysis by Bloomberg Politics, "no candidate who was first onto the field has won the presidency" stretching back to 1952, when reliable records were first archived.
"It's widely accepted that people who announced first usually don't go all the way," Valliere said. "Most, or all, have crashed and burned."
Lestingi uses a similar motorsports analogy to describe Cruz: "He's the lead car now creating the draft for everyone behind him. He's going to be taking the most hits and getting the most bugs on his windshield."
Former U.S. Secretary of State Hillary Clinton is expected to announce her candidacy for president in 2016. (Brendan McDermid/Reuters)
As a senator and Tea Party favourite, Cruz was given plenty of leeway to go after whomever he wanted, even if that alienated fellow Republicans with his ultra-conservative views.
But his formal candidacy could make him "fair game" for more intense mudslinging, says Trey Hardin, principal founder and political commentator with War Room Strategies, a Washington-based advertising and lobby group.
Hardin believes the 44-year-old Cruz, who opposes abortion and champions expanded gun rights, is seizing the moment to "claim the mantle" as the far-right conservative of choice, before his opponents in the field have a chance to.
'Rained on their parade'
"He's pre-empting their efforts. He's rained on their parade a little bit," he said.
At the moment, most U.S. observers seem to feel that Republicans will end up backing a more moderate presidential candidate, someone who can pull together a pragmatic coalition from the party's libertarians and social and fiscal conservatives.
Mitt Romney, the Republican presidential candidate and former Massachusetts governor, speaks during a campaign stop in Charlotte, N.C., on May 11. (Jae C. Hong, File/Associated Press)
That being the case, it shouldn't matter whether or not Cruz was the first out of the gate, according to Peter Loewen, director of the Centre for the Study of the United States at the University of Toronto.
"Cruz isn't the establishment choice. He's not going to have the big money backing him that Jeb Bush has," he said. "So I can see the sense of Cruz's strategy of going early."
For now, Loewen says, it's a matter of when Cruz's momentum will begin to peter out, as it did in 2012 for Republican fringe players like Herman Cain and Michelle Bachmann.
"You're just the flavour of the month and if you don't deliver, people move on," he said. "But if you're someone like Ted Cruz, why wait until the big cats in the jungle are in the race? Why not go out there early to Iowa, go out to New Hampshire, and see what kind of momentum you have?"
Source:: http://www.cbc.ca/news/world/ted-cruz-presidential-bids-and-why-being-1st-is-worst-1.3006328?cmp=rss