Sun Valley Film Festival Honors Clint Eastwood, "Finders Keepers"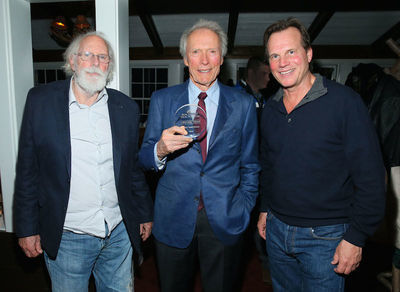 While the Sun Valley Film Festival in Idaho is only in its fourth year, it's already proving to be a rising star in the Festival landscape, attracting enthusiastic filmmakers and big Hollywood heavyweights. This year, Clint Eastwood was honored with their inaugural Lifetime Vision Award at an intimate dinner 6,000 feet up Mt. Baldy at the spectacular and historic Roundhouse Restaurant. Eastwood is fond of the picturesque holiday spot that is renowned for being the first destination winter resort in the US. He filmed his 1985 western "Pale Rider" in the area, and spends a lot of time there. With his current box office smash "American Sniper" now the biggest box office film of 2014, taking over $341 million in domestic totals, the laconic 84-year-old actor/director promised he would keep working as he accepted his award.
"I absolutely love Sun Valley. I was lucky enough to make a movie here ('Pale Rider'), and if I had my way I would hang out here all the time," he said. "But I guess I'll have to make another movie at some point since my last movie ('American Sniper') did fairly well. So much of this business is hard work and a lot of good luck. Tonight I consider myself lucky to get to know you all. I can only wish you the best of luck to keep this great film festival going for many years to come."
The 150 filmmakers and guests that attended were impressed with the intimacy of the festival. Audiences were treated to insights from visiting stars like Bill Paxton, who attended a twentieth anniversary screening of "Apollo 13," and stayed for a lively discussion afterwards, recounting some hilarious moments working with director Ron Howard and fellow stars, Tom Hanks and Kevin Bacon.
"People really appreciate our focus on quality over quantity with our innovative programs, eclectic independent film selections, and intimate opportunities to hear from experienced industry veterans," said SVFF executive director, Teddy Grennan.
It's not surprising SVFF has high aspirations to be a landmark film festival on the yearly calendar, the winter playground is steeped in Hollywood and literary heritage. Ernest Hemingway completed "For Whom the Bell Tolls" while staying at the Sun Valley Lodge in 1939. It was the winter playground for many stars of the golden age of Hollywood including Marilyn Monroe, Errol Flynn, Clark Gable, Lucille Ball. It even took a starring role in the lightweight 1941 comedy, "Sun Valley Serenade," which featured ice skating star, Sonja Henie.
But it's future cutting edge filmmakers the festival is hoping to attract. They even featured an innovative "work in progress" program where attendees could get a sneak peek of select films and provide valuable feedback to the filmmakers before their projects are finished. One by writer/director Jim Sadwith called "Coming Through the Rye" details his efforts to lock down famous reclusive author J.D. Salinger in 1969 in the New Hampshire woods for permission to adapt his famous "The Catcher in the Rye" into a stage production. Another work in progress was the documentary "Free to Rock" by four time Emmy-winning filmmaker Jim Brown and narrated by Kiefer Sutherland, detailing the underground explosion of rock and roll during the regimes of Communist Soviet Union. The millions of fans it attracted yearning for western freedoms helped fuel the implosion of Communism.
The Festival handed out a number of awards including two cash prizes designated specifically for Idaho filmmakers and one for student filmmakers under 18 years old. In addition to its two audience awards (narrative and documentary), the festival also has juried awards which include the Vision Award, recognizing a producer's ability to keep a dramatic, feature length film in focus during the journey of the project, and the One In A Million Award, which honors feature-length stories made for under a million dollars. One narrative and one documentary film are each awarded.
As a jury member of the One in a Million Award documentary section (along with producer/director Heather Rae, and producer Caspar von Winterfeld), we viewed some fascinating documentaries made on shoestring budgets, including "Omo Child: The River and the Bush," about one man's effort to destroy an ancient Ethiopian practice called "mingi" which lead to the slaughter of thousands of what were deemed "cursed" children. Then there was the heartbreaking "Gardeners of Eden," executive produced by "Sex and the City"'s Kristin Davis, detailing the horrific and urgent situation of the mass slaughter of African elephants who are now hurtling towards extinction at a rapid pace because of the ivory trade. "Gardeners of Eden" takes a first-person experience inside the operations of Kenya's David Sheldrick Wildlife Trust (Davis is their international spokesperson) and their heroic efforts to save and rehabilitate the elephant orphans left behind in the massacre.
But it was the quirky and unique documentary "Finders Keepers" (which recently also screened at Sundance and SXSW) that won both the Vision Award and the One in a Million award for Documentary.
By producers Seth Gordon, Lauren Selig and Clay Tweel (who also co-directed with Bryan Carberry), it takes a stranger-than-fiction real-life headline and turns it into a compelling story. It revolves around a tabloid frenzy over an absurd battle for the remains of a severed human leg found in a used grill at an auction in North Carolina. Its original owner would like his leg remains returned while the wily entrepreneur who now claims it sees a cash bonanza in retaining it.
"The whole 'Finders Keepers' team is very grateful for the two awards we received at the Sun Valley Film Festival. It was the first time that a film has won two awards at the Festival, so you can imagine our shock and the honor of being called back up to the stage'" said Clay Tweel. "The trip to Idaho was my first time in the state and it was an amazing venue for a festival. I really appreciated how engaged and vocal the audiences were, especially at Q&A's and some of the talks I attended. Between the skiing and the great food at places like Cristina's, I hope to come back in the future!"
Source:: http://www.rogerebert.com/festivals-and-awards/sun-valley-film-festival-honors-clint-eastwood-finders-keepers