Sia Opens Up to Kristen Wiig, Says Fame "F–ks With My Sanity": I Don't Want Focus "on Whether Or Not I Have Cellulite"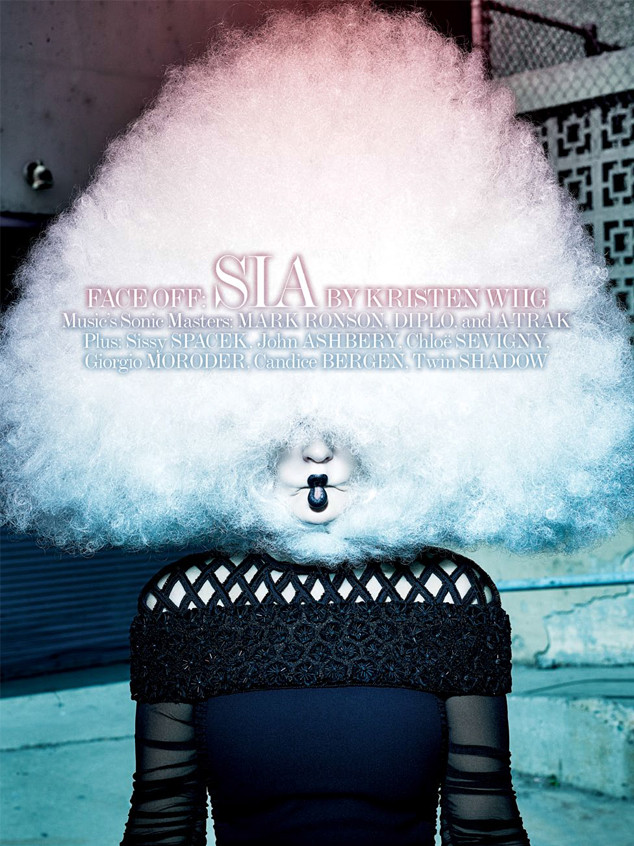 Interview Magazine
It's no secret that Sia doesn't want to be famous. In fact, the singer never shows her face at public events, and instead sports her signature blond wig, in an effort to maintain some sense of anonymity. 
"For me, writing and recording the songs are fine, but then promoting it is usually, like … I think Tom Waits called it 'doing the dishes'-promo, talking about yourself all the time, answering the same questions for, like, a trillion magazines or TV shows or radio shows," she tells pal Kristen Wiig, who, along with Maddie Ziegler, performed at Grammys as the singer sang her hit tune "Chandelier" with her back to the audience. "And it sort of makes you feel crazy. It literally f–ks with my sanity. I stop feeling authentic because I'm trying to find ways to say the same thing differently. And after a while, you can't. It becomes bad for my self-esteem." 
In her sit-down with Interview magazine, which Sia admits is "only the fourth interview" she's done, the recording artist, who first began her singing career in the mid-90s, explains her aversion to fame and album promotion. 
WATCH: Check out the singer's performance at the 2015 Grammys
Interview Magazine
"My original plan was to give it away," she says of her album 1000 Forms of Fear, which she admits she released to get out of her publishing contract. "But it had to come out on a major label, and they're not going to want to give it away for free. I had no plans to promote it or tour it. I was newly sober and I didn't want to be a famous singer. So I delivered it to the label in the U.K…But we weren't sure what would happen if I wasn't willing to show my face and do promo and go on tour and do the traditional kind of pop strategy. So I had no expectations. Because of that, I was able to take a great risk, which is the risk of failure as a solo artist, because I was already gratefully making good money writing pop songs for pop stars." 
As one would expect, Sia wants nothing to do with Hollywood and quickly grew tired of the traditional celebrity lifestyle. 
PHOTO: See Sia and Maddie Ziegler on the Grammy Awards red carpet
Interview Magazine
"I was excited because I got invited to these big, fancy parties," she says of the 2015 Grammy Awards. "And then you realize, 'If I'm going to go, I'm going to need to get a tan. I'm going to need to have my roots done. I'm going to have extensions, probably. I'm going to get a stylist for sure. I'm going to have to work out five times that week with Jennifer Aniston's trainer.' This is commerce and I'm $5,000 in the hole just to go to a party. 
"So it was a great learning experience," she continues. "That is not what I'm going to be doing in the future. But it's funny to hear people in the biz say, 'Oh, it's nice you showed your pretty face.' You, of all people, should know. You can't even leave the house. I need to go to a meeting, a 12-step meeting, and then, like, hang out with a bunch of really f–king major weirdoes. That's what I need." 
LOOK: Sia shows her face!
Interview Magazine
Sia stays away from Twitter due to the critical nature of social media, and she covers her face not because she's insecure, but because she wants to live a normal life. 
"People say, 'Enough of this s–t where she doesn't show her face'…I'm trying to do this differently, for serenity," she explains. "And it's a fun game for me as well. I have nothing to lose. But of course I want to be loved. So when people say, 'Show your face, you're not ugly.' I want to say, 'I know. I'm not doing it because I think I'm ugly; I'm trying to have some control over my image. And I'm allowed to maintain some modicum of privacy. But also I would like not to be picked apart or for people to observe when I put on ten pounds or take off ten pounds or I have a hair extension out of place or my fake tan is botched.' Most people don't have to be under that pressure, and I'd like to be one of them. I don't want to be followed by paparazzi. I don't go on Twitter. Because when people say things like, I don't know, 'I hope you get cancer and die,' it hurts my feelings."
READ: Sia sets the record straight after not attending Australia's ARIA Awards
Interview Magazine
"I'm not willing to give up my actual self…" she continues. "Music is for your ears, not your eyes, right?…I want you to be entertained. I want you to get the full package. I'd just rather it not center around whether or not I have cellulite." 
With regards to the longevity of her career, the 39-year-old singer says her blond bob helps to extend her "expiration date."
"I'm 39, and I would like to be able to make great pop music for another 20 years," she reveals. "And it feels like creating a sort of inanimate blond bob and allowing other people to play the role of the pop singer, it affords me a little bit more freedom in terms of my expiration date." 
Interview Magazine
PHOTOS: See at the celebs at the 2015 Grammys
RELATED VIDEOS:
Source:: http://ca.eonline.com/news/640534/sia-opens-up-to-kristen-wiig-says-fame-f-ks-with-my-sanity-i-don-t-want-focus-on-whether-or-not-i-have-cellulite?cmpid=rss-000000-rssfeed-365-topstories&utm_source=eonline&utm_medium=rssfeeds&utm_campaign=rss_topstories