Sacha Baron Cohen Playing Freddie Mercury in Biopic After All? Here's What Queen Guitarist Brian May Said!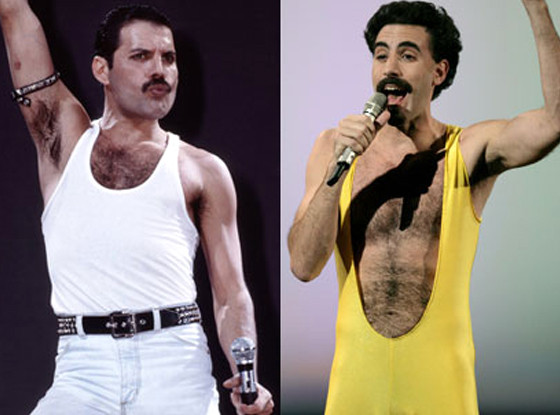 Phil Dent/Redferns/Getty Images, Getty Images for MTV
For the last time, no, Sacha Baron Cohen will not be rocking you as Freddie Mercury.
The 43-year-old prank-loving British actor, best known for onscreen alter egos such as Borat, and Ali G, was in 2010 attached to a biopic about the late Queen frontman, one of the most iconic rock singers of all time, who died at age 45 in 1991. Baron Cohen left the movie project in 2013.
On Thursday, the band's manager, Jim Beach, sparked excitement among fans with some curious comments while accepting the Peter Grant award for outstanding achievement in managerial skills at the 2015 Artist and Manager Awards: He said Baron Cohen had returned to the project and would even do more than just star in it. Here's the catch: Beach was totally kidding.
VIDEO: Sacha Baron Cohen performs shocking prank at BAFTAs!
"He said that, in response to enquiries about the progress on the Freddie feature film, that Sacha Baron Cohen had been re-engaged to write, produce, and direct the film, as well as starring in all four major roles!" Queen guitarist Brian May, who presented the award along with drummer Roger Taylor, wrote on his website on Saturday. "I'm afraid some folks might have taken it seriously!"
"But the evening went very well, including some nice live performances," he added.
The Mercury biopic, which is set to focus on the rise of the singer and the band's fame up to their iconic 1995 Live Aid performance, remains under development and May is one of its producers.
Queen recently toured with American Idol alum and glam rocker Adam Lambert serving as frontman.
PHOTOS: Stars playing real people
RELATED VIDEOS:
Source:: http://ca.eonline.com/news/640759/sacha-baron-cohen-playing-freddie-mercury-in-biopic-after-all-here-s-what-queen-guitarist-brian-may-said?cmpid=rss-000000-rssfeed-365-topstories&utm_source=eonline&utm_medium=rssfeeds&utm_campaign=rss_topstories