Play on, Rogers: GamePlus is exclusively yours to sell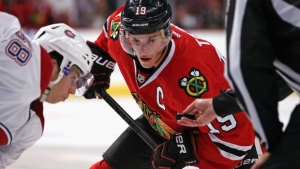 The new NHL GamePlus app will remain available only to Rogers customers after CRTC ruling. (Jonathan Daniel/Getty Images)
Rogers Media has a right to offer its NHL GamePlus online and mobile app only to its own subscribers, the Canadian Radio-television and Telecommunications Commission says.
The federal regulator has dismissed a complaint by rivals Bell and Telus that Rogers was skirting CRTC rules in making GamePlus an exclusive act.
In doing so, the CRTC clarified rules for content distribution online, saying companies are encouraged to provide exclusive content to their subscribers, as long as it is not created mainly for traditional television.
After buying rights to air NHL games, Rogers designed GamePlus to allow fans to choose the camera angles and the replays they want to watch online or on their phone. It is used with the online GameCentral service.
Bell had argued that the service was linked to TV content and should be available to all TV watchers.
"Consumers who are not Rogers customers will be harmed as a result of being blocked from accessing this content," Bell argued before the federal regulator.
But the CRTC agreed with Rogers that the service was designed primarily for the internet.
The regulator said it aimed to set rules in place that would encourage innovation in the way content is presented, including exclusive online content.
Rogers bought the rights to air NHL games for the next 12 years for $5.2 billion and has introduced several online innovations in an attempt to gain a return on that investment.
Source:: http://www.cbc.ca/news/business/gameplus-app-can-be-exclusive-to-rogers-crtc-rules-1.2996895?cmp=rss