Perception photo exhibit tackle aboriginal stereotypes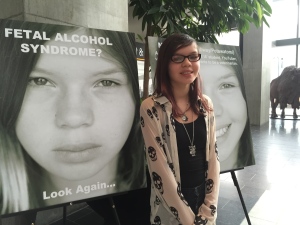 A portrait exhibit by Winnipeg artist K.C. Adams is starting important conversations about racism in a city that was recently dubbed "Canada's most racist city" by Maclean's magazine.
Perception aims to challenge the stereotypes and racial slurs indigenous Canadians encounter every day.
The exhibit's opening reception took place Thursday evening at Manitoba Hydro Place.
It will be on display at Urban Shaman Contemporary Aboriginal Art on McDermot Avenue until April 10.
Nungohs Morrison, 12, is the youngest participant in Perception, a portrait exhibit by Winnipeg artist K.C. Adams that opened on Thursday evening. (Meagan Fiddler/CBC)
Adams says by bringing together people from the indigenous community and showing their successes, discussions about how to stop racism are moving forward.
"I think there's a lot of healing that needs to happen, and it's not just the First Nation people — I think it's a healing on both sides," she said.
The issue of racism has been on the mind of many Winnipeggers since Maclean's published its controversial cover story in January.
For her exhibit, Adams asked her models to think about what it's like to be called various stereotypical and derogatory labels, such as "squaw," "victim," "homeless" and "tax burden."
"It makes me angry but also like sad that people would actually think that way and talk to them face-to-face like that," said Nungohs Morrison, who, at 12 years old, is the youngest participant.
The models' sombre portraits, with the stereotypes printed at the top, are paired with a more upbeat set of photos with descriptions of who they are and what they do.
"I hope they see me as they see me first … they don't see me as a stereotype but as an actual human," Morrison said.
Reuben Boulette said being called a "token Indian" would leave him feeling isolated, and he wants people to know him for who he really is.
"I'm a brother, I'm a fiancé, I'm a son, I'm an uncle, and that's really a source of pride for me," Boulette said.
"These are the things that actually make me get up and do the things I do every day, like be a high school teacher and a homeowner and a taxpayer."
Perception plans to challenge racism in Winnipeg by eventually moving to billboards and banners across the city, and there's a possibility the exhibit could be shown across the country.
Source:: http://www.cbc.ca/news/canada/manitoba/perception-photo-exhibit-tackle-aboriginal-stereotypes-1.3002506?cmp=rss